Winter 2021 Bonus!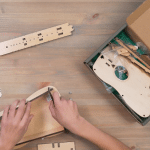 No instrument? No Problem! This winter, our Fireside program includes a build-your-own Ukulele kit!
NOTE: Kids under 14 will require adult assistance building the kit.
Join us January 10th to learn how to build a real four-string concert Ukulele with your kit.
Online Campfire Sessions for Guitar/Ukulele:
Fun for the whole family! Online group guitar & ukulele classes for you and anyone in your home

No experience required – all you need is a guitar or ukulele and a computer with a Zoom download

Learn two new classic songs live online weekly or on-demand

Unlimited access – get music PDFs &

recordings of classes via our online portal
Classes run weekly on Sundays at 7pm from January 10 to March 14, 2021 (no class February 14)– participate as often as you like!
Share This Story, Choose Your Platform!
Check out what our Summer Campfire Songs were:
Sweet Caroline
When the Saints Go Marchin' In
You Are My Sunshine
Edelweiss
Yellow Submarine
She'll Be Comin' 'Round the Mountain
I've Been Workin' on the Railroad
Oh My Darlin' Clementine
Twist and Shout
Home on the Range
Hallelujah
On Top of Spaghetti
Give a Little Bit
Amazing Grace
Blowin' in the Wind
Oh Susannah
The Hockey Song
Shenandoah
Three Little Birds
Down by the Bay