Andy Dolgin has been fortunate to have had an incredibly varied career. Though the majority of his musical training is in classical trombone, Andy plays many instruments in the brass family. Since graduating from the Faculty of Music at Wilfrid Laurier University in 2015, Andy has had the pleasure of both writing and playing in a wide range of styles from avant garde contemporary classical to hip hop and everything in between.
Get to know Andy…Beyond the Bio!
Hobbies: Watching television, Rock climbing, Martial Arts
Musical influences: Brass Band Music, Late Romantic and Impressionist Music, Ray Anderson
Favourite food: Kishke
Least favourite food: Kale
Favourite music: Anything with thick horn harmonies and a driving groove
Favourite song: Mister Chameleon by King
Favourite movie: Planet of the Apes (1969)
Favouirite movie music: Rhythm of the Pridelands (music cut from the 1994 Lion King movie)
Favourite musical theatre/opera: Into the Woods
Best quote from your teacher: "…and that's the trombone." -Jay Costello
Favourite quote: "You can never make the same mistake twice because the second time you make it, it's not a mistake, it's a choice." -Steven Denn
Favourite book: Hitchhiker's Guide to the Galaxy by Douglas Adams
Best thing about teaching at ABC: At ABC I get the opportunity to positively shape musical minds.
Latest Homework from Andy
Is Andy Your Teacher?
Sign up now to get your weekly assignments delivered, and never lose your homework sheet again!
Preferred Books for Andy Students
Click to buy them here, and they'll come right to your house!  What could be easier?
Melodious Etudes for Trombone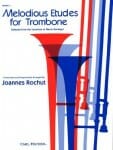 Widely considered among Trombonists as an almost sacred musical text, the Melodious Etudes of Marco Giulio Bordogni are required learning for musical style, range, and expression for the developing and serious Trombone student.
We are currently unable to find a good online source for this book.  Please call a local retailer to secure a copy.
Arban Complete Method for Trombone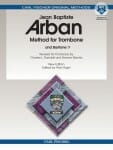 Arban's fundamental method book for trumpet was first published in 1864 and has held a top spot in trumpet studies ever since. In 1936, two of the finest trombonists of the day, Charles Randall and Simone Mantia, revised the method for trombone, creating the basis for trombone studies over the ensuing 75 years. Today, Alan Raph brings the Arban into the 21st century, enhancing and expanding the complete Arban text, and addressing new skills and techniques developed up to current times. Sections have been expanded (i.e., scales, arpeggios), and new sections have been added (i.e., slide drills, contemporary forms of double and triple tonguing). Alternate positions have been updated and expanded. Sometimes F-attachment positions are given to facilitate awkward slide movements.