Bachelor of Fine Arts (York University)
Katie Thurman is a singer, pianist, accompanist, and teacher based in Toronto. Her passion for music has been with her since childhood, and she is excited to have recently completed her undergraduate degree in music at York University.
Trained classically in piano, she continues to explore other styles including pop and jazz, as well as write her own compositions. Her vocal training is in both classical and musical theatre styles, as well as lengthy choral experience both in and out of school.
Katie spent 6 years singing with WIBI A Cappella, a collegiate-based group, during her time at York, and is proud to have competed with them twice in the ICCA (the very competition the Pitch Perfect films were based on!). Currently, she sings with the Toronto-based That Choir.
Katie loves all types of music, but spends most of her time listening to pop, indie, and alt-pop records.
Katie also writes her own songs and is working towards putting together an EP. Aside from music, Katie's other passions include baking, film, and psychology. She loves teaching and is always pushing herself to grow pedagogically and musically!
Get to know Katie…Beyond the Bio!
Hobbies: baking, watching movies/TV, writing, yoga, hiking
Musical influences: Classical: Natalie Dessay, Maria Callas/Pop: Arcade Fire, Lana Del Rey, BANKS, Florence & the Machine, Rhye
Favourite food: Pasta
Least favourite food: Seafood
Favourite music: pop & alt-pop, indie/folk, dance, and all things Celtic
Favourite song: currently "Favourite Boy" by Half Moon Run
Favourite movie: Eighth Grade
Favourite movie music: A Single Man, music composed by Abel Korzeniowski?
Favourite musical theatre/opera: Les Misérables
Best quote from your teacher: Vocal teacher: "Just go for it! We want to hear 'Katie-and-a-half'".
Favourite quote: Motivation comes from work
Favourite book: The Handmaid's Tale
Best thing about teaching at ABC: I like sharing my knowledge with students, and I learn from them too!
Latest Homework from Katie
Is Katie Your Teacher?
Sign up now to get your weekly assignments delivered, and never lose your homework sheet again!
Homework For Oct 23
Andrea
Recommended minutes to practice: 15 minutes a day
What to practice: Keep working on your scales, you're definitely making progress. Also keep working on that Ed Sheeran tune, I want to play it in person soon. Work through some review sections in your Hal Leonard Book and we will keep doing some sight reading at the beginning of lessons. 
How to practice it most effectively: This week try to play your C major scale along with a metronome, I think you know them well enough to try to start playing them in time.
Clara
Recommended minutes to practice: 15 minutes a day
What to practice: Try practicing your D major scale in thirds. Also practice the chord progression for Good 4 U. Lastly, take a listen to Ella Fitzgerald's and Louis Armstrong's version of Dream A  Little Dream of Me.
How to practice it most effectively: Use a metronome with your C and D major scales, go slower than you think you need to so you perfect both. Switch between chords for Good 4 U very slowly and try to move your fingers as little as possible.
Killian
Recommended minutes to practice: 15 minutes a day
What to practice: Practice your C major scale in thirds, your sister can help you get this down. Keep playing the chords to One Love, and we took a look at the melody. 
How to practice it most effectively: Remember to count out loud when doing the strumming pattern for One Love, the chords are on 2 and 4 not 1 and 3. Try to sing the words while you play the melody.
Isaac Smith
Recommended minutes to practice: 20 minutes a day
What to practice: Play along with Stand By Me, try to play along with the whole thing. As well as play along with Pink Floyd's Wish you were here. Try to pretend it's a performance and you can't stop until the song is done. Lastly, work on those triads, take it slow and make sure it's perfect.
How to practice it most effectively: Again, playing along with the tracks will help you get a better time feel with your strumming as well as understand what it takes to play through a whole tune. The solo is coming along really well. Practice the triads ridiculously slowly, 5 minutes of slow correct practice is better than 30 minutes of fast practicing that is incorrect.
Preferred Books for Katie's Students
Click to buy them here, and they'll come right to your house!  What could be easier?
Faber & Faber Piano Adventures
Lesson Book Primer Level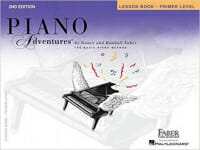 The 2nd Edition Primer Lesson Book introduces the keyboard, note values, and the grand staff. Students play in C 5-finger scale patterns, develop recognition of steps and skips, and learn letter names independent of finger number. Musicianship is built through the use of dynamics and coloristic experimentation with the pedal. The book is organized into units which represent the major concepts and skills. As new units are introduced, earlier concepts and skills are constantly reviewed.
Alfred's Adult Basic All-In-One
Book 1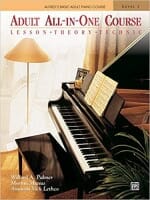 Alfred's Basic Adult All-in-One Course is designed for use with a piano instructor for the beginning student looking for a truly complete piano course. It is a greatly expanded version of Alfred's Basic Adult Piano Course that will include lesson, theory, and technique in a convenient, "all-in-one" format. This comprehensive course adds such features as isometric hand exercises, finger strengthening drills, and written assignments that reinforce each lesson's concepts. There is a smooth, logical progression between each lesson, a thorough explanation of chord theory and playing styles, and outstanding extra songs, including folk, classical, and contemporary selections.
RCM Voice Repertoire
Prepratory Level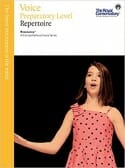 A Comprehensive Voice Series serves as the official resource for voice assessments of the Royal Conservatory Music Development Program. Featuring an outstanding selection of voice literature and supporting materials, this series offers a truly enriched learning experience to help ensure student success. As in previous editions, Resonance encompasses a rich and varied selection of Repertoire, Vocalises and Recitatives that students of all ages and voice types will find appropriate to their musical interests and level of technical ability.
Vocal Workouts for the Contemporary Singer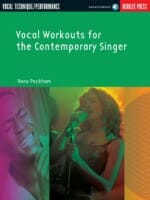 The vocal workouts in this much-anticipated follow-up to Peckham's The Contemporary Singer are based on Berklee College of Music's highly effective vocal method. This volume will help vocalists develop the voice through good vocal health, warm-up exercises, advanced techniques, stage performance advice and more. Includes companion online audio for ultimate interactive education!
Alfred's Teach Yourself to Sing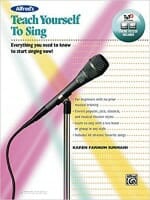 Learn to sing and open up a brand new world of musical knowledge with this exciting method from Alfred Music. Beginning with the fundamentals, you will learn about equipment used by singers, vocal health, and getting acquainted with reading music. You will then move right along to breathing, vocalizing, proper warm-ups, and singing songs, lesson by lesson, all while continuing to increase your knowledge of reading and understanding music. You will learn to sing an array of musical styles including pop, jazz, classical, and musical theater. Near the end of the book, you will be introduced to the idea of individual interpretation, which will help you color your songs with your own unique style. The book features a chord and scale chart for reference during and after your lessons.