A.Dip. (Glenn Gould School)
B.Mus (U of T)
Ariana is a horn player and teacher from Mississauga, Ontario. She has performed is an active soloist, chamber musician, and orchestral player and has performed with groups such as the Etobicoke Philharmonic Orchestra and in festivals such as the Busan Maru International Music Festival in South Korea.
When she isn't listening to music, in rehearsal or practicing she is probably cooking or wandering her neighbourhood for cats to befriend.
Get to know Ariana…Beyond the Bio!
Hobbies: Film, Politics, Philosophy, RuPauls Drag Race, Crossword Puzzles, trying to learn academic theory by watching youtube videos
Musical Influences: Hermann Baumann, Beethoven, Shostakovich, Lady GaGa, Brahms, Stravinsky, Mozart, Mahler, Kathleen Battle
Favourite food: free food
Least Favourite food: pickled herring
Favourite music: Western Classical, especially feature length symphonic works from the mid 19th century to present
Favourite song: Bad Romance by Lady GaGa
Favourite movie: Fantasia and Fantasia 2000
Favourite movie music: Lord of the Rings
Favourite musical theatre/opera: Fiddler on the Roof
Best quote from your teacher: "Make choices that reflect the person you want to be" – Gabriel Radford
Favourite quote: "I can't believe I ate the whole thing" – Homer Simpson's yearbook quote
Favourite book: The Iron Heel by Jack London
Best Thing about teaching at ABC: Giving students tools they can use to nurture their voice as musicians and help them hone skills used in musical study that will be beneficial to them no matter where their musical journey takes them. 
Latest Homework from Ariana
Is Ariana Your Teacher?
Sign up now to get your weekly assignments delivered, and never lose your homework sheet again!
Weekly Homework Post
Eliza:
If you would like to have lessons that do not conflict with soccer direct your parents to this website : https://music-lessons.ca/
Be aware of your posture! Sit at the edge of your seat with your feet flat on the ground.
Warmup/ Technique exercises:
play long held notes in the middle of your range (G, E, F ), be sure to take a focused and full breath before!
in quarter notes alternate between playing E flat (second valve) and F (first valve). Think of them as connected. If you are having trouble pitching, play the notes on a keyboard (A flat, B flat would be the notes on the keyboard) to get the pitches in your head.
The Final Countdown:
find out which part you are going to play in band; but until then see if you can practice both parts.
start thinking in subdivisions. think of each bar as 1 e + a 2 e + a 3 e + a 4 e + a
practice the rhythms away from the horn by saying the subdivisions while clapping the rhythm. connect the saying the subdivisions with clapping the rhythm by emphasizing the bits that line up with the clap ie eighth note 16th note 16th note half note quarter note would be said: ONE e AND A TWO e and a three e and a FOUR e and a
Other things to practice:
take some time to play around with the horn and just move through different notes and sounds. Explore what you can do.
try to expand your range by aiming higher or lower than you can already play
Happy Practicing!
Weekly Homework Post
Eliza:
Play at least 5 minutes every day, even if it's just playing random notes for fun. Get in to a habit of playing more regularly.
Remember to keep good posture, sit on the edge of your chair with your feet flat on the ground
Re-print your band music.
Do path slides as part of your daily practice (just blowing through the range of the horn, getting all the inbetween notes and having your air move freely)
Here is an app that you can download to help you check your pitches: http://www.bandmatetuner.com/
Here is a fingering chart: ( 0 means no valves, 1 means index finger valve, etc)


Here are some exercises you can work on this week. Keep playing by ear as well, and have fun!
Happy Practicing!
Emma:
Remember to play sitting at the edge of your seat with your feet flat on the ground.
Breathing: practice the inhale technique where you put your hand infront of your mouth and inhale quickly in a way that makes a sound like wind. Keep working on breathing through your mouth while playing, and be sure to focus on feeling your lower abdomen and back expanding when inhaling. Feel breathing and starting a note as being part of the same gesture, like the wind up and release of throwing a baseball.
The Common Denominator:
Use this piece as a way to work on long tones and controlling your air. Remember to take a full beat to breathe at the end of the whole notes (where needed).
Home on The Range:
If you are feeling tension in your sound production, sing to undo the tension and return to the horn. If you are finding that you are struggling partway through a phrase, add in an extra breathing mark; most hiccups in brass playing are at least partly fixed with more air.
Happy Practicing!
Emma:


General Things:
Sit up straight, on the edge of your chair, with your feet flat on the floor. hold your horn up to the correct angle, if your arm starts to hurt take a short break.
Make sure that the bottom lip is the anchor of the embouchure, the upper lip should never be under more pressure than the bottom lip.
When playing a phrase focus on a point ahead of you somewhere on the horizon and play to that point, keep your mind on this especially if you feel yourself running out of air.
Sakura Duet:
If you find yourself losing control of your sound or getting lost refocus by singing your part.
Switch to the thumb fingerings for the F to A interval.
Happy Practicing!
Preferred Books for Ariana's Students
Click to buy them here, and they'll come right to your house!  What could be easier?
Solos for the French Horn Player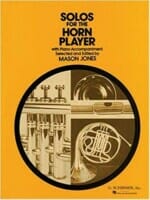 Sixty Selected Studies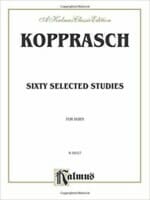 Georg Kopprasch was born sometime before 1800, pursued a career as a horn player at least until 1832, and composed two sets of horn etudes which includes this set of 60 etudes, Op. 6. Most of the etudes focus on technical problems relating to the high range of the Horn. 46 pages.
200 New Melodic and Gradual Etudes
Volume 1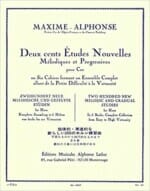 The Art of French Horn Playing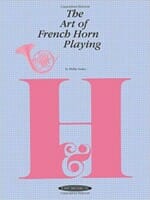 First to be published in the series was The Art of French Horn Playing by Philip Farkas, now Distinguished Professor Emeritus of Music at Indiana University. In 1956, when Summy-Birchard published Farkas's book, he was a solo horn player for the Chicago Symphony and had held similar positions with other orchestras, including the Boston Symphony, Cleveland Orchestra, and Kansas City Conservatory, DePaul University, Northwestern University, and Roosevelt University in Chicago. The Art of French Horn Playing set the pattern, and other books in the series soon followed, offering help to students in learning to master their instruments and achieve their goals.