Music, Movement, & Instrumental Classes for Children from Birth through 8 years with Caregivers
YES!
I want a free demo class as soon as possible – sign me up!
Fill in your Name and Phone Number below, and we'll call you to book your demo as soon as possible!
About Music Together Music Classes in Toronto
Music Together® music classes are available for Babies, Toddlers, and Preschoolers in Toronto at ABC Academy of Music.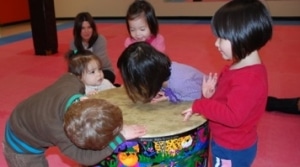 We are delighted to add this world-famous program for mixed-age music classes of children and toddlers ranging from 8 months through 5 years of age. For over 25 years, Music Together® has been bringing children and parents together through music worldwide using ongoing, research-based curriculum and classroom development. Songs, rhymes, movement, and instrument play are all incorporated, giving kids the opportunity to experience a wide range of musical experiences, while building social and activity skills with other children. This nurtures creativity, self-expression, and confidence and supports social, emotional, cognitive, and physical development. Because these benefits build over time, children enjoy the fullest growth in each of these areas when they participate in Music Together classes as consistently as possible up through kindergarten. The philosophy of Music Together is that all children can learn to sing in tune, keep a beat, and to take an active part in the music that surrounds them, provided that their environment supports this learning experience. Included as part of your tuition is a fresh set of CDs for each session, allowing you to continue Music Together at home every day.
Included with your tuition each semester for you and your child:
Parent Guide and Welcome Video (at your first registration only)
A CD song-pack with recordings of all the music for the semester
A Free Digital Download Access code for your Collection Music & the online Family Music Zone at musictogether.com
A Song book with all the music for the semester so you can follow along at home
A Student Growth Chart to help you track and guide your development