Cicy is a recent graduate of York University with a degree of Bachelor of Fine Arts with Honours in Music. She has played the Piano since the age of 3 and a half, and has completed up to level 10 practical and ARCT theory and history at the Royal Conservatory of Music. Additionally, she has been teaching piano and music theory part-time since 2012, and volunteered to work as a piano accompanist in grade 6 elementary school, and grade 11 and 12 high school.
During her years in York University, Cicy studied with Canadian pianists Christina Quilico, and Catherine Wilson. She has also performed on the piano with York University Wind Symphony Orchestra, and York University Media Music.
Get to know Cicy…Beyond the bio!
Hobbies: Piano, piano accompanying, music composition/improvisation, strolling on city streets, participating and going to city-organized events such as food festivals, culture festivals…etc., cooking
Music Influences: Mostly music of the Romantic and Impressionist era, such as Chopin, and Rachmaninoff, etc., Cage, John Williams, orchestral film music, and video games music
Favourite food: All Asian cuisines, with some French, some Italian, some Mexican… it's hard to choose, I'm not a picky eater, but I love spicy foods
Least favourite food: Bitter melon (it just tastes…bitter), canned fruits (I LOVE fruits, but canned fruits taste like fake fruits to me because it changes the texture and taste of the natural fruits!)
Favourite music: anything that sounds good to my ears, preferably something instrumental, or in languages I cannot understand, I was just never a fan of lyrics, I listen to music solely for the "sounds"
Favourite song: Similar to asking for what my favourite food is, I can't choose, there are too many, and sometimes I listen to a song because I like one 10-20seconds section of the song, but not the entire song
Favourite movie: Ratatouille, a lot of fantasy, comedy, and sci-fi movies
Favourite movie music: I have 2 that are my all time favourites – Harry Potter, and Pirates of the Caribbean
Favourite musical theatre/opera: I really like some arias from operas, but not a fan of operas
Best quote from your teacher: Once in my piano accompanying class, one of the TA's who was also a singer we worked with in class said, and paraphrased: "Do not say "sorry" Saying "sorry" is a Canadian thing, say f#$% and keep going!"
Favourite quote: I often agree and disagree, and question with many quotes, so I have yet to have a favourite one in which I can recall and fully agree with
Favourite book: Laughter in the Dark by Vladimir Nabokov
Preferred Books for Cicy's Students
Click to buy them here, and they'll come right to your house!  What could be easier?
Hanon
Virtuoso Pianist in 60 Exercises - Complete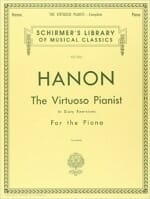 Since the first release of this classic Schirmer edition over 100 years ago, almost anyone who has taken piano lessons for more than two years has played from The Virtuoso Pianist . Millions of copies have been sold of these progressive exercises which guide a player's technique, building finger independence and strength. This was the first American edition released of this music, and remains a classic at a remarkably affordable price.