ARCT • Teachers' Diploma (RCM) in-progress
Trained Music Together Teacher
Erin Plank (they/he) is a passionate young piano teacher. For their professional development, Erin received the highest exam scores in all of Canada last year for "Teaching Elementary Piano" with the RCM.
Erin's main goal is to turn students into lifelong music lovers, not just pianists. I seek to provide them with the tools to practice efficiently at home, sight read a song at their friend's piano, learn the melody to a song off the radio by ear, and nurture a technical foundation that lasts a lifetime so it's "just like riding a bike" to play the piano. And even better, they'll want to.
Get to know TEACHER…
Beyond the Bio!
Hobbies: Piano, weightlifting, playing with my cat, and hanging out with friends
Musical influences: Ben Folds, Brad Mehldau, Edvard Grieg
Favourite food: Fried chicken sandwich
Least favourite food: snap peas, because I ate too many as a kid one time and threw up and now I dislike the smell
Favourite music: Romantic era piano music, Beach Boys and similar era music, math rock
Favourite song: "How Dare You Want More" by Bleachers
Favourite movie: Sing Street
Favouirite movie music: main theme for "Eternal Sunshine of the Spotless Mind" or anything Star Wars
Favourite musical theatre/opera: Wozzeck
Best quote from your teacher: "Don't show the audience you messed up, they won't know! Keep going!"
Favourite quote: "That's what life is, Happy Sad"
Favourite book: Recursion by Blake Crouch
Best thing about teaching at ABC: Getting to reach and connect with so many lovely people!
Latest Homework from Erin
Is Erin Your Teacher?
Sign up now to get your weekly assignments delivered, and never lose your homework sheet again!
Thursday June 1 Lessons – Erin P
Have a great PA day tomorrow everyone! Soak up the sun :)
Liam
Major scales – articulated by 2 legato notes, then 2 staccato notes. Make sure you are doing 2 of each texture. Do any major scales you like in this manner and I'll colour them in when you play them for me next week.
Imperial March – Today we learnt the B section, go very slowly and accurately for this. The LH is all D notes, so hands together shouldn't be too tricky. Good reading today!
Stars and Stripes Forever – This piece has the alberti bass pattern in the LH, but now in the key of G. The melody has a pickup beat. Notice the accidentals in the RH and go slowly, I would do a day or two of hands seperate practice before going hands together.
Marita
Je Te Veux – Keep the C-EG waltz rhythm going throughout, ignore where the LH beat 1 rests are written. You can practice in 8 bar chunks like we did today, to get comfortable playing each phrase.
Swiss Cuckoo – Nice work! Practice this one in 2 chunks. For the last line where the phrases begin to overlap, isolate those to practice and notice that the other hand always interrupts the descending 5 note D scale on E. This is a fun video of a child playing this folk tune on a piccolo, it really brings out the singsongy children's song nature of it!
Sara
Tempos of your pieces are all sounding great!
Arabesque – needs more drama in the dynamics. Today we made a story of 3 people sharing secrets and freaking out about the news when the piece grows to mf or forte. Think of this story in your mind and try to put it into the audience's mind through dynamics and shaping. Start quietly as the begin to whisper the secret.
Sonatina – ensure you hit beat 1 of the second page in time by subdividing the triplets in your head for the long notes.
G Minor broken triad – experiment with playing it in different ways like solid first and then broken for each inversion, or playing the inversion and then the starting note of the next inversion and stopping on it.
Ear and sighteading – keep going with the home practice, it's going great. Perhaps an entire session with Dad of doing just major 3rds vs perfect 4ths, and then a second session of just minor 3rds vs perfect 4ths would help build your confidence in these. Don't forget to do descending ones too :)
Daniel
*New* On the Right Lines –  ***DOWNLOAD HERE***. Count very carefully and go slowly! If the RH notes do not directly line up with the LH notes, ensure they are being played in between the beat! The LH groove of 1356 only happens in 2 different positions: G and C. You'll notice if this paper had have been laid out with 4 bars each line instead of 3, you would see that it is a 4 bar pattern that repeats twice almost exactly the same (only the LH changes) and then a 3rd time completely to end the piece dramatically. Here is Christopher Norton himself playing it.
Crocodile Teeth – nice reading!! Proud. For the chromatic 16th note measure, make sure LH is playing F# up to A, and then RH is playing A# to C# to create a continuous chromatic line between the 2 hands. Be picky about which notes are staccato as well.
Harmonic minor scales – Great! Remember these are normal minor scales that use the notes of the major neighbour 3 doors away (3 half steps above), and what makes it a harmonic minor is the raised 7th note. For example: E minor will use G major's notes, so EF#GABCDE, and then raise the 7th also, so D# instead of D. Practice them hands together this week please and I'll show you melodic minor in person :)
To the right is the opening riff to Sweet Child of Mine by Guns and Roses. This is not homework, just supplemental fun. The LH stays on a D power chord for 2 repetitions and then moves up to E power chord. Have fun!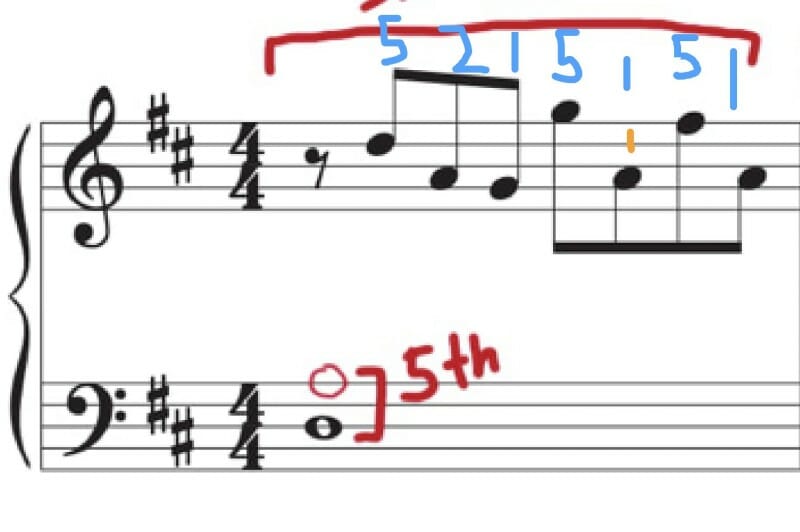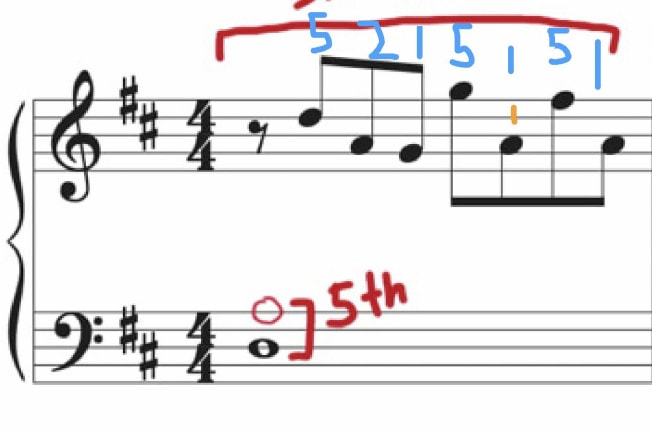 Saturday May 27 Lessons – Erin P
Enjoy the sunny weekend and I'll see you folks again in June <3
Isabella
Congrats on finishing Primer level!!! You should be very proud! And your B major scale sounds super even and awesome, moreso in the RH, so give the LH a little extra love so they develop evenly :)
Explore C Major triads more. Play them solid (all 3 notes at once) and broken (walking up the three notes one at a time). CEG EGC GCE CEG is the pattern. Fingers 1 and 5 will ALWAYS be used, and finger 2 or 3 can be chosen for the middle note based on what is comfiest. Here is a video showing the 3 different inversions of C.
Firefly – this is the very first piece of the level 1 book, used to review all the concepts you already know. There is nothing in this piece we haven't covered this year, so get both hands in C position and give it a whirl! I love this piece, it sounds so lovely. (Try not to lose the paper, but if you do, it can be found here)
Jadon
Canon x Memories – Sounding really solid at the leisurely tempo you did today in class!! Each time you go play through this, you can increase speed incremently to get it up to tempo. Do not go directly from slow to fast, but work your way up there and I promise you will get it!! Also deciding on a consistent fingering for the Canon melody will really help.
Avatar – Please bring the paper in next week so I can help with the melody. You've got the coordination between both hands down now. Using a fingering like 5321 in the LH makes it a lot easier than crossing fingers over all the time, so work to choose the simplest possible fingering that moves around the least.
Grace
Dancing Scales – print this one out and give it a try this week. Your physical approach to finger staccato looks solid!!
Goldberg Variations – balance to melody. On the first page we went through and decided which hand we want to hear louder for each phrase. While playing, know what you are listening for and determine if it is at the forefront of the sound you're creating. Also be picky with any staccato notes and ensure they're being played detached.
Julian
Jazz Blast – The notes that land between the beat create something called syncopation, which is what makes it sound jazzy or funky. Play them louder than the other notes so they stick out. We will do improvisation over this song next week!
Hands together G major scale. Great job on the C one! This will feel the exact same, except F# will be there.
Hands separate Db major scale. This scale onely has 2 white keys, and your thumb will play them. RH fingering is 231 2341 2. LH is 321 4321 2. The system for finding your starting finger for black key scales is: your thumb will go on the first white key, so plan backwards from that.
Preferred Books for Erin Students
Click to buy them here, and they'll come right to your house! What could be easier?
Faber Piano Adventures
Lesson Book 1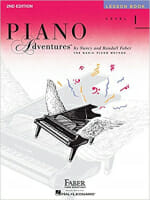 The 2nd Edition Level 1 Lesson Book introduces all the notes of the grand staff, elementary chord playing, and the concept of tonic and dominant notes. Students play in varied positions, reinforcing reading skills and recognizing intervals through the 5th. Musicianship is built with the introduction of legato and staccato touches. This level continues the interval orientation to reading across the full range of the Grand Staff. The 5-finger approach is presented here in a fresh, musically appealing way.
Piano Safari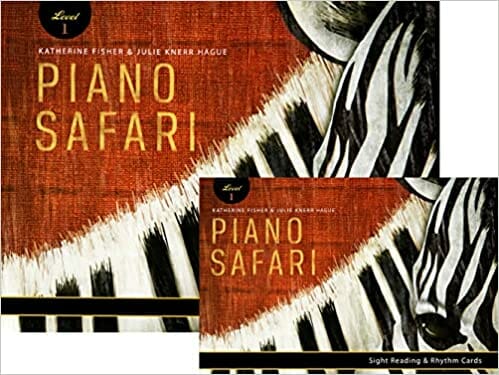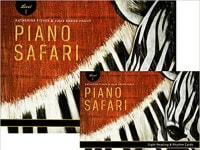 Note: This is an expensive source for this book, and you may find it cheaper at another source.