ARCT • Teachers' Diploma (RCM) in-progress
Trained Music Together Teacher
Erin Plank (they/he) is a passionate young piano teacher. For their professional development, Erin received the highest exam scores in all of Canada last year for "Teaching Elementary Piano" with the RCM.
Erin's main goal is to turn students into lifelong music lovers, not just pianists. I seek to provide them with the tools to practice efficiently at home, sight read a song at their friend's piano, learn the melody to a song off the radio by ear, and nurture a technical foundation that lasts a lifetime so it's "just like riding a bike" to play the piano. And even better, they'll want to.
Get to know TEACHER…
Beyond the Bio!
Hobbies: Piano, weightlifting, playing with my cat, and hanging out with friends
Musical influences: Ben Folds, Brad Mehldau, Edvard Grieg
Favourite food: Fried chicken sandwich
Least favourite food: snap peas, because I ate too many as a kid one time and threw up and now I dislike the smell
Favourite music: Romantic era piano music, Beach Boys and similar era music, math rock
Favourite song: "How Dare You Want More" by Bleachers
Favourite movie: Sing Street
Favouirite movie music: main theme for "Eternal Sunshine of the Spotless Mind" or anything Star Wars
Favourite musical theatre/opera: Wozzeck
Best quote from your teacher: "Don't show the audience you messed up, they won't know! Keep going!"
Favourite quote: "That's what life is, Happy Sad"
Favourite book: Recursion by Blake Crouch
Best thing about teaching at ABC: Getting to reach and connect with so many lovely people!
Latest Homework from Erin
Is Erin Your Teacher?
Sign up now to get your weekly assignments delivered, and never lose your homework sheet again!
Thursday January 26 Lessons – Erin P
Hi everyone! Happy slush day :D Stay safe on the roads out there.
Liam
*New Piece* Ocean Waves. This piece features A and D natural minor scales. Focus on beginning the scales on the "and of 1" and keeping them nice and even. Add some shaping however you like to bring the "wave" to life.
*New Piece* Going Undercover. Focus on evenness of 8th notes with this one. The LH notes are what gives the pattern harmony, so bring them out loudly. Do not allow your RH arm/wrist to tighten up, stay loose and pretend this is the easiest thing in the world. I circled the notes that break the pattern.
Gb Major Scale. The only white keys in this one are Cb (B) and F. RH fingering is 234 123 12. LH is 4321 321 2(or 4 if you're going to do more octaves).
Fiona
Lightly Row. Practice this hands together this week, you did it really well in lesson! When the hands are playing together, they both have the same articulation (staccato). Keep up the great down-up motion of the wrist in the two-note slurs. Believe in yourself! This is within your capabilities!
G Major one octave hands seperate scale. This uses the same fingering as your C Major scale in both hands, except it starts on G and then has one black key (F#, right before the top G). Warm up with this.
Marita
Lunar Eclipse. Nice!! Build up your confidence in the ending section a little more, and add some dynamics in so it's quieter and more mysterious than the musical "high point" just before.
Young Ludwig Exploring. Work on all 8 bars of this this week. Until the ending of G B CCCCCCC it is solely the hands copying each other. Beware of how accidentals like flats affect the entire measure. Have fun with this one!
*New Piece* Minuet in C. Work on as much as you can of this hands seperate. I believe the whole LH is achievable this week, and some of the RH. Keep a nice steady pulse, and remember to count yourself in in 3. The LH notes are detached unless otherwise marked (great job circling the text mentioning that, great habit!).
Sara
*New Piece* Chinese Kites. Have fun with this black key piece! Focus on discovering and bringing out the melody. Make it beautiful.
Sonatina mvt 2. Add in the dynamics like the dramatic forte and suddenly pianos. Fix the legato broken thirds on page 2. Ghost the LH triads at the start to make them quieter than the melody. Great work!
Harlequinade. Make the opening RH Gs more detached and staccato. Fix the evenness of the 8th – 2 16th notes rhythm I circled. Really big improvement on this one this week!
Interval worksheet and daily sightreading practice.
Sina
Shadows. Beware of E flats and A flats. All the notes are staccato and bouncy. Make sure you're doing the written fingering for the LH pattern, of crossing the finger 2 over to play A flat. Great work reading today!
Warm up with your C Major scales one octave. RH is 123 1234 5. LH is 54321 321. You've got this!!!
Saturday Jan28 Missed Lessons, plan for the week
Hey everyone! So, so sorry to have missed you today. I have a gnarly stomach bug :( Happy practicing though, have a great week! I'm off to sleep more now.
Isabella
If you still have the folder I gave your for Christmas handy, try and learn Pop Goes the Weasel on your own! I believe you can do it :)
Jadon
I found official Avatar sheet music. Just like in the video you were watching, the LH takes the bottom notes of the group of 6 notes that keeps repeating. Pay attention to this on the chart. Have fun exploring some of this! Notice the key signature: F and Cb (so B) seem to be the only white keys you'll play. I would practice playing the melody hands seperate first.
Grace
Keep rocking on Goldberg Variations. There are tons of awesome videos of this piece being played – try and find your favourite.
Marco
Keep working on Boat of Tai Lake. Refer to this video for inspiration.
Daniel
Keep working on preparing your Mock Exam program. We will pick an etude next week. I'm excited to hear the List A piece you chose.
Keep working on Jurassic Park hands together.
Shelton
Keep working on Eine Kleine Nachtmusik. This video can help.
Julian
Keep practicing Kitchitikipi.
Start exploring Our Detective Agency. This video can help.
Preferred Books for Erin Students
Click to buy them here, and they'll come right to your house! What could be easier?
Faber Piano Adventures
Lesson Book 1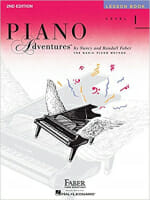 The 2nd Edition Level 1 Lesson Book introduces all the notes of the grand staff, elementary chord playing, and the concept of tonic and dominant notes. Students play in varied positions, reinforcing reading skills and recognizing intervals through the 5th. Musicianship is built with the introduction of legato and staccato touches. This level continues the interval orientation to reading across the full range of the Grand Staff. The 5-finger approach is presented here in a fresh, musically appealing way.
Piano Safari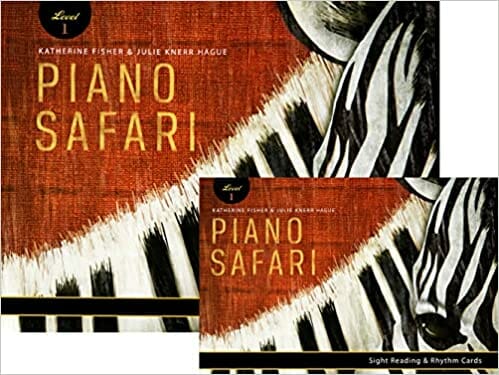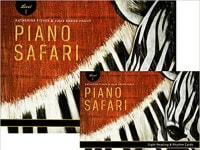 Note: This is an expensive source for this book, and you may find it cheaper at another source.