ARCT • Teachers' Diploma (RCM) in-progress
Trained Music Together Teacher
Erin Plank (they/he) is a passionate young piano teacher. For their professional development, Erin received the highest exam scores in all of Canada last year for "Teaching Elementary Piano" with the RCM.
Erin's main goal is to turn students into lifelong music lovers, not just pianists. I seek to provide them with the tools to practice efficiently at home, sight read a song at their friend's piano, learn the melody to a song off the radio by ear, and nurture a technical foundation that lasts a lifetime so it's "just like riding a bike" to play the piano. And even better, they'll want to.
Get to know TEACHER…
Beyond the Bio!
Hobbies: Piano, weightlifting, playing with my cat, and hanging out with friends
Musical influences: Ben Folds, Brad Mehldau, Edvard Grieg
Favourite food: Fried chicken sandwich
Least favourite food: snap peas, because I ate too many as a kid one time and threw up and now I dislike the smell
Favourite music: Romantic era piano music, Beach Boys and similar era music, math rock
Favourite song: "How Dare You Want More" by Bleachers
Favourite movie: Sing Street
Favouirite movie music: main theme for "Eternal Sunshine of the Spotless Mind" or anything Star Wars
Favourite musical theatre/opera: Wozzeck
Best quote from your teacher: "Don't show the audience you messed up, they won't know! Keep going!"
Favourite quote: "That's what life is, Happy Sad"
Favourite book: Recursion by Blake Crouch
Best thing about teaching at ABC: Getting to reach and connect with so many lovely people!
Latest Homework from Erin
Is Erin Your Teacher?
Sign up now to get your weekly assignments delivered, and never lose your homework sheet again!
Thursday March 23 Lessons – Erin P
Welcome back! Great to see you guys :) A reminder to online students to meet on FARPLAY, rather than Zoom moving forward. Contact Barnaby with any questions.
Liam
*New piece in Lesson book* Reveille. This piece uses the concept of triad inversions. C, G, A minor, and E are used in this piece. For the RH, pay attention to the articulation, and for the LH, think of which chord and inversion you are playing. Notice the ABA form as well.
Reign. Get familiar with the LH of it, playing the bottom note when there are hard to reach octaves. Very strict, steady tempo is the most important thing for marches like this. Practice consistent fingering for the tricky sections, like we did in lesson today, and once you find what works – write it in!
Intervals worksheet. Go at your own pace, work to recognize the shapes the intervals are. Play them on the piano to hear them if you wish.
Marita
Pieces were sounding great today! As a whole, our goal for each of the repertoire is to be able to play them at a consistent, steady, tempo. This week, practice going as slow as you need to to have no hesistations. Snake – get the second half sounding as fluent as the first half :)
For Heavenly Blue, familiarize yourself with it more, and continue reading through the entire piece. It is almost an ABA form, meaning the material at the beginning comes back at the end.
Your new major scale is Db major. The only white notes are F and C. RH fingering is 231 234 12. LH is 321 4321 2.
Sina
Great work! Please review your C and G major scales with both hands seperately this week. If you need help with notes or fingering, refer to this.
*New Piece* Homework. This piece introduces the new symbol: the "natural". It cancels out a sharp or a flat within the same bar. This piece includes a LH phrase that goes A-G#-A-G Natural. A natural is always a white key. Play whichever hand has the melody (the part you'd sing) louder than the other hand. Pay attention to the dynamics here, line 3 is quieter than the rest.
Saturday March 25 Lessons – Erin P
Welcome back !!! Thanks for your hard work over March break :)
Sara
When working on your technique this week (scales, triads etc.) focus on shaping them (start softly, crescendo to the top and then diminuendo on the way down). Record yourself for an objective view.
Sunset at the Beach – Great rhythm fix. Get more explosive with your dynamics, tell a story. Pay more attention to your pedalling at home and ensure the pedal is being fully "cleared" (coming to the top so the sounds don't squeak through) and nothing sounds muddy.
Harlequinade – louder louds!
Clowns – More drama in the crescendos. This piece is filled with surprises because it's about clowns!
Sonatina – Ensure the RH is louder than the left at the very beginning, of course the goal is for everything to be very quiet, but the right can't be quieter than the left accompaniment so adjust accordingly.
Jadon
Great job with the Swing today! Find it here to further practice.
Next week bring your folder so we can get started on Interstellar. Play around with it and Avatar this week. Avatar you've made great progress, practice it like you did in lesson today where you ensure you're playing the pattern in 9/8.
Grace
Goldberg Variations – Great job using beat to beat practice to ensure your hands are together in the right spot and evenly. Continue this.
Mozart – I vote for you to begin working on the chart with the D minor key signature. Count four groups of 3 eighth notes for each bar. Notice the dotted quarter notes in the inner voice later in the piece.
Marco
Mission Impossible – work to eliminate the coffee break your RH is taking after the first 2 eighth notes. Keep practicing it hands together, you've got this! Your rhythm worksheet prepared you for this kind of coordination!
Young Ludwig Exploring – work on the first 4 bars when the hands are copying each other, as well as the ending when they play in unison. Use the written fingering. Notice how the other hand begins to play one 8th note after the previous hand finishes, creating a constant flow of notes.
Daniel
Your new major scales are Eb, Gb, Ab, and Bb. Fingering can be seen below. 2 octaves are shown in the pictures.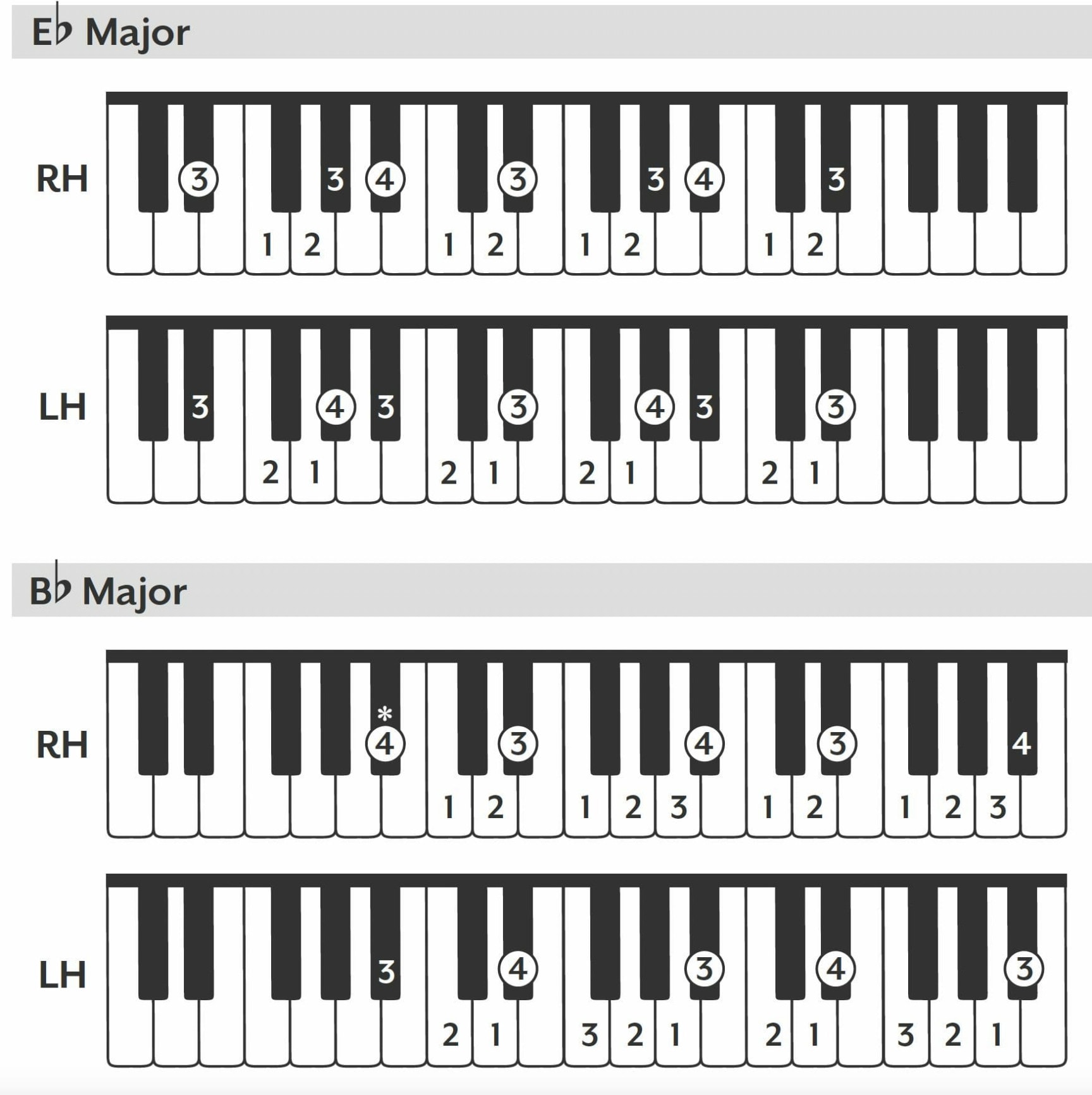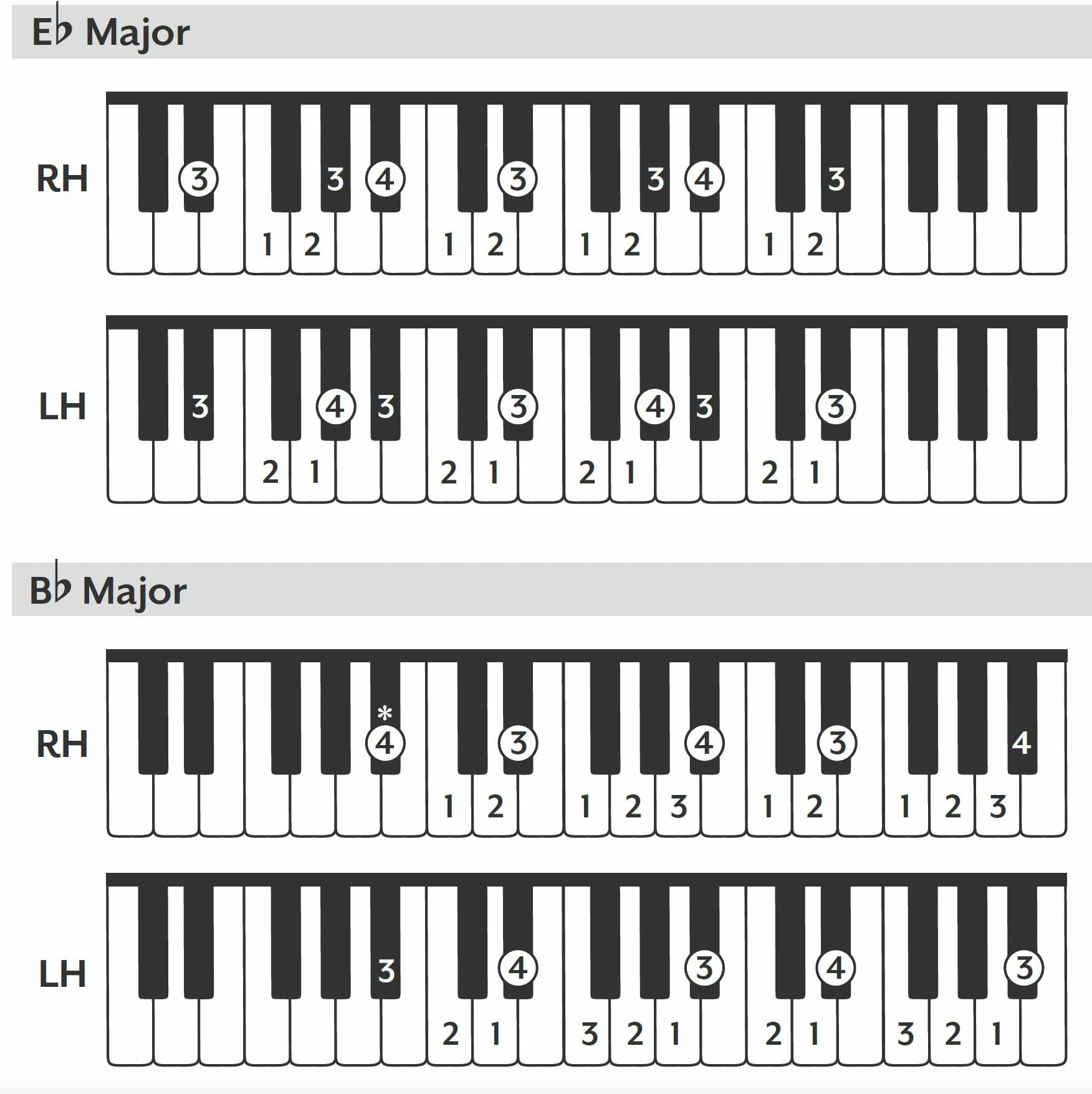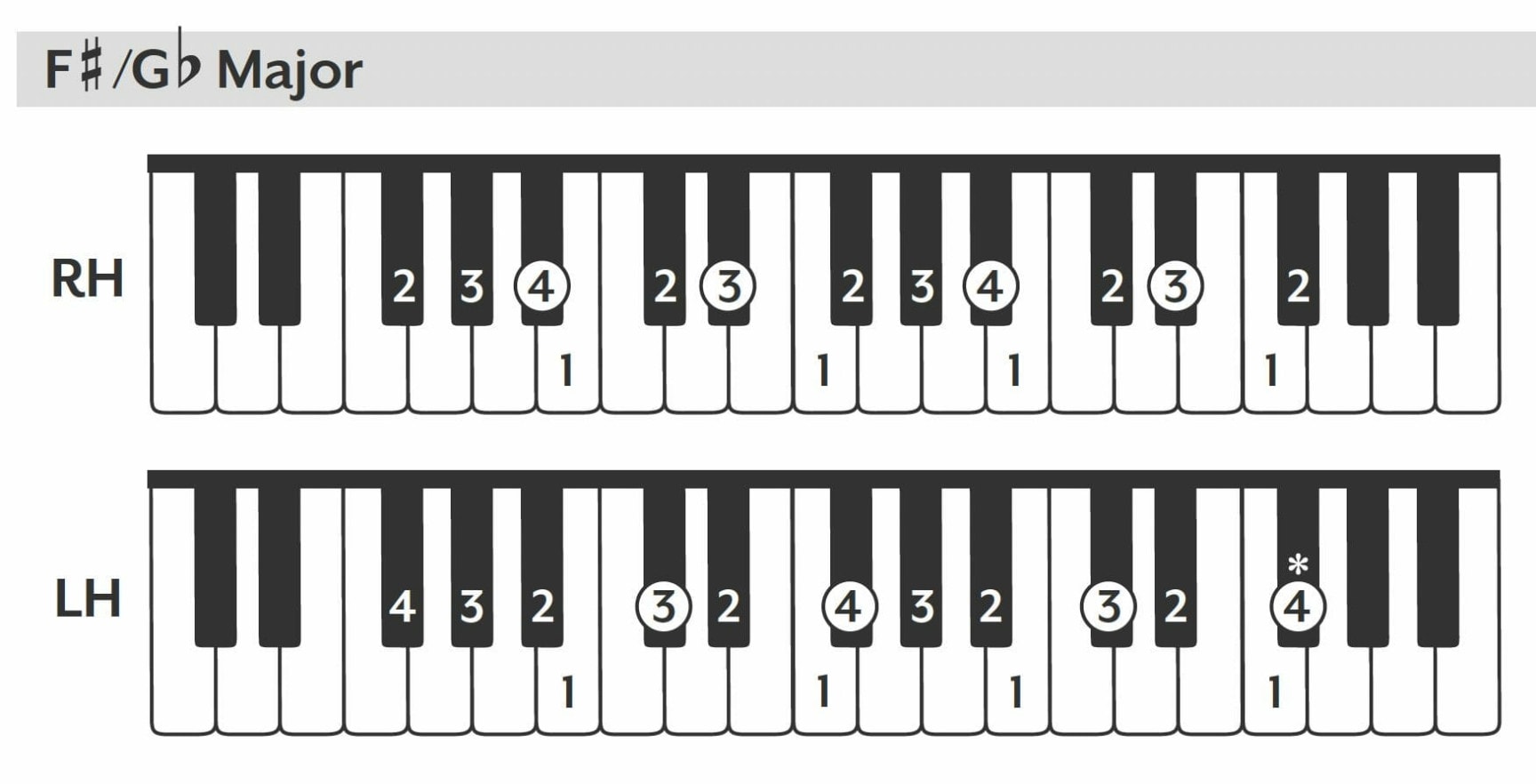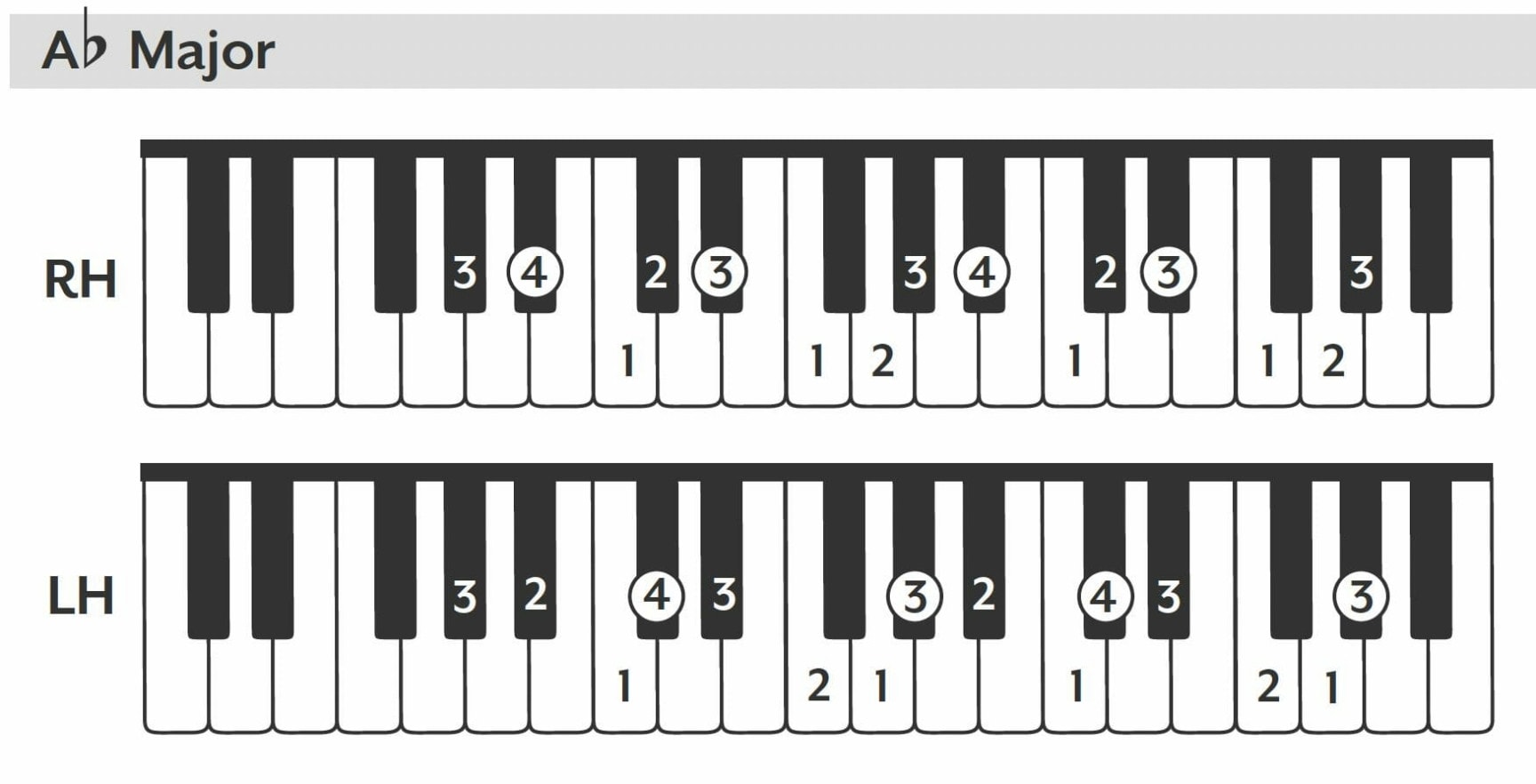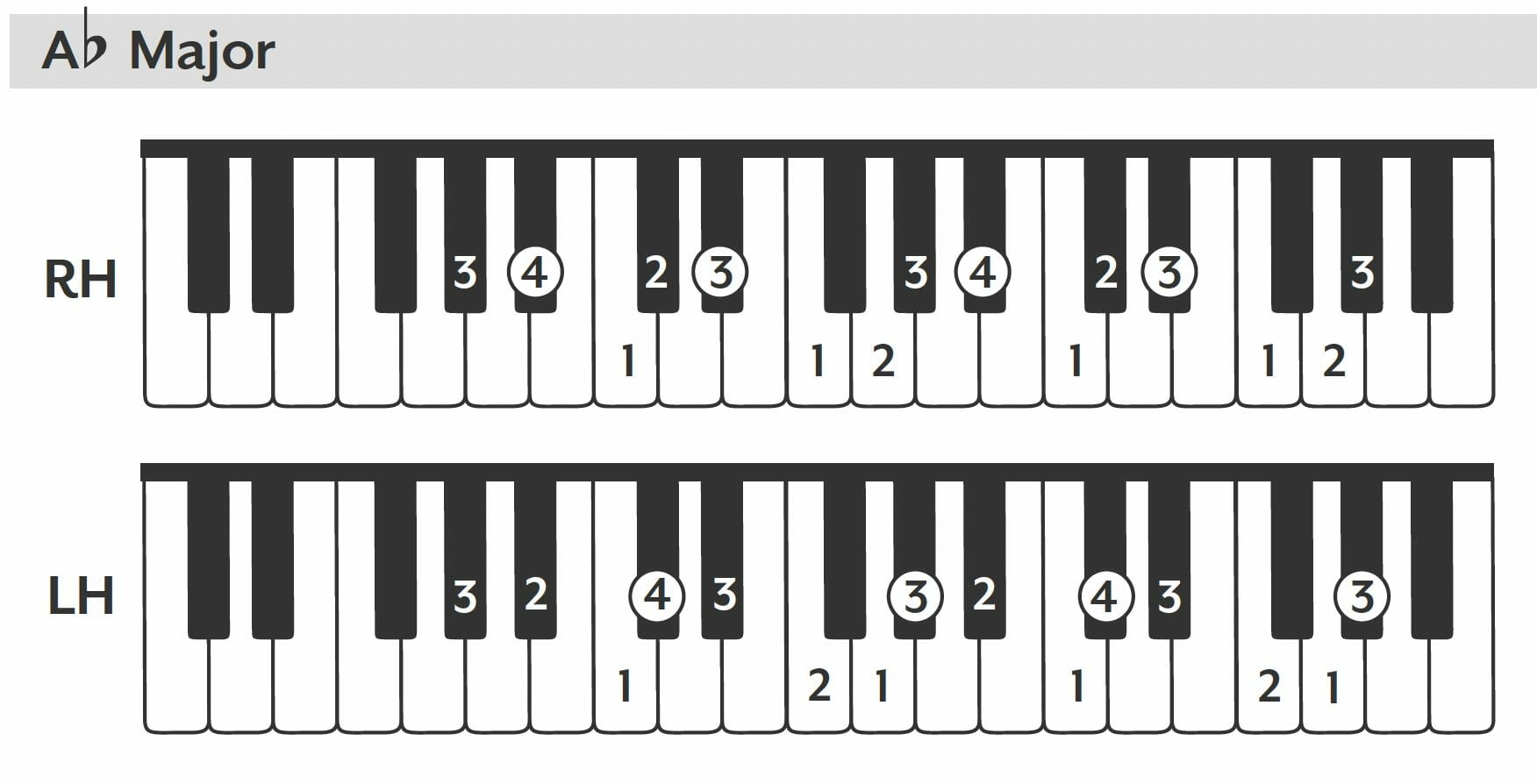 Periwinkle Twinkle – Wow ! Great work! Pay attention to the different phrase endings and use the written fingering consistently. Great groove!
Crazy Comics – Play through the first 14 bars (up to the star) this week. Go slow so that your counts are accurate. Everytime you noodle something wrong, your brain remembers it, so don't confuse your brain!
Julian
Queens Royal Entrance – Awesome! Play it lots this week so you can do it no hesitation!
New major scale = B! RH is same fingering as always, thumb on white keys. LH goes 4321 4321.
We learnt the Star Wars Main Theme by ear in C so practice that so it doesn't fall out of your brain :)
Preferred Books for Erin Students
Click to buy them here, and they'll come right to your house! What could be easier?
Faber Piano Adventures
Lesson Book 1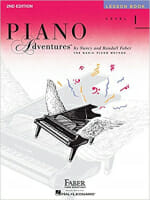 The 2nd Edition Level 1 Lesson Book introduces all the notes of the grand staff, elementary chord playing, and the concept of tonic and dominant notes. Students play in varied positions, reinforcing reading skills and recognizing intervals through the 5th. Musicianship is built with the introduction of legato and staccato touches. This level continues the interval orientation to reading across the full range of the Grand Staff. The 5-finger approach is presented here in a fresh, musically appealing way.
Piano Safari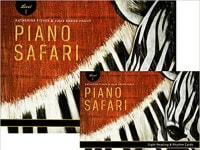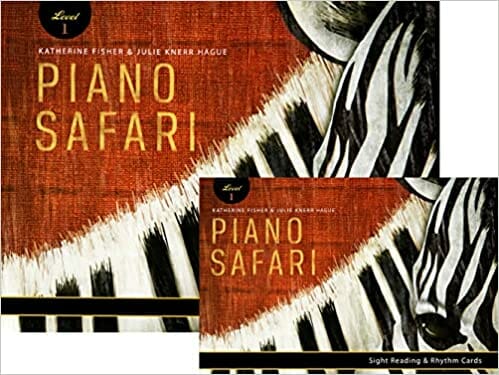 Note: This is an expensive source for this book, and you may find it cheaper at another source.