Ivan is Toronto-based violin, viola and guitar player and teacher
His musical education began in the Altai State Music College and Philharmonic Orchestra, where he studied violin and started playing guitar to broaden his musical horizons. He played in various orchestras and tours throughout his further studies in the Novosibirsk State Music Academy, performing classical symphonic repertoire, operas and ballets. He also gained international acclaim as an acoustic duet with singer-songwriter Igor Hellman, participating in popular TV and radio programmes and performing hundreds of concerts in the Soviet Union, Sapporo (Japan), and Valley of Arts Festival (Kapolcs, Hungary).
After moving to Hungary, Ivan joined the Danube Symphony Orchestra as a viola and violin player and was a regular with the renowned Budafok Dohnányi Orchestra. In the next 26 years, he had numerous opportunities to participate in orchestral and musical theatre productions, chamber ensembles and string quartets in Hungary and across Europe. he frequently joined touring orchestras and travelled around the world: a 70-city US tour of Merry Widow with the London City Opera in 2002; annual concert tours to China, Japan and Indonesia with Symphonia Vienna Orchestra and Szolnok Symphonic between 2004 and 2018; and the 2012-13 season of the popular Âge tendre, la tournée des idoles tour in France. he also took part as an extra in several theatre productions, music videos, and films, including Sunshine with Ralph Fiennes, and The Man with the Iron Heart with Jason Clarke and Rosamund Pike (where he also was Clarke's hand double).
Back in Budapest, Ivan ran a private music studio where he worked with students of all ages. He often taught whole families: brothers, sisters, mothers, and even children born after their older siblings started studying music with him. When teaching adult students, he helped them achieve and exceed the goals they set for themselves when embarking on the journey to learn a new instrument. With the little ones, he helped them set these goals to begin with, making the most of everything we could teach.
Since moving to Canada in 2019, he has been an active musician in the Greater Toronto Area, playing second violin and viola in Ontario Philharmonic, where he also was invited to take part in the New Horizons for Seniors Program. He is principal violinist in the Kindred Spirits Orchestra and principal second violin in the Summerhill Orchestra. Ivan is always looking for similar opportunities and in the city, wherever his experience and skills as a multi-instrumentalist and educator can be put to use!
Get to know Ivan…Beyond the Bio!
Hobbies: Travel, learning languages, martial arts
Musical influences: Bach and Rachmaninoff
Favourite food: everything new
Least favourite food: raw herring liver in Japanese style
Favourite movie: 2001: A Space Odyssey
Best quote from your teacher: It wasn't bad, but….
Favourite quote: Life is What Happens To You While You're Busy Making Other Plans
Favourite book: Cat's Cradle by Kurt Vonnegut
Preferred Books for Ivan's Students
Click to buy them here, and they'll come right to your house! What could be easier?
Suzuki Violin School
VOLUME 2
Hal Leonard Guitar Method COMPLETE
Volumes 1, 2, and 3 in one book.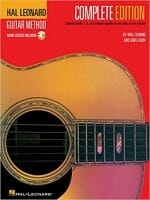 The Hal Leonard Guitar Method is designed for anyone just learning to play acoustic or electric guitar. It is based on years of teaching guitar students of all ages, and reflects some of the best teaching ideas from around the world. This super-convenient Complete Edition features the new and improved method books 1, 2 and 3 spiral-bound together.