Hello Parents!
We have begun sending out our fall reports, so you should be asking your students about them now.  We take the time to do this so those of you that are parents that don't often come in to chat with the teacher, or students who may not think to ask, have some idea of where we have been, where we are, and where we are going.  The teachers sometimes forget that many of you do not have a musical background, and use musical words and terminology that you may not understand.  If that is the case, please take the time to come in and speak with your teacher.  We want you to be aware of what is going on, and how to best support your students' efforts.
Recital
NEW VENUE – This autumn we are trying a new venue for our recitals: Casa do Alentejo, 1130 Dupont St.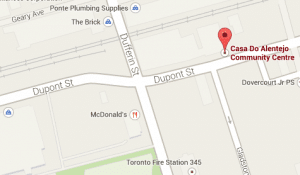 As you can see from the map above, the location is at Dufferin and Dupont, close to the Galleria Mall.  We recommend using the mall parking for the day.
Since we'll be at a new venue, there may be some learning curves for us as we adapt to this new space.  We'll be planning carefully to try to avoid delays, but ask for your understanding in advance.
RESTAURANT – The theatre is accessed though a restaurant and bar that is typically closed on Sundays (not the bar).  The restaurant is typical food of the Alentejo region of Portugal, and is excellent, in a very nice, simple atmosphere.  They will open the restaurant for us if there is enough interest.  I think it is a great idea to bring the family for a bite before or after your performer's show.  So, if you are interested in using the services of the restaurant, please call us at the office and let us know ASAP.  We'll update you if it will be open.
RECITAL TIMES – Our Current Schedule will see 4 recitals, starting on the hour at 12:00, 1:00, 2:00, 3:00.  If those fill up, and there is still demand, we'll have a wait-list time for 4 p.m.
ROCK BAND TIMES – Both groups are sounding really awesome this year, and we will likely program 2 recitals for each.  We may need whichever group performs first to come early to do a sound check.
Sign-up Sheets at the Desk
The recital sheets are now at our desk, and you can register for your time of preference.  If your teacher is available, then you will be able to see which slots they can be there for – on each page at the top.