Dear Families,
Thank you very much for your support and patience during a challenging time for us all. We are grateful that we can continue to operate during this time, and hope that we are delivering our usual high-quality experience to you and your families.
We are now starting our seasonal registration, as per normal. Details follow below.
Making Summer Easy + Bonus Free 'Campfire' Guitar/Uke 10-Week Session
We hear you – this public health situation has been challenging. We have been very keen to ensure that students and families have easy access to an outlet that brings you structure, satisfaction, some fun and a sense of connection right now.
To that end, we have a terrific offer that we think you'll like:
Book your Summer and Fall lessons at the same time, and we'll give you 10% off your regular Summer lesson pricing. You'll save a little cash while reserving your preferred Fall lesson time, plus we've got a great summer bonus for you…
Join us for our new Campfire Summer Sessions for Guitar and Ukulele for FREE! We'd like to offer you and anyone in your family unlimited access to these special online group guitar classes. Anyone can participate, and no experience is required! All you'll need is a Guitar or Ukulele to join in. Campfire Summer Sessions will be an easy, fun program for any beginner in your home. Play along with us for 10 weeks starting in July – you can participate as often or as little as you like. You'll learn two new songs each week and you'll have access to music PDFs and previous classes through a special online portal.
Here are the options for this registration cycle: 
#1  •  Summer + Fall
•10% Off Summer
•Campfire Summer Sessions 10 Week Session FREE
•Pay for September Now
#2  •  Fall Only
•Pay for September Now
#3  •  Campfire Summer Sessions Add-On
•5 Week Session for $127.77/family
•10 Week Session for $229.99/family - SAVE 10%
Billing for Fall & Summer
As usual, we are going to ask for payment for September to reserve your spot. We will, as always, be able to be flexible and offer to defer, if necessary.
Billing for Summer programs will occur in July and August.
The Importance of Summer, Now More Than Ever
As weekday and outdoor activities are going to be very limited this Summer, we encourage and ask you to consider Music as a primary activity to maintain structure, skill development, and a focal point for keeping self-esteem and human interaction high.
Certificates & Teacher Signatures on Reports
As you know, we typically include certificates and teachers' signatures with our spring reports, but we are not able to do this this year due to the quarantine. Our apologies.
Campfire Summer Songs Schedule
Stay tuned for an exact schedule of songs week-to-week. In the meantime, here is a tentative list we are working from!
Summer Lesson Schedule
The following teachers will be available for lessons on the following days:


We'll call you shortly to confirm your registration and try to get you as close to your regular day and time as possible, and verify with you.
Fall Lesson Schedule
There are no substantial schedule changes at this time.
David will be leaving the team at the end of the school year to pursue other opportunities, and as he has come back to the school before, we'll cross our fingers and hope to see him back again! Giulianna will be taking over David's students.
Here is a tentative schedule for the coming school year, which we expect to stay stable, but is subject to change at any time.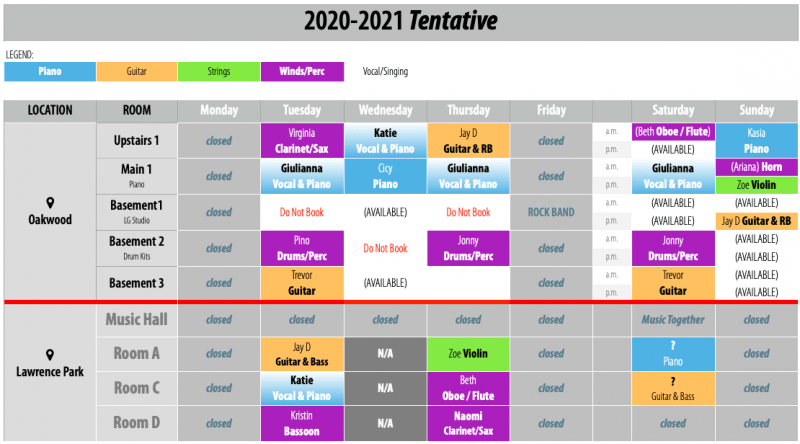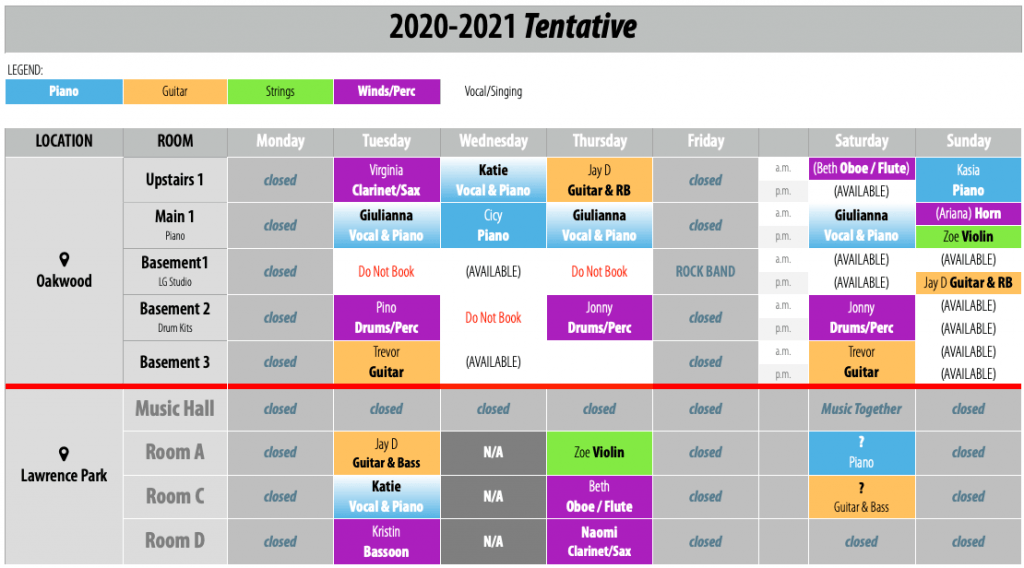 Questions?
Please call the office directly at 416-651-7529, and we'll be happy to answer your questions!