Trevor is a multi-instrumentalist, songwriter, and composer who performs and teaches in Toronto. Originally from Vancouver, he has been active in the Canadian music scene for ten years.
Trevor completed his Bachelor of Music with honours from Humber College, where he had the chance to study with renowned guitarists Ted Quinlan, Geoff Young, David Occhipinti, and Kim Ratcliffe. During his time at Humber, Trevor was the recipient of the Greg Wells Music Scholarship for music production, the Yamaha Music Scholarship for musicianship, as well as the Peter Harris Memorial Award for guitar.
Trevor's experience with studio recordings, as well as performing live in a variety of styles has informed the development of his teaching approach, which is relaxed, flexible, fun, and focused. Learning songs and cultivating an organic approach to the instrument are given priority in lessons. He specializes in Jazz, Pop, Rock, Folk, Blues, and Country, but is open to teaching any style of music. Trevor seeks to encourage the interest of each student by focusing on listening skills, as well as bridging the gap between musical ear and musical performance.
Get to know Trevor…Beyond the Bio!
Hobbies: Reading, Running
Musical influences: Ed Bickert, Joe Henderson, Bob Dylan, Joni Mitchell, Frank Sinatra, Hank Williams
Favourite food: Pizza
Least favourite food: haven't found one yet
Favourite music: Jazz / Folk
Favourite song: can't decide!
Favourite movie: Momento
Favouirite movie music: Manhattan
Favourite musical theatre/opera: haven't found one yet
Best quote from your teacher: "Breathe"
Favourite quote: "Good luck"
Favourite book: The Possessed – Fyodor Dostoyevsky
Best thing about teaching at ABC: Listening to music that students are excited about and helping them learn to play what they hear
Latest Homework from Trevor
Is Trevor Your Teacher?
Sign up now to get your weekly assignments delivered, and never lose your homework sheet again!
Preferred Books for Trevor's Students
Click to buy them here, and they'll come right to your house!  What could be easier?
Hal Leonard Guitar Method
Book 1, with CD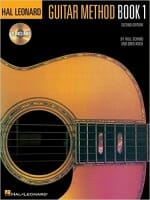 The second edition of this world-famous method by Will Schmid and Greg Koch is preferred by teachers because it makes them more effective while making their job easier. Students enjoy its easy-to-follow format that gives them a solid music education while letting them play songs right away. Book 1 provides beginning instruction including tuning, 1st position melody playing, C, G, G7, D7, and Em chords, rhythms through eighth notes, solos and ensembles and strumming.
Hal Leonard Guitar Method COMPLETE
Volumes 1, 2, and 3 in one book.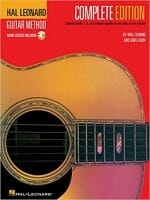 The Hal Leonard Guitar Method is designed for anyone just learning to play acoustic or electric guitar. It is based on years of teaching guitar students of all ages, and reflects some of the best teaching ideas from around the world. This super-convenient Complete Edition features the new and improved method books 1, 2 and 3 spiral-bound together.