Fun, Engaging, Stimulating
Music Programs for Seniors' Communities
Register Your Residents Today!
Choose & Learn
About Our Programs
Weekly Singing, Movement, and Instrumental Classes
for Young Children, Families, and Grandfriends!
What are Generations Classes?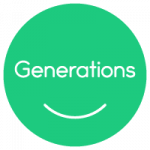 Generations includes Seniors to follow through on the Music Together® vision to help children complete the pathway of early childhood music development from birth through age eight, while combining classes with a community of
Grandfriends, deepening the community music experience, and bridging the gap of age through music.  Each week we, sing, dance, introduce and play rhythm instruments. Generations classes engage seniors with comfort- and physically-appropriate music and movement activities, where they can begin to take charge, lead others, and be musically creative, as they see fit.
ABC Academy chooses Music Together because it is the right choice for Seniors.  We take our seniors' time seriously, as well as our responsibilities as teachers, and making sure that they get the best experience is our top priority.  We chose Music Together precisely for this reason, and it continues to be our driving force.
On Monday morning the residents start asking, 'What time are the little ones coming?' It means so much for us to have members of the greater community come visit and bring joy and laughter to the enthralled senior citizens. Our residents have given so much to their communities, and to see it come back full circle is incredible. Although many are dealing with the difficulties of aging, during class they become as carefree as the children.
Building Relationships Across Generations, Within Your Community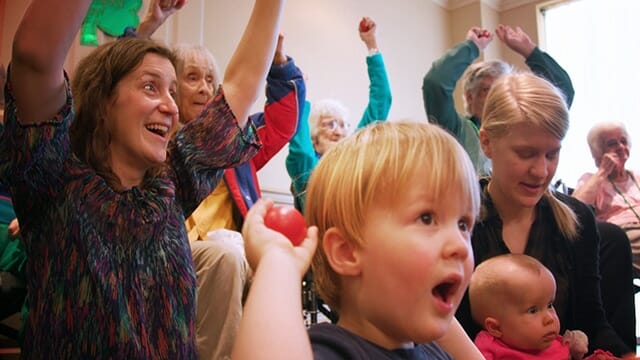 Cornerstone goals of a Generations class revolve around building relationships and redefining what musical community looks like.
Creating a community of families that your residents becomes a part of, bridging ages through music in support of early childhood education is an incredibly engaging setting for all participants, offering layers of support, input, and engagement that from back and forth between the youngest and oldest people in the room.
Inclusion of Grandfriends as active participants in our classes not only enforces their roles as models and teachers, it also accepts and includes them as leaders, giving them vital roles as contributors.
Helping You Deliver on Your Retirement Living Promise
As a retirement community business, your promise to deliver and engaged and dignified aging experience to your residence is enhanced by Music Together Generations classes.
The Cognitive, Social, and Emotional benefits of moving, breathing, and singing are a superfood for meeting your promise to your residents to age well, and gracefully, reducing the risks and outcomes associated with isolation and depression common to many Seniors.  Direct physical, emotional, and musical connections – while simple and common in a Generations class – make a huge impact on day-to-day living for these seniors in your facility.
These classes not only build relationships across Generations, but within your community, helping your existing residents to make new, or deepen existing friendships through a shared, common experience.
They find themselves, very quickly, delighted!
What is This
Not

?

It is extremely important to understand that a Generations program is truly focused on making ongoing, meaningful contributions to your residents' lives, and that it does not fall into certain categories of activities:

Not a PERFORMANCE – This is not something for your residents to watch.  Watching is a passive activity, and does not deliver any of the benefits of a musical activity.  Grandfriends are active, participating members of the class (at their level of comfort and range of mobility).

Not THERAPY – Music Therapy is a separate discipline.  This is an early childhood education program with a community building focus.  While participation absolutely provides benefits that align with Music Therapy, the class is in no way focused on providing Therapy to your residents.

Not a DROP-IN – To fulfil the educational goals and community building that makes a lasting and meaningful difference to your residents, it is expected that the same people come week after week.  Classes also have a strict limit on the maximum number of Grandfriends in the class so that the relationships can happen.

This mixed-ages class will be held at your facility on the same day at the same time each week for a 10-week semester. Bringing the class to your residents makes it easy for them to attend and participate. Because the program is research-based and developmentally appropriate, the parents/caregivers are active members of the class with their children. In Generations, the seniors become essential members of class, too. Their presence and participation enriches the experience for everyone. So, we find it works best when the same elders attend each week. Each class is 45 minutes long and includes a variety of enjoyable, dynamic music and movement activities. Traditional folk songs are a core part of our curriculum, and we'll bring in outside music to ensure that we are meeting the musical tastes and cherished memories of the "grandfriends" in the class.

No one, child or adult, is pressured to participate beyond their comfort level or ability, so there is an atmosphere of acceptance, inclusion, and informal participation. We're sure that you don't need us to tell you how much the elders adore having the children around! The regular class experience also brings cognitive, emotional, and physical benefits for the seniors since they are welcomed as members of the class rather than a passive "audience."