 Fun, Engaging, Stimulating


Music Programs for Seniors' Communities
Register Your Residents Today!
Choose & Learn
About Our Programs
Weekly Singing, Movement, and Instrumental Classes
for Young Children, Families, and Grandfriends!
What are Generations Classes?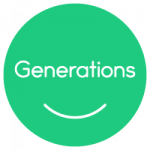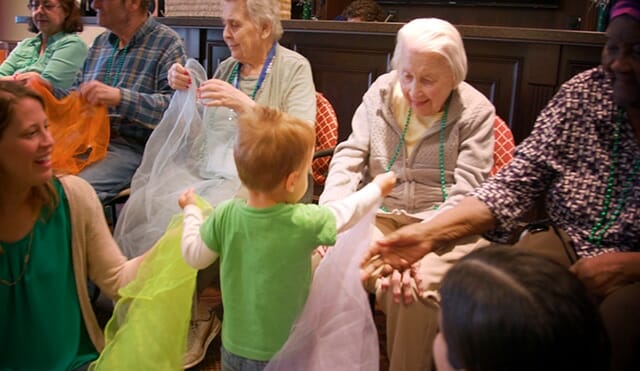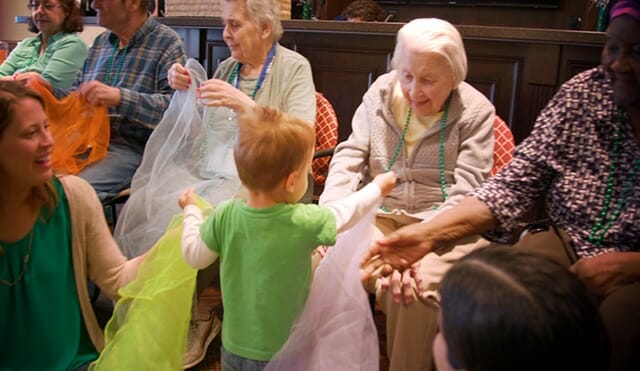 Generations includes Seniors to follow through on the Music Together® vision to help children complete the pathway of early childhood music development from birth through age eight, while combining classes with a community of
Grandfriends, deepening the community music experience, and bridging the gap of age through music.  Each week we, sing, dance, introduce and play rhythm instruments. Generations classes engage seniors with comfort- and physically-appropriate music and movement activities, where they can begin to take charge, lead others, and be musically creative, as they see fit.
ABC Academy chooses Music Together because it is the right choice for Seniors.  We take our seniors' time seriously, as well as our responsibilities as teachers, and making sure that they get the best experience is our top priority.  We chose Music Together precisely for this reason, and it continues to be our driving force.
On Monday morning the residents start asking, 'What time are the little ones coming?' It means so much for us to have members of the greater community come visit and bring joy and laughter to the enthralled senior citizens. Our residents have given so much to their communities, and to see it come back full circle is incredible. Although many are dealing with the difficulties of aging, during class they become as carefree as the children.
Building Relationships Across Generations, Within Your Community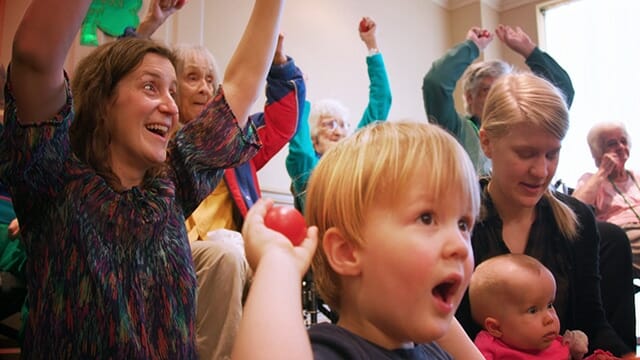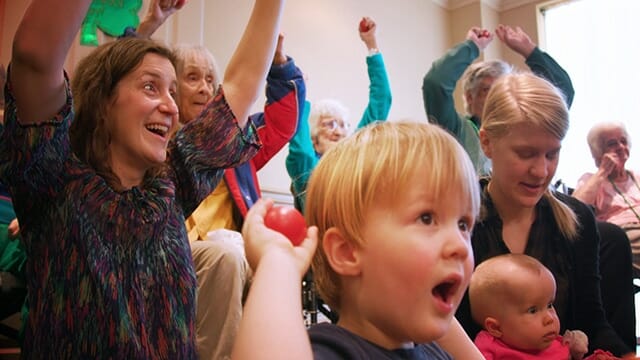 Cornerstone goals of a Generations class revolve around building relationships and redefining what musical community looks like.
Creating a community of families that your residents becomes a part of, bridging ages through music in support of early childhood education is an incredibly engaging setting for all participants, offering layers of support, input, and engagement that from back and forth between the youngest and oldest people in the room.
Inclusion of Grandfriends as active participants in our classes not only enforces their roles as models and teachers, it also accepts and includes them as leaders, giving them vital roles as contributors.
Helping You Deliver on Your Retirement Living Promise
As a retirement community business, your promise to deliver and engaged and dignified aging experience to your residence is enhanced by Music Together Generations classes.
The Cognitive, Social, and Emotional benefits of moving, breathing, and singing are a superfood for meeting your promise to your residents to age well, and gracefully, reducing the risks and outcomes associated with isolation and depression common to many Seniors.  Direct physical, emotional, and musical connections – while simple and common in a Generations class – make a huge impact on day-to-day living for these seniors in your facility.
These classes not only build relationships across Generations, but within your community, helping your existing residents to make new, or deepen existing friendships through a shared, common experience.
They find themselves, very quickly, delighted!
What is This
Not

?

It is extremely important to understand that a Generations program is truly focused on making ongoing, meaningful contributions to your residents' lives, and that it does not fall into certain categories of activities:

Not a PERFORMANCE – This is not something for your residents to watch.  Watching is a passive activity, and does not deliver any of the benefits of a musical activity.  Grandfriends are active, participating members of the class (at their level of comfort and range of mobility).

Not THERAPY – Music Therapy is a separate discipline.  This is an early childhood education program with a community building focus.  While participation absolutely provides benefits that align with Music Therapy, the class is in no way focused on providing Therapy to your residents.

Not a DROP-IN – To fulfil the educational goals and community building that makes a lasting and meaningful difference to your residents, it is expected that the same people come week after week.  Classes also have a strict limit on the maximum number of Grandfriends in the class so that the relationships can happen.
Senior Choir
Singing Favourites and Building New Skills for Enjoyment, Engagement, and Vitality, Every Week!
What is Senior Choir?
Senior Choir is an ABC Academy original program offering Retirement Communities an easy-to-implement, weekly program option that provides a range of enjoyable, musical activities to your location.
Senior Choir is a program that is meant to enhance not only some residents days, but to enhance your community's social calendar with performances, and help create opportunity for families to also come to visit.
How Does it Work?
Each week your choir director will come your facility, and lead your group in song.  The choir director will have a selection of popular songs that will be from the hits of yesteryear, and easy classical choir music sure to be familiar and engaging to your residents.
Ideally, you want the same people coming each week so that the group can work on some improvement.
New people may join anytime, and there is no maximum number of participants.
Are There Goals?
Absolutely!  We want to be able to stage at least 1 or 2 performances a year for your other residents, and all residents' families.  This is meant to be a program that gives to your entire community.
We also want your residents to feel like they are not only singing for fun, but building and improving on new or existing skills.  The sense of achievement is extremely important to the work we do with your community.
Another important aspect of goal setting is what we call 'exchange'. In an exchange situation, we'll provide your group of singers the opportunity to go on a field trip where they will sing for and with another one of our local Senior Choirs.  This also works with you being the host.  Exchanges are basically a field trip for your residents – how much fun is that?!

Music Together art & logo design © 1992-2016 Music Together LLC. Music Together is a registered trademark. ABC Academy of Music is licensed by Music Together LLC. For more locations: www.musictogether.com – (800) 728-2692
'Bout My Friends: Tom Foote and Justine Chadley, arranged by Kenneth K. Guilmartin – ©2017 Music Together LLC (ASCAP)  •  Kakilambe: Traditional, arranged and adapted by Kenneth K. Guilmartin – ©2015 Music Together LLC (ASCAP)  •  Chandamaama Raave: Traditional, arranged and adapted with English Lyrics by Kenneth K. Guilmartin and Tom Foote – ©2017 Music Together LLC (ASCAP)  •  Hip Hop Hippo: Tom Foote and Kenneth K. Guilmartin, arranged with Lawrence Haber and Karttikeya – ©2016 Music Together LLC (ASCAP)