Hi Team,
I am sad to report that our former Violin Teacher, Vera Verzun recently died after a second battle with Cancer.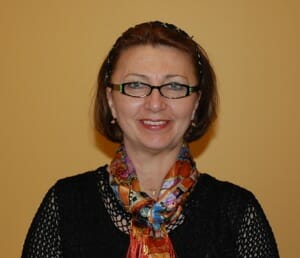 I worked with Vera at Long & McQuade, and she quickly became someone that I loved in a very honest way – because like all of us, she was far from perfect – but always moved with love and passion through life.  I had to ask her to stop sending me video links of music and opera, which was incredibly exciting to her every day, and also the limit of her technical prowess.  It was no surprise that Vera came to work with us at ABC, because even with an incredibly full schedule, she wanted to help me.
Vera challenged me in many ways – most which she would never know – to be a better, more tolerant person, and a person that embraces everyone as they are.  Combined with her fierce devotion to her craft, and incredibly high standards for all the students (and parents!) she mentored – regardless of age – she was an incredible voice for music everywhere.  We should all aspire to even a small portion of her effort to spread music around us.
Vera was teaching for us when she was diagnosed with Cancer for the second time, and refused to suffer through the treatment which brought her back last time round.  While in line with the frustrating and stubborn aspects of her personality, I was deeply moved by the personal strength and grace with which she made her decision.  There is no greater challenge than to stare down death, and she set an example that will bring me strength and inspiration for the rest of my life.
While it is short notice, her memorial will be held Saturday, June 18th at York Cemetery, located at 160 Beecroft Rd., in North York, at 10:00 a.m.  If you are moved to make any kind of contribution in her memory, find some small personal way for yourself to spread music, which drove her mad with happiness.  Changing one life at a time is so meaningful, and the way she impacted people, whether she realized it at not.
With Gratitude for YOUR contributions to ABC and our musical community,
Barn.