Hello Everybody!
This note explains how Music Together will be working this spring. It is important you review it, as it explains your access, and your billing for this period.
Most importantly, we want to make sure that we deliver you the same peerless experience in a way that continues to enhance your family life week to week, in a way that is convenient and offers you choices during a time of unpredictable change.
HOW CLASSES WILL WORK
Your classes are going online, using Zoom software.
You will use the same link to join your class, every time. It is:
You can attend live broadcast classes, or watch classes on-demand. Every class and class type will be available to you over the course of the spring – universal access. If you want to try a Rhythm Kids class, you can. If you want to take all 6 Mixed-Age classes every week, you can.
Classes will be 30 minutes to allow for a better activity blend and experience using this format.
We will send access details towards the end of the week, and you can expect this to be through our website. Our password for access will be Hammer_Time.
SCHEDULE
We will offer 12 weeks, starting April 4th.
The first two weeks will be weeks 9 & 10 of STICKS collection to allow for many of you to 'attend' who missed classes due to the virus scare in the last few weeks. This will also give us time to mail you your books with download codes. You will only receive the main family music book, in English. We are investigating bi-lingual Spanish/English download codes.
1 Mixed-Age class per week will be 'avec Francais'.
1 Mixed-Age class per week will be a Pyjama class in the evening.
We will be including 2 'Storytimes' per week – one in English, one in French.
All of the above will be recorded for on demand through June 2020.
SAVING YOU MONEY ON OUR CLASSES
We are reducing our costs to make this accessible to you.
Classes will be 30% off the season, and there will only be one fee per-family, unless you have kids in two programs (in this event, please call us). See the chart below for the difference.
If you are already taking advantage of a promotional or referral discount, those will honoured and be applied to this new rate.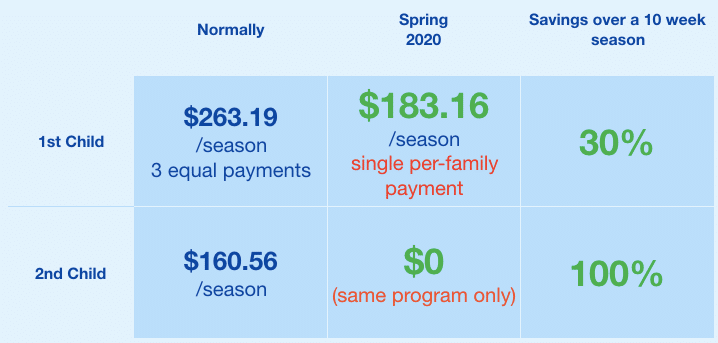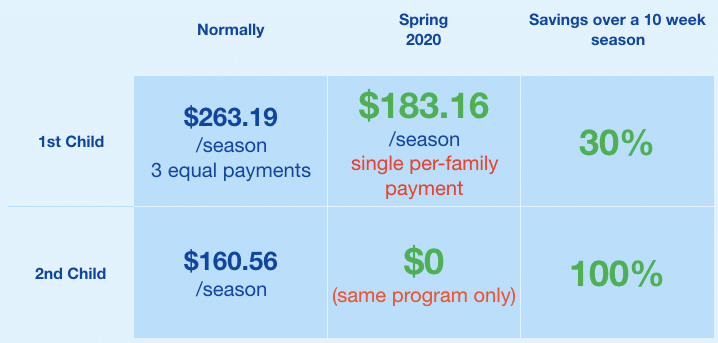 Payments will be administered in a lump sum on April 1st, rather than in equal parts over the season, as we need to assure that we can cover our costs. We have updated our Policies and Procedures for this kind of event, please view them. Please call us if this is a problem, so we can accommodate you.
YOU CAN SAVE MORE MONEY, PLEASE HELP US!
For us, as for many of you, this is a bit scary. We're having to re-invent the wheel, and limit our teaching team so we minimize our business risk. For this reason, we'd like to ask you for your help.
Please consider referring your friends to our program this spring, wherever they may live in the world.
We'll continue to offer our very high 20% discount for you and your friends to the end of the season when you refer them to us.
Not only that, but the discount will still be unlimited – if you refer more people, we will continue to discount your billing. What does that look like?
ONE FAMILY 20% Off $183.16 = $146.53
TWO FAMILIES 40% Off $183.16 = $109.89
This is a great discount, and makes a family experience as low as $9 a week for unlimited live and on-demand classes.
Please pass the word around to anyone anywhere in the world for us, as this will really help us stay afloat and keep our teachers busy.
WHAT YOU'LL NEED
SHAKERS: Beans in a container/bottle
SCARVES: Tea towels, or the like
STICKS: Wooden Spoons, real spoons, real sticks
SPACE: Where you can jump, dance, and move safely
Optionally:
INSTRUMENTS: Pots, pans, kitchen implements, real/improvised, etc.
SMART TV / SCREEN MIRRORING. This will help make the experience feel more 'in-person' and 'live'.
Depending on when you have your classes, maybe you can even set your space up for a post-class picnic!
KIDS' ACTIVITY GUIDE
Don't forget our Kids Activity Guide, available free and online now.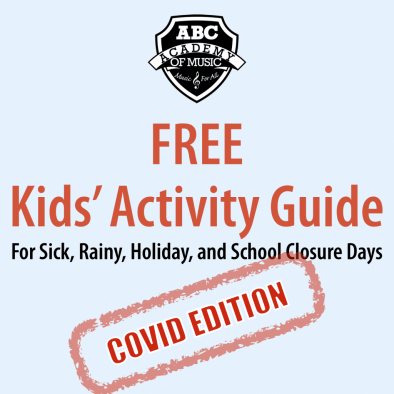 This guide will be online even after our current public health situation and contains 'evergreen' resources – things that are not tied to what is happening now, and will be online indefinitely.
This guide is outstanding and has a ton of content that covers:
Virtual Field Trips ??? ? ?
Storytime, Reading, Books, Writing ? ?
Music, Sing-Alongs ?
Arts & Crafts ? ? ?
Movement Breaks ???? •Science & Social Studies ? ? ?
Math ?
Languages ?????????????????
Coding ??
Online Safety ? ?
SUMMARY
Here's what we aim to deliver to you:
10 Unlimited Live Classes per week
(6 Mixed Age, 3 Rhythm Kids, 1 Babies)
Unlimited Recorded Classes
Live & Recorded French and English Stories
Your Family Music Book, con Español download code
Kids' Activity Guide
Reduced single and multi-child cost
Questions? Unsure?
Call us at 416-651-7529 before April 1st, when your billing is set to go through.
We want to make this as accessible for you as possible, and hope you can join and support us this spring.
Many thanks for your kind attention, patience, and your support on behalf of the entire ABC Academy team. We are grateful for YOU!
-Barnaby