Hello Everybody!
Parents and students often tell us about the neighbours they've gotten to know through our school and classes. We love facilitating these introductions to the people and organizations in our community, but it's harder to do when we don't get to see you in person; we thought we'd give it a try virtually. With no further ado….
Meet Grace Mandarano & Paul Sawtell, co-owners of 100km Foods
Grace and Paul moved into the St. Clair and Lansdowne area in 2011, one year after giving birth to their son, Jack, and just shy of three years after giving birth to their business, 100km Foods, a wholesale local food distributor in Toronto that connects local farmers with urban markets.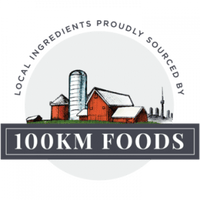 A Certified B Corporation, 100km Foods meets verified standards for social and environmental responsibility and have won 4 "Best For The World" B Corps awards for recognition of being in the top 10% of global B Corps for Community Impact.
"We've always shopped locally at mostly mom-and-pop stores, it's one of the reasons why we love this neighbourhood. We've got our local green grocer, butcher shop, bakery, and coffee shop that we always go to – places like The Sovereign and Tre Mari. It's very rare that we go into a proper grocery store," says Grace. "When the people who own the business live in your neighbourhood, they care about it–it's very different than buying from a large corporation where there isn't the same local impact."
Luckily for us, Grace & Paul chose ABC Academy of Music as their family's local music school. While they don't aspire to Partridge Family greatness, they're passionate music-makers who would have no trouble putting together a band in a pinch to jam through the pandemic blues (and they have!): Grace sings, Paul takes guitar & bass guitar lessons, their youngest son, Oscar, has dabbled in piano lessons, and their oldest son, Jack, started on guitar lessons before transitioning to drum lessons.
Particularly for Jack and Paul, playing and creating music is an important creative outlet and a great bonding experience they both enjoy. "Jack has a knack for it, there's no question that it's a big part of Jack's life," says Paul. "I always told him that by just having a guitar in a room, you can escape whatever is happening in life at that moment, it's incredibly rewarding."
That escape has been a necessity for Grace and Paul throughout the pandemic – when COVID-19 hit, their wholesale business lost 90% of its revenue. Much like most of their customer base of fine dining restaurants, they had to shut down or pivot to a new line of business. They chose the latter, working all hours to create a retail division of their business to bring fine dining restaurant-quality ingredients directly to people's homes. "We joke that we built our wholesale operation over 12-13 years then built our retail business over 12-13 days," laughs Grace. "By 2019, we grew to a $10 million business, 12 trucks on the road, delivering 4 out of 5 days of the week–it became something that chefs were telling other chefs about, the word of mouth has been incredible, we grew that side of the business over 8 years growing 30-40% year over year with no concerted sales effort. We're learning very quickly that we can't run the retail side the same way. It's a totally different game."
If there have been a few silver linings to the pandemic for Grace and Paul, it's that learning the new game of retail has reminded them what they love about being entrepreneurs while they've been able to spend much more time with their sons. "I enjoyed those early days of creating something new," says Paul. "The act of creating something from nothing, solving problems, and seeing the direct result of your work is incredibly rewarding. And on the flipside, we're very fortunate to be able to spend this much time with our kids at home for the last 6 months. It's been a blessing having this much family time."
Want to say a neighbourly hello and learn more about Grace & Paul's business? 
Visit 100KM FOODS & Use the Promo to Save 20% Off Your First Order – in Time for Thanksgiving!

PROMO CODE: ABCMUSIC20
Don't Forget – You Can Get 20-100% OFF Your Lessons!
Our referral program is still running strong – you can refer as many families as you like and keep getting 20% increments off of your lessons until the end of June.
You get this off one set of lessons, and the new family gets it off all of their lessons for the same time period.
We don't even care if you know the person – as long as they use your name!
Please spread the word and take some of your money back!