A very happy December to you all!
This very busy month we'll be covering:
The Fall Recital (incl. preliminary schedule)
Important Dates for the coming weeks (Don't forget to confirm your Make-ups!)
Teacher Emails for you to use
iPad Available!
Sign in to our scheduling system
Fall Recital – Sunday Dec. 14, at 12, 1, 2, 3 p.m.
Our fall recital registration is now available.  We have 4 time slots available, and there are lots of spaces still open.  Please register yourself or your young student the next time you are in.
The recital is at Casa do Alentejo, at 1130 Dupont St., near Dufferin, on the North side.  Light refreshments will be available at the bar just outside of the theatre doors.
Preliminary Schedule
12:00 (8/12)– Teachers Available:
Veda
Marianne
Gabriella
Matias
Edward A. (Awesome!  An adult student!)
Kollel
Shray
Rock Band
1:00 (1/12) – Teachers Available: Eric, Asha, Colin
Rock Band
2:00 (9/12)– Teachers Available: Asha
Nathaniel
Bernice
Chiara DeM.
Jacob
Alyssandra
Marta
Olivia B.
Nina
Edwardo M.
3:00 (0/12)– Teachers Available: Brenna
Please note that this will start to fill up very quickly, and is subject to change.  We'll do our best to update you a couple of times over the next week, but please sign up on your next visit, or call in with your preferred time ASAP.  Thanks!
Important Dates
We are coming to the end of a very busy autumn, and will begin to work on our make-up lesson schedule this week.  You will receive a phone call with your date and time – which we will try to make the same day/time as normal.  In some cases we may ask for changes, and will appreciate your flexibility.  You must call to indicate your availability, either way.  If you do not call in, you may lose the make-up owed.
Please take note of these important dates:
Dec. 14 – Fall Recital
Dec. 14 – Last day of Regular Lessons
Dec. 15 – Make-up week begins – Click here for the preliminary make-up schedule.  Don't forget to call to confirm or indicate unavailability.
Dec. 21 – Make-up week ends
Dec. 22 – School Closed for Holidays
Jan. 3    – Lessons and Classes resume on regular days/times
Teacher Emails
We are now making teacher emails available on a test basis for the remainder of the Academic year.  Your teacher's email address is simply their name: [email protected]
It is important to understand how this will work for students and parents:  You may send emails about anything related to lessons, except for scheduling and administrative matters.  Teachers will not reply or answer to matters relating to scheduling, billing, make-ups, etc.  For all of these matters, you should always call the front desk.  All emails from teachers will come from a single gmail account, which will be for outgoing messages only.  You will not be able to reply to this email address, as it will not be monitored.
Why are we doing it this way?  Accountability is very important to us.  We want to continue to assure that you are getting the highest level of attention in the areas that are most important.  The teachers will continue to focus on teaching, and the office will continue to provide support in all other areas.  This way there is simplicity and clarity in who deals with what, and hopefully confusion can be avoided.  Because we are testing this, it may be an imperfect solution, and we welcome your feedback over the course of the academic year, so we can make it better.  Thanks!
iPad Available
We have a 4th Generation iPad available, new in shrink-wrapped box, for $350.  It is 16GB, with a retina display.  It would be an excellent gift, at a reduced price.  First come, first served.  Just call the office and we can even apply it to your account. 416-651-7529.
Log in and see Your Account and Schedule!
We've been steadily working to increase our integration and communication with parents and our systems over the last 18 months.  We invite you to take the next step in the process, by accessing your account online, and having your schedule(s) available by mobile.  You will also receive a separate email about this from our front desk account.
Let's start with online access.  You start by going to our website at music-lessons.ca and looking for the login-text in the second menu, on the right, just before the search magnifying glass:

Then, once you click Log-in, you should see the following, secure screen: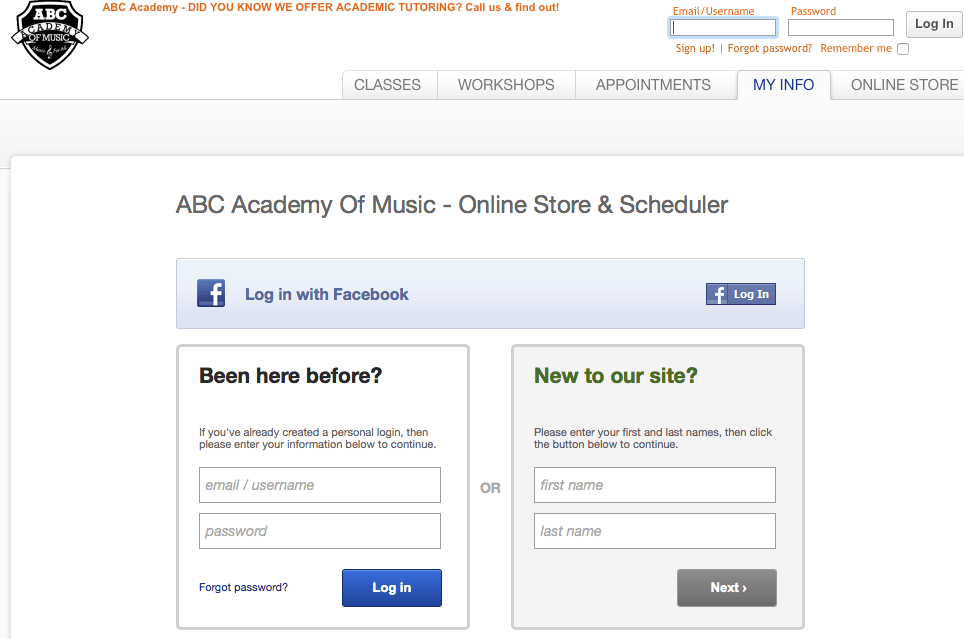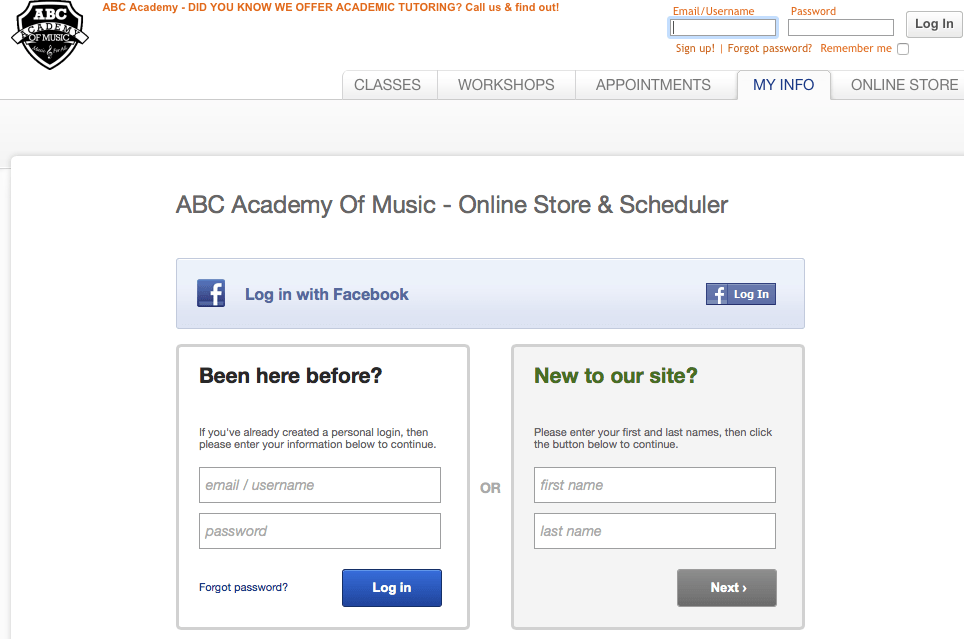 You'll see that there are a number of places to enter different kinds of information.  You should go to the grey box that reads 'New to our site?'.  Here enter your first and last names, so the system will find your account.  Please note that if you only have one child in lessons with us, and have been with us since before the 13-14 school year, you may need to enter your child's first and last name.  You will then see the next screen:


Just click on 'This is me!', and you will be able to access your account information.
For now, you will only be using the tab at the top called 'My Info'.  The other tabs will have information in them, but they are not fully functional at this time, and we will roll that out to you as it becomes available.  The most useful parts of this section will be Profile and My Schedule: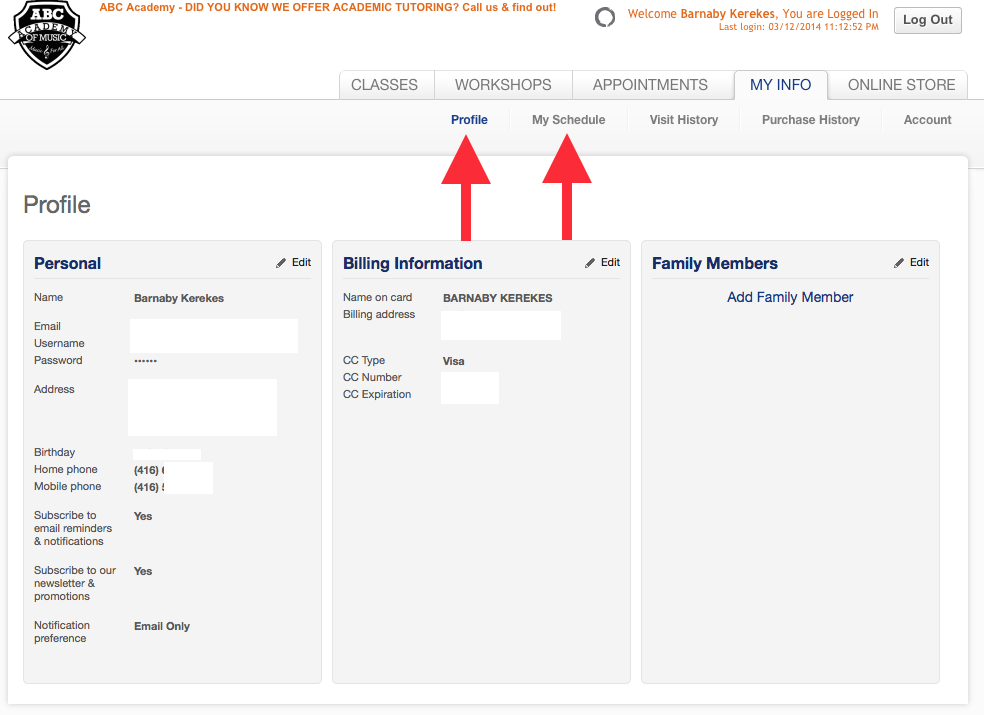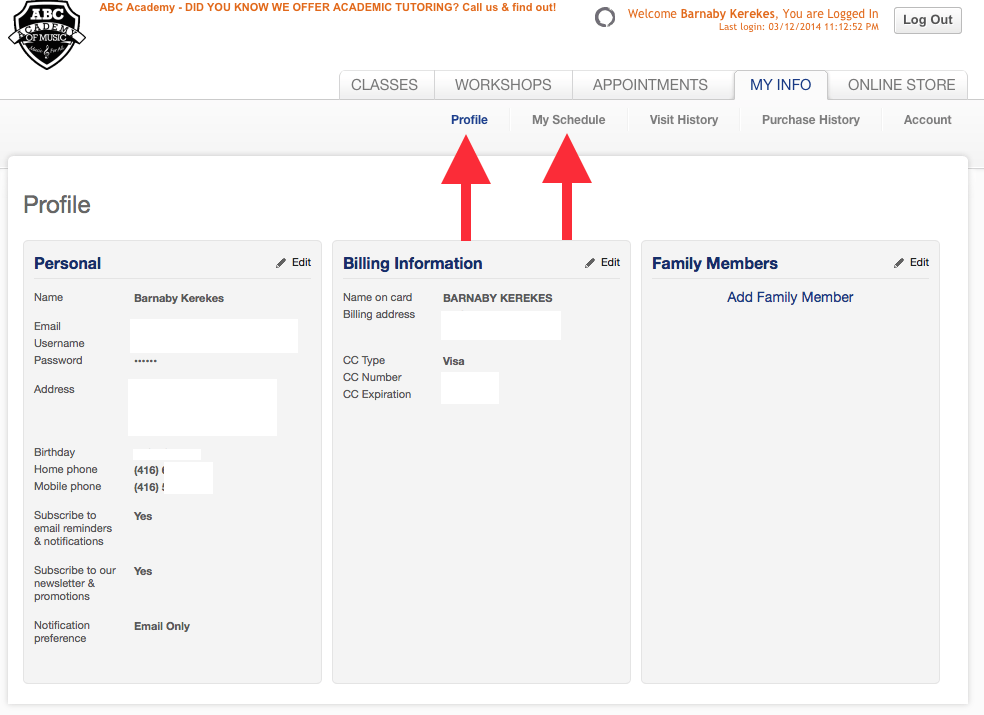 In your profile, you will be able to update your information if you move, change email addresses, or have an expiring card number that needs updating.  You should also be able to update your direct withdrawal information if you are using your bank account for payments.  You can see your billing history as well as the lessons you are being billed for under 'Purchase History' and 'Account', respectively.
Your schedule will show your upcoming visits.
Now, let's take a look at a mobile App you can download to keep a lot of this information in your pocket: Mindbody Connect.  First you'll need to go your App store (iTunes for Apple devices, and Google Play for Android devices).  Then, search for and download Mindbody Connect.


Once downloaded, you'll need to log in with the same email you have been using online (if you have kids with separate accounts, this may be a bit of a pain, give us a call and we can see about integrating them…), and then under the Advanced Settings you will need to tap on 'Options' to tie your existing account to the app.  At this point, you will get a Activation email, which will take you to a web page that will ask you to find your business (ABC Academy of Music, in this case), and then to enter your email and password to tie everything together.  At this point, you should be good to go, although your app may need to be restarted.  Once you are properly logged in, you should be able to see your scheduled lessons coming up.
You may also take advantage of the Calendar Syncing function (under Options), which will keep your lessons up to date in real time.