In this update:
1.  RECITAL!
2.  Please be on-time
3.  Song Lyrics and Schedule – where are they?
4.  Memorado
5.  Baby Grand Piano for Sale
6.  Free Desk available
7.  Help us for January
Recital
Please feel free to join us for one of our Music Recitals on Sunday, December 14th at Casa do Alentejo, at 1130 Dupont St.  You can park at the Galleria mall.  We have short sessions at 12:00, 1:00, 2:00, and 3:00.  No ticket is required, and you can come and go if it does not work for your child.  It is family friendly, and not a super serious concert environment.  
Bringing your young child to a recital is a great way to expose them not only to live performance, but performance of other children, and even adults, at a variety of ages.  We also have 2 student Rock Bands that are going to play.
We welcome you and encourage you to come.  Live performance is an important component to a well-rounded music education.  Don't be shy!
Please be on-time
So far this semester we have struggled with starting classes on time.  We ask that you please arrive for your class start-time on time, especially as we head into the winter weather.  Both your teachers and your fellow class participants may have other commitments that they need to get to after class.  Also, if your class is followed by another, then we really need to stay on schedule to assure they have enough time to get in and set up for their start time.  We appreciate your consideration and effort!
Song Lyrics and Schedule – where are they?
Those of you returning from previous sessions of Music Together will have noticed that we have not really had our lyrics posted in class, or sent out which songs we are singing week-to-week, as we used to.  This is a bit of tough love on parents – the more you have to know the lyrics, and the less you know what songs will be sung each week, the more likely you will achieve independence and familiarity with the songs more quickly.  We have noticed a considerably greater amount of parent participation and class 'community' as a result this collection, so congratulations!  Keep making music a priority, and you'll notice that your musical interactions with your children will expand.  We'll look forward to speaking about it as a group in a future class!
Memorado (app)
If you want to boost your cognitive abilities, take a look at the app called 'Memorado'.  Using scientific foundations to improve brainpower in a number of areas, this app helps to chart progress, and is free (with in-app purchasing for additional types of games/puzzles) for iOS.  No Android version is available at present, but you can play online.
Baby Grand Piano for Sale
We have been contacted by a gentleman who no longer has space for an older Canadian baby grand piano (Mason and Risch) with bench.  We estimate this is likely 6 Ft. long.  The gentleman's name is Herb West and can be emailed at [email protected].  The asking price is $3500.  Bear in mind you will need piano movers, and a tuning for this instrument.
The picture below is not of the actual instrument, but will give you an idea of size and finish.  We cannot verify or guarantee the condition or quality of the instrument, but we believe it to be in good condition.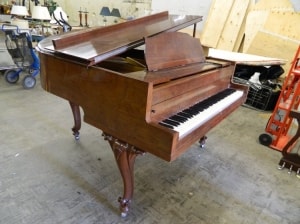 Free Desk Available
We have a free desk with slide-out keyboard tray that is available for the first person that would like to pick it up.  Please call the office to arrange this.  The desk is 4 Ft wide and 2 Ft deep.  It has a hutch for the top which reaches to about 6 Ft high, and has two shelves.  Sadly, no photo is available.  It is partially disassembled, and needs a good home!
Help Us for January
We are looking ahead to our next collection of music – BELLS!  We should have books for those of you continuing on into the winter before the holiday break, giving you a great chance to get a head start!
We will have 1 or 2 spots in our Sunday morning classes, and we are looking to fill out our Monday 10:45 class, as well as to add a 9:45 a.m. class.  Remember, if you help us by referring a friend for any of our programs, we'll give You and your friend 20% off for the rest of the school year! (for one program for you, and for all programs for your friend for the first year).  We appreciate any help you can give us!