Christopher Butcher is a musician firmly established as a representative of the global music village, transcending genre and cultural predisposition, and pleasing audiences across the world. As leader of the Heavyweights Brass Band Christopher has been behind one of the brightest lights to emerge on the Canadian music scene. Combine that with his extensive experience as a sideman, work as a radio host/producer, role as an educator/community builder, Christopher Butcher illustrates a promising portrait of an influential career in music.
Christopher moved to Toronto in his late teens and quickly built a solid reputation as one of Canada's top trombone players in the most diverse musical scene on the planet, playing in the groups of many of the country's most prestigious artists, including Jane Bunnett, Hilario Duran, Archie Alleyne, Jay Douglas, and QuiQue Escamilla among countless others. On special occasions Christopher has  recorded or played with some of the finest international artists like Quincy Jones, The Treme Brass Band, Delfeayo Marsalis & The Uptown Jazz Orchestra,  Ernest Ranglin, Giovanni Hidalgo, Broken Social Scene, Dubmatix, Nikki Yanofsky, David Clayton-Thomas, and Randy Bachman. In 2015 Christopher was awarded Emerging Artist of the Year at the Premier's Award for Excellence in the Arts and continues to run Street Brass with Uma Nota Culture, a community based ensemble that teaches and performs brass band music of the Americas.
Get to know Chris…Beyond the Bio!
Hobbies: Food, comedy, biking and a lot of music
Musical influences: Trombone Shorty, Treme Brass Band, Delfeayo Marsalis
Favourite food: Red Beans and Rice
Least favourite food: Any type of seafood
Favourite music: Jazz
Favourite song: So What
Favourite movie: Spaceballs
Favouirite movie music: Star Wars
Best quote from your teacher: "Play less notes"-Delfeayo Marsalis
Favourite quote: "Every great artist paints what he is"- Jackson Pollock
Favourite book: Miles
Best thing about teaching at ABC: Getting to spread a love for music and the Trombone!
Preferred Books for Chris' Students
Click to buy them here, and they'll come right to your house!  What could be easier?
Remington Warm-Up Studies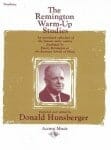 An annotated collection of the famous daily routine developed by The Chief, Emory B.Remington. 63 of the studies used to train some of the worlds finest trombonists. Dr. Hunsberger also includes the text of interviews he conducted with The Chief before his death. Remington talks about his singing style, the correct way to tongue, a concept of sound, flexibility, a legato approach, security in the high register, and relaxation. Also contains 12 diatonic pattern scales, a Sample Routine, and an index.
ABC Academy is unable to provide a cost effective and speedy online source for this book.  Please call a local music retailer to find a copy.
Melodious Etudes for Trombone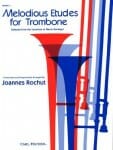 Widely considered among Trombonists as an almost sacred musical text, the Melodious Etudes of Marco Giulio Bordogni are required learning for musical style, range, and expression for the developing and serious Trombone student.
We are currently unable to find a good online source for this book.  Please call a local retailer to secure a copy.
Arban Complete Method for Trombone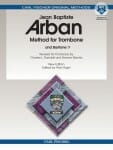 Arban's fundamental method book for trumpet was first published in 1864 and has held a top spot in trumpet studies ever since. In 1936, two of the finest trombonists of the day, Charles Randall and Simone Mantia, revised the method for trombone, creating the basis for trombone studies over the ensuing 75 years. Today, Alan Raph brings the Arban into the 21st century, enhancing and expanding the complete Arban text, and addressing new skills and techniques developed up to current times. Sections have been expanded (i.e., scales, arpeggios), and new sections have been added (i.e., slide drills, contemporary forms of double and triple tonguing). Alternate positions have been updated and expanded. Sometimes F-attachment positions are given to facilitate awkward slide movements.