Advanced Diploma in Musical Theatre Performance (St. Clair College)
Aurora McClennan (She/Her) likes to wear many hats: actress, singer, writer, producer, teacher, tea connoisseur, etc. She's pure dynamite in a small body. Aurora is a 2020 St. Clair College Music Theatre Performance graduate and a 2017 Cawthra Park Regional Arts Program – Vocal graduate. She holds grade 11 voice and Intermediate Harmony certificates from the Royal Conservatory of Music. She has trained with opera singers, classic voice and jazz artists, as well as some of Broadways best, like Joanna Gleason!
As an actor, Aurora has been seen as Dr. McClane in the premiere production of The Good Guys, Lily in Kathleen Mills' The Storyteller, Donner in A St. Clair Christmas 2019 and Viola in Twelfth Night, directed by Olivier winner Heather Davies, with original music by Michael Karloff. She will be reprising her role in The Storyteller this summer in Hamilton as part of Hamilton Fringe, directed by Olivia Daniels.
Aurora is the Artistic Director and Production Manager of The Flare Productions, where she gets to put her passions into practice, creating a space and open space community for all artists to share their voices and tell their stories. Since opening in September 2020, Aurora has produced multiple virtual cabarets, a full length virtual production of Ordinary Days, a virtual interactive comedy special; and a 12 part YouTube series about collaborating and the importance of telling stories with her in-development series, The Love You Make. This project was a quarantine highlight, as she got to work with artists from Canada, the United States and The UK!
As a writer, she is hard at work on multiple musicals, including The Good Guys with music by Fynn Cuthbert, and The Baroness, which received its first reading last spring with Missus Productions' Re:Vision.
Aurora is very excited to continue to teach voice and music theory. With over 15 years of music training and experience, she is very happy to share her knowledge and help spread the love of music. She is a three time Gold RCM Festival winner, Gold Hamilton Music Festival and Gold and Silver Peel Music Festival winner, as well as the recipient of the Heidi Cyfko award for musical theatre performance and multiple other performance awards. Aurora specializes in classical voice, musical theatre, pop, jazz and folk. And, of course, music theory – her guilty pleasure.
Get to know Aurora…Beyond the Bio!
Hobbies: Reading, painting and writing
Musical influences: Stephen Sondheim and Shania Taub for writing; Louise Pitre, Liza Minnelli and Elton John for performance.
Favourite food: French Fries! Always and forever.
Least favourite food: Soup
Favourite music: Classic rock and folk, musical theatre, jazz, funk and Motown
Favourite song: Right now it'd have to be either Shambala by Three Dog Night or Jackie Onassis by Sammie Rae & The Friends
Favourite movie: That Thing You Do!!
Favouirite movie music: The Lord of the Rings series, of course
Favourite musical theatre/opera: Anything Sondheim, but especially Merrily We Roll Along. Diana: The Musical is the next best, though.
Best quote from your teacher: "Be Fearless and Never Apologize"
Favourite quote: "And in the end the love you take is equal to the love you make" :)
Favourite book: It changes constantly, but most consistently probably Any Man by Amber Tamblyn or either of Stephen Sondheim's books.
Latest Homework from Aurora
Is Aurora Your Teacher?
Sign up now to get your weekly assignments delivered, and never lose your homework sheet again!
Aurora's Homework – June 22
Just a  reminder to please check the make-ups calendar and confirm or decline your make-ups for next week as soon as possible!
Naiara
Recommended minutes to practice: 10 + minutes a day
What to practice: "I Feel Pretty" to become as familiar with the song as you can be.
How to practice it most effectively: Listen to the song over and over again – obsessively, even. The more you listen, the more the lyrics will stick in your head. When you're singing the song, remember to open your mouth as much as you can to create space for resonation, and breathe in as though you were smelling a flower to open up all those wonderful resonating spaces!
Next Lesson: Saturday June 24th for our regularly scheduled lesson
Olivia
Recommended minutes to practice: 10 – 15 minutes a day.
What to practice: "The Best" – how we breathe when we sing.
How to practice most effectively: I created a track here, in your folder, which you can practice a long with, and it's matching sheet music. Listen carefully to the track and you'll notice the spots where you don't sing are quieter, which means this is a great time to breathe! Breathe in through your nose, fill your stomach and diaphragm up with air, and breathe out as you sing!
Preferred Books for Aurora's Students
Click to buy them here, and they'll come right to your house! What could be easier?
Anatomy of the Voice
An Illustrated Guide for Singers, Vocal Coaches, and Speech Therapists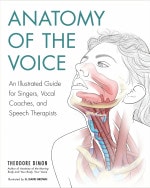 This book is the first to explain, in clear and concise language, the anatomy and mechanics of the mysterious and complex bodily system we call the voice. Beautifully illustrated with more than 100 detailed images, Anatomy of the Voice guides voice teachers and students, vocal coaches, professional singers and actors, and anyone interested in the voice through the complex landscape of breathing, larynx, throat, face, and jaw. Theodore Dimon, an internationally recognized authority on the subject, as well as an expert in the Alexander Technique, makes unfamiliar terrain accessible and digestible by describing each vocal system in short, manageable sections and explaining complex terminology.
Broadway Presents!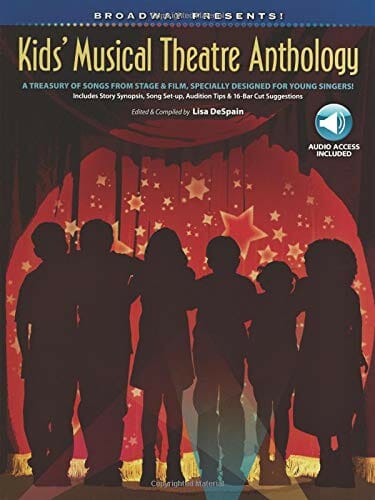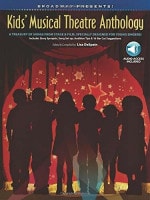 A delightful collection of musical theatre songs that kids love to perform, from a variety of shows. Using original scores, the songs have been selected and adapted with the ranges and skills of young singers in mind. Included in this collection are short summaries for each of the musicals, a dramatic and character set-up for each song, audition tips, 16-bar cut suggestions, and audio tracks of piano accompaniments.