M.Mus (York U) in-progress
B.Mus (Pontifical Catholic University of Chile)
B.Arts (Pontifical Catholic University of Chile)
Colomba is a Chilean Canadian pianist and musicologist. Born and raised in Chile, she has been a piano and music theory teacher for over six years. She is currently studying an M.A. in Music at York University with the York Graduate Scholarship.
Colomba completed her Bachelor of Music as well as her Bachelor of Arts (Major in History) at the Pontifical Catholic University of Chile. During her time there, she served as Teaching Assistant in Harmony, Analysis and Music Theory courses. She also had worked as private Piano Teacher from 2016 and at Schlotfeld's Online Music Academy throughout the pandemic.
As a pianist, Colomba served in 2019 as keyboardist in the 2022 Pulsar Award Winner (Best Jazz & Fusion Album) "Ensamble Escondido". She also has experience as a pianist for private events and weddings. Colomba seeks to encourage her students to discover their own music tastes and creativity by balancing traditional skills and innovative methods.
Get to know Colomba…Beyond the Bio!
Hobbies: Piano, music research on Classical and Latin American Popular Music, History, Drawing.
Music influences: Music from the Romantic and Impressionist era; Chopin, Satie and Debussy in particular. Popular Music genres such as Classical and Progressive rock. Folk-rooted Latin American genres (Peruvian Landó, Bossa-Nova, Cuban Son).
Favourite food: Any dessert will do the trick. I also like Italian food, Arepas, Asian food. I'm not a picky eater so I enjoy almost any food.
Least favourite food: Beet salad. It doesn't have too much flavor.
Favorite music: Anything that has an interesting rhythm and melody. My favorite genres are Jazz, Rock, and Latin American Folk Music. Regarding Classical Music, I've always been a fan of the Romantic Era.
Favourite song: I like too many songs to choose just one! Negra Presuntuosa- Susana Baca
Time – Pink Floyd
Favourite movie: No Country for Old Men.
Favourite movie music: Pirates of the Caribbean, The Incredibles.
Favourite musical theatre/opera: Carmen – Georges Bizet.
Best quote from your teacher: "a hard-working student in the long term will surpass a prodigy".
Favourite quote: "Fools who don't respect history are doomed to repeat it." "Traveller, the road is only your footprint, and no more; traveller, there's no road, the road is your travelling."
Favourite book: One Hundred Years of Solitude – Gabriel García Márquez.
Best thing about teaching at ABC: Helping people to develop a love for music.
Latest Homework from Colomba
Is Colomba Your Teacher?
Sign up now to get your weekly assignments delivered, and never lose your homework sheet again!
May 23th
Francisco:
Practice the "Overworld" theme complete. If needed, play the last phrase of the song in a loop until you can match the speed of the rest of the song.
Read piano Adventures p. 48 "Irish Washerwoman". Remember that the line means you have to play the notes without leaving space between them, and the dot is the opposite.
Maria Ines:
"Another Love": Figure out the introduction. Remember that it is a simplified version of the verse's melody, with a third added below. Practice the set Verse 1-Chorus 1-Verse 2- Chorus 2. Pay special attention to the differences between both choruses.
Noreet:
Practice the last page of the book. Once you have that page, try to play the piece from the beginning.
Miabella:
Keep practicing "The Brady Bunch" with the corrected rhythms, and try to memorize it for next class. The same applies to "Bad Guy".
May 24th
Eliam:
Piano Adventures p. 53 "Elephant Ride". Make sure you are playing the first two bars with both hands, and always remember to keep your hands on the keyboard.
Caedan:
Piano Adventures p. 30-31 "A Mixed Up Song". Pay attention to the jumps: they are always 4ths (from C to F and from D to G).
Practice Zelda's Main Theme. Remember that the first part you have different parts for different hands. Try to figure out what comes next in the melody!
Zoe:
"Polonaise in G minor": For the next class, practice the piece slowly but make sure the fingering is correct every time. Go line by line. Repeat each line several times until you feel you have interiorized the fingering, then go to the next one.
Preferred Books for Colomba's Students
Click to buy them here, and they'll come right to your house! What could be easier?
My First Piano Adventure
Book A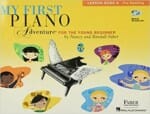 Written for ages 5 and 6, My First Piano Adventure captures the child's playful spirit. Fun-filled songs, rhythm games and technique activities develop beginning keyboard skills.
John Thompson's Modern Course for the Piano
First Grade Book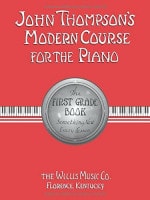 Time-tested bestseller around the world! The legendary Modern Course series provides a clear and complete foundation in the study of the piano that enables the student to think and feel musically. It's known as the method for quick, dedicated learners. It's also well-regarded as a self-teaching method for the mature player. The First Grade may be preceded by Teaching Little Fingers to Play and/or Teaching Little Fingers to Play More .
Mikrokosmos
Books 1 & 2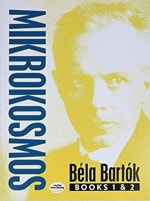 Béla Bartók wrote the first four volumes of the Mikrokosmos as a series of beginning piano exercises for his son Péter. The great Hungarian composer's complete six-volume collection represents one of the most comprehensive anthologies of contemporary technique ever assembled. This edition, consisting of the first two volumes, presents more than 100 pieces of study material suitable for first- and second-year students.
Rational Principles of Pianoforte Technique