B.Mus (UofT)
Advanced Diploma in Music (Mohawk)
Daniel Pitt is a guitarist, composer and arranger currently based in Toronto, Canada. He is currently enrolled in the Music Performance program at the University of Toronto.
Through an array of different music genres, Dan has studied music and the guitar for over 10 years. He has been active in both his hometown of Hamilton and his current home of Toronto playing music of all varieties while mainly focusing on jazz studies. Dan has had the opportunity to study with great musicians such as Bob Shields, David Restivo, Geoff Young, Tony Malaby and Brad Shepik. He has also worked with other musicians such as Pat Collins, David Braid, Terry Promane, Michael Attias and Michael Formanek. He has also recorded with groups such as the Hamilton All Star Jazz Band and the University of Toronto 12tet.
Dan's teaching experience includes private guitar and piano lessons, as well as both solo and ensemble instruction for brass, woodwind and percussion instruments.
Get to know Daniel…Beyond the Bio!
Musical influences: Bill Frisell, Ed Bickert, Ben Monder, Tosin Abasi, Jakob Bro, Paul Motian, Joe Henderson, Herbie Hancock, John Coltrane, Lee Konitz, Lennie Tristano, Charlie Christian, Pink Floyd, The Police
Favourite food: Ramen
Least favourite food: Chili
Favourite music: Modern Jazz, Folk and Creative/Improvised Music
Favourite song: "Blue Mountains" by Sam Amidon
Favourite movie: Star Wars
Favouirite movie music: Star Wars
Favourite musical theatre/opera: West Side Story
Best quote from your teacher: "There are more important things in life than music" – Geoff Young
Favourite quote: "Do or Do Not. There is no try." – Jedi Master Yoda
Favourite book: "Pure Rhythm" – Adam Rudolph
Best thing about teaching at ABC: Sharing music and making music with inspired students!
Latest Homework from Daniel
Is Daniel Your Teacher?
Sign up now to get your weekly assignments delivered, and never lose your homework sheet again!
Preferred Books for Daniel's Students
Click to buy them here, and they'll come right to your house!  What could be easier?
Hal Leonard Guitar Method
Book 1, with CD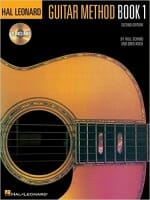 The second edition of this world-famous method by Will Schmid and Greg Koch is preferred by teachers because it makes them more effective while making their job easier. Students enjoy its easy-to-follow format that gives them a solid music education while letting them play songs right away. Book 1 provides beginning instruction including tuning, 1st position melody playing, C, G, G7, D7, and Em chords, rhythms through eighth notes, solos and ensembles and strumming.
The Advancing Guitarist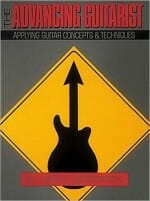 Veteran musician and educator Mick Goodrick presents practical information for guitarists who want to improve their playing technique and style and simply become better musicians. Rather than a step-by-step method book, the information is presented in a general essay format, discussing ways that the various techniques covered may be applied by the advancing guitarist to enhance his/her own style of playing, some of the areas discussed include: basic fingerboard mechanics * modes, scales and chords * contemporary harmony * harmonica and overtone influences * being self-critical * improvising short pieces * different playing situations.
Charlie Parker Omnibook (C Instruments)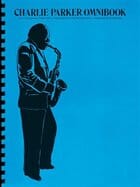 The Omnibook has become the book to turn to when you want to master the Bird. Includes 60 solos such as Anthropology * Au Privave (Nos. 1 and 2) * Billie's Bounce * Blues for Alice * Chi Chi * Confirmation * Constellation * Dewey Square * Donna Lee * Ko Ko * Moose the Mooch * Ornithology * Scrapple from the Apple * Shawnuff * Yardbird Suite * and more. Transcribed by Jamey Aebersold and Ken Slone. Spiral-bound, with chord symbols, metronome markings, record information, and practice suggestions. "One of jazz education's holy scriptures."