M.Mus (McGill)
A.Dip (Glenn Gould)
B.Mus (UofT)

Katherine Watson is an acclaimed Canadian emerging musician that currently resides in Toronto. For the past half-decade, Katherine has established herself as one of Toronto's emerging classical/contemporary flutists. She has premiered dozens of new compositions written for flute, has recorded live for CBC radio, as well as recorded for and appeared in films such as Pompeii (2014) and Brad's Status (2017). Most recently, Katherine was invited on full scholarship to attend the Lunenburg Academy of Music and Performance in Lunenburg, Nova Scotia, to study privately with Douglas Stewart (Canadian Opera Company Orchestra) as well as the Legendary Robert Aitken. 
Katherine is currently a member of the Toronto Winds and Charm of Finches, Toronto's own professional flute quintet. She has performed with Continuum Ensemble, as a soloist for Soundstreams for a Salon 21 event at the Gardiner Museum, the Peterborough Symphony, the Ontario Philharmonic, and Verissimo Ensemble (MTL). She has performed for the Lieutenant Governor of Ontario's events, as a soloist with the Bach Children's Chorus, and Fawn Opera. Katherine regularly performs with L'Orchestre Symphonique de L'Agora in Montreal, and has previously performed with Pronto Musica, and L'Orchestre Point D'arrête, as well as appearing in many chamber recitals. She has participated in the Montreal Contemporary Lab's New improvisation clinic, and performed in chamber and orchestral concerts in the Bathurst Music Festival in New Brunswick.
In early 2017, Katherine presented her first chamber music concert featuring the music of Montreal composer Jason Noble. She has presented several concerts since then, featuring both local contemporary composers, as well as standard repertoire for various chamber ensembles.
She obtained her Masters in Music performance from McGill University in Montreal, studying with Timothy Hutchins (Montreal Symphony Orchestra).
Get to know Katherine…Beyond the Bio!
Hobbies: Running, Cooking, Sewing, to name a few!
Musical influences: I grew up listening to equal parts Vivaldi and the prog-rock band YES.
Favourite food: Chocolate
Least favourite food: Beef
Favourite music: Music written and performed with 100% intention of being the greatest!
Favourite song: Largo from Winter in Vivaldi's The Four Seasons
Favourite movie: Probably one of Wes Andersen's movies
Favourite movie music: John Williams has yet to let me down
Favourite musical theatre/opera: The Music Man
Best quote from your teacher: Don't practice until you get it right, practice it right until you can't get it wrong
Favourite quote: Make it so
Favourite book: Harry Potter Series
Best thing about teaching at ABC: All the great students!
Latest Homework from Katherine
Is Katherine Your Teacher?
Sign up now to get your weekly assignments delivered, and never lose your homework sheet again!
Summer:
-Practice relaxed emboucher on the headjoint alone each day, remembering to keep corners of mouth free of tension and pushed up on the lip plate
-Left hand position on the flute so that you can go from D to C with as little movement as possible!
-Think of pointing air stream more "down", and really warm air to work on flute sound/tone
Preferred Books for Katherine's Students
Click to buy them here, and they'll come right to your house!  What could be easier?
Beginner's Book for the Flute
Part One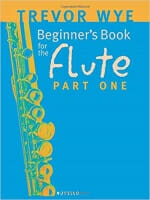 The "Beginner's Book" series by Trevor Wye encourages the enjoyment of playing and music-making and is ideal for group or individual instruction. Part One is packed with great music and focuses on developing good tone and a firm low register. Clear illustrations are included throughout, showing correct posture and fingerings.
Overtones Series Preparatory Repertoire Book
Royal Conservatory of Music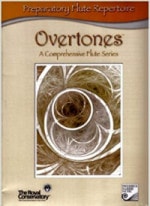 The preparatory Flute songs book for students interested in Royal Conservatory and classical study.
Overtones Series Repertoire Book 1
Royal Conservatory of Music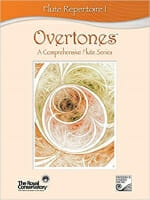 The foundational Flute songs book for Grade 1 Royal Conservatory level students.