M. Mus (University of Ottawa)
B. Mus (Cleveland Institute of Music)
Kristin Day is passionate in her belief that music can create positive social change. The Toronto-based bassoonist and educator has toured widely to perform and share her knowledge.
As a bassoonist, Kristin has performed extensively across Canada and has toured as far as China. She has appeared with some of the nation's most recognized orchestras including the National Arts Centre Orchestra, the Kitchener-Waterloo Symphony, the Windsor Symphony, and the Aradia Ensemble. Recently, Kristin has appeared as guest principal bassoonist with the newly-formed ensemble #WePlayOn, made up of the former musicians of Orchestra London.
From 2013-2015 Kristin was a teaching artist for Sistema New Brunswick, where she mentored at-risk youth in the Moncton area. Under her guidance, her bassoon students have won awards at music festivals as well as positions in the New Brunswick Youth Orchestra and the National Youth Orchestra of Canada.
During her formal studies, Kristin was mentored by the eminent bassoonists John Clouser (The Cleveland Institute of Music), Daniel Matsukawa (Temple University), and Christopher Millard (University of Ottawa) and performed with ensembles such as the National Repertory Orchestra, the National Academy Orchestra, and the National Youth Orchestra of Canada.
Get to know Kristin…Beyond the Bio!
Hobbies: learning Mandarin, cooking, travelling
Musical influences: Christopher Millard, the Cleveland Orchestra
Favourite food: Chinese food
Least favourite food: avocado
Favourite music: whatever I'm learning at the time :)
Favourite song: "Tacky" by Weird Al Yankovic (parody of "Happy" by Pharrell Willams)
Favourite movie: The Princess Bride
Favourite movie music:  anything by John Williams
Favourite musical theatre/opera: Der Rosenkavalier by Richard Strauss
Best quote from your teacher: "You must cross every 't' dot every 'i' but after that you must say something with the music"
Favourite quote: "Do or do not. There is no try"
Best thing about teaching at ABC: teaching students to love music, think critically and about how awesome the bassoon is!
Latest Homework from Kristin
Is Kristin Your Teacher?
Sign up now to get your weekly assignments delivered, and never lose your homework sheet again!
Beta Test Our New Direct-to-Teacher Chat System
Please note that:
No scheduling may be done with this system.  All scheduling matters must be handled by the front desk at 416-651-7529.
Response times are not guaranteed, although a 48h window will be our goal.
This test is just that, a test.  For any matters that are time sensitive, you must call the office.
[wpslacksync allowed_channels="general kristin-day"]
Preferred Books for Kristin's Students
Click to buy them here, and they'll come right to your house!  What could be easier?
Bassoon Fundamentals:
A Guide to Effective Practice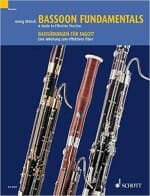 Concentration on individual aspects of playing the bassoon will make it easier to identify and correct errors and imprecision. By working steadily through these exercises you can acquire a basic technique that will enable you to tackle difficult passages in the bassoon repertoire. Such meticulous attention to detail will help you achieve the freedom to follow your intuition in a spontaneous musical performance.
Seltmann: Bassoon method
Volume 1