B.Mus (Oberlin)
M.Mus (U of T) in-progress
Louis "Pino" Pino is from Dix Hills, NY and is a recent graduate of Oberlin Conservatory, having studied percussion with Michael Rosen and computer music with Aurie Hsu and Joo Won Park, and is currently pursuing a master's degree in percussion performance at the University of Toronto with Aiyun Huang. Pino began his musical career playing drum set and hand drums with several local ensembles, and moved on to study at the Juilliard Pre-College, where he received the Commencement Award upon graduation. When arriving at Oberlin, Pino had the opportunity to collaborate with many students at the conservatory and has come to premiere over 50 new chamber and solo works written by himself and his peers.
In addition to performing, Pino teaches a small studio of students and is an active composer of electroacoustic music. He often writes music for instruments and interactive electronics, and collaborates in creating interdisciplinary works with dancers and film artists. Outside of music, Pino likes to spend time cooking, hammocking outdoors, and competing in food challenges.
Get to know Pino…Beyond the Bio!
Hobbies: Cooking, Hammocking
Musical influences: Chet Baker, Bela Bartok, Olivier Messiaen, The Strokes
Favourite food: Sushi
Least favourite food: Peanut butter
Favourite music: Hip-Hop, Contemporary Classical
Favourite song: Alvin Row – Animal Collective
Favourite movie: Taxi Driver
Favouirite movie music: Taxi Driver OST
Favourite musical theatre/opera: Saint François d'Assise – Messiaen
Best quote from your teacher: "Play pretty."
Favourite quote: " Fear is the path to the dark side. Fear leads to anger. Anger leads to hate. Hate leads to suffering." Master Yoda
Favourite book: The Stand – Stephen King
Best thing about teaching at ABC: Watching young minds grow a bit more every week.
Latest Homework from Pino
Is Pino Your Teacher?
Sign up now to get your weekly assignments delivered, and never lose your homework sheet again!
Hi everyone, thanks for all your attention yesterday! Here is what I would like you to practice for next time.
Sebastian- Practice playing the basic rock beat, along with some fo the variations like we did in the lesson. Next, work on playing fills and getting right back into the beat.
Ella- Practice moving the Beirut beats up to speed. You have a good grasp on them now, so just gradually bring up the speed on the metronome and it will get to song tempo soon.
Eric- Here is the music to Crazy Train. http://themusicdept.com/wp-content/uploads/2016/01/Drum-Ozzy-Osbourne-Crazy-Train.pdf Try to learn as much of this as you can either by ear or by looking at the chart (preferably a combination of both).
Jonah- Keep practicing all 4 of our calls and responses, and make sure to play the drums every day for at least 10 minutes!!
Noah- Look at both Lessons 4 and 5. Try to get through as much as you can over break. If certain beats give you trouble, mark them and we will go over them in our next lesson.
Sylvie- Look at Lesson 4 and write in the countings for the tricky ones. In addition, try to keep jamming with your drums or some homemade shakers.
Koel- Finish up Lesson 4 over break. Be sure to write in countings for the difficult beats.
For all of you going away, I hope you have wonderful breaks!! A few of you I look forward to seeing next week. Have fun practicing everyone!!
Hi everyone! Nice work this week. Please have a look at these practice assignments and keep it up! As I write this, I am listening to this fantastic drum solo, check it out! https://www.youtube.com/watch?v=TJ3ZRsKd-GI
Ella- This week, I'd like you to practice an exercise called the Table of Time. Basically, set your metronome to 50, then play quarter notes. After about 10 seconds, move to eighth notes. Every ten seconds add one note per beat. This video will help explain. https://www.youtube.com/watch?v=Gx5oTmj5hVg In addition, keep practicing the Beirut beat slowly, and try to work it up to tempo this week. You have the rhythm and feel down, now just just needs some speed.
Eric- This week, learn the entire Lesson 4 sheet. I know you know how to read and understand it, so if you practice a bit every day you will get it no problem!
Jonah- This week, try to come up with 3 very different beats. Remember you can use all the instruments in the drum kit in any way you like. Also, keep practicing our calls and responses, especially the new ones!
Sylvie- This week, please write 4 more beats. Use these to practice improvising fills like we did in the lesson. Play 3 bars of beat, then 1 bar of fill, then straight back into the beat. For Xylophone, keep doing Teoria online, and practice scales on the piano. We are now up to C, F, G, B flat, and D.
Koel- Finish up Lesson 4 and Back in Black. If some parts of Back in Black are tricky, that's fine. Try to work through them by listening to the song and trying to make sense of the way it is notated. Most importantly, just listen to it a bunch to understand the form of the whole thing.
Samson- Please practice Lesson 4 this week, with the goal of completing it. I'm confident that if you practice routinely, you will get it!!
Have fun practicing, and I will see you all soon!
Pino
Preferred Books for Pino's Students
Click to buy them here, and they'll come right to your house!  What could be easier?
STICK CONTROL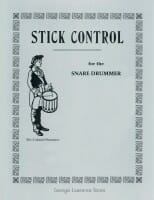 George Lawrence Stone's Stick Control is the bible of drumming. In 1993, Modern Drummer magazine named the book one of the top 25 books of all-time. In the words of the author, it is the ideal book for improving: control, speed, flexibility, touch, rhythm, lightness, delicacy, power, endurance, preciseness of execution and muscular coordination, with extra attention given to the development of the weak hand.
4-Way Coordination
A Method Book for the Development of Complete Independence on the Drum Set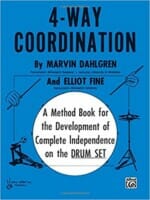 Proficiency as a drummer has always come from great hand dexterity. However, with the introduction of modern drumming techniques, it has become increasingly necessary to gain complete independence of both the hands and feet. With various rhythmic exercises in easy-to-read notation, 4-Way Coordination is designed to guide the drummer from simple patterns to advanced polyrhythms. Through the study of this method book, the student will gain invaluable listening skills and techniques that will provide insight to drumming in all styles.
Rockin' Bass Drum, Bk 1
A Repertoire of Exciting Rhythmic Patterns to Develop Coordination For Today's Rock Styles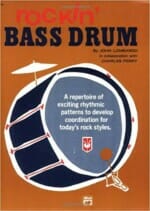 Written in two volumes, these books include 2- and 4- bar rock and jazz-rock beats designed for the modern drummer. Both books are designed to develop the drummer's skill in coordinating their hands and feet. The books also offer the drummer a repertoire of exciting rhythmic patterns.