A recent graduate of Humber College, Matt has quickly established himself as a respected performer in the city's music scene. While at Humber, Matt had the opportunity to study with some of Canada's finest jazz and commercial musicians; Brian O'Kane, Alistar Kay, Shelly Berger and Andy Ballantyne, to name a few.
As an active member in the freelance community, Matt's playing has taken him to such venues as Roy Thompson Hall, The Rex Hotel and the Jazz Bistro. You can find him leading his own trio in intimate venues around the city, or playing with many different jazz, funk or brass bands around the GTA and other Southern Ontario areas.
Get to know Matt…Beyond the Bio!
Hobbies: Cooking, golf, & coffee making
Musical influences: Clifford Brown, Leroy Jones, Clark Terry, Earth, Wind & Fire, and Chicago
Favourite food: Fish burrito
Least favourite food: My mom's rice – although, everything else she makes is excellent.
Favourite music: Jazz
Favourite song: It's Always You
Favourite movie: Spirited Away
Favourite movie music: Indiana Jones Theme
Favourite musical theatre/opera: West Side Story
Best quote from your teacher: "BLOW!" – Alistar Kay
Favourite quote: "They teach you there's a boundary line to music. But, man, there's no boundary line to art." – Charlie Parker
Favourite book: Last Wish – Andrzej Sapkowski
Best thing about teaching at ABC: Sharing my passion for music with youth
Latest Homework from Matt
Is Matt Your Teacher?
Sign up now to get your weekly assignments delivered, and never lose your homework sheet again!
Homework for April 7th
Abi:
My apologies for the crappy internet connection today, everything sounded good anyways! Continue to work on the lip slurs and feel free to break it up the same way we did today (two notes at a time). Try to refresh your major scales as well! Those have been good but you want to continue to work towards making them as easy as possible. Know the sharps, flats & position on the treble clef.
I'd like to hear the last 8 bars of Power Ride for next week. Also, try to get through the first 8 bars of in just two breaths! Brake it up into two bar sections and slowly glue them all together.
Finish up the chromatic scale as well. Add the low F# -> C, fingerings and make sure the ledger lines above the staff are good.
Matt:
Nice job with the ear training today. I think you'll do a great job on that section of the RCM exam.
Keep up the good work with your scales as well. For the exam you'll have to play Bb, C, D and Eb maj; B, C, D and E min as well as the arpeggios associated with them. Also D chromatic scale.
Etude in G is sounding great! Try to incorporate more of a pulse into your playing and the song will come to life. Accent the first and fourth beats.
Homework for March 28th
Everything was sounding good this lesson! You should be happy with all your improvement :)
Work on those descending major scales. Its a nice mental work out to do them back wards, and going in to your low register will get the blood/ air flowing in your favour. In the pedal register (below F#) try to open that jaw up and relax the aperture while keeping the corners engaged. Use your ear to guide you to the end of the scale.
Your slurred harmonics are coming together as well. Remember when you struggled to get 3 notes? Now you can slur two octaves! :D Try the exercise we did where the top note stays the same then you eventually shift them all up. Ex. Cmaj 4 notes, Amaj 5 note, F#maj 6 notes, the top note is always E. From there you can shuffle everything up which will give you a serious work out. If you get light headed take a break and doing some full breaths.
Etude in D is getting better. Im glad we discovered playing 8th notes constantly helps you with the rhythmic accuracy. It sounded much better after that. Always be aware of the air moving forward to create a beautiful sound! You're good for that most of the time but when your get tired it sometimes goes out the drain… those are the times to engage your core and give it a little more air support! Keep working on those first 8 bars and try to get comfortable with the next 4 or 8 for next lesson.
Preferred Books for Matt's Students
Click to buy them here, and they'll come right to your house! What could be easier?
Technical Studies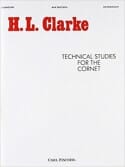 This work has been especially written to enable the cornet student to conquer any technical difficulties he or she might encounter in the literature for the instrument. By carefully following the instructions in this book, the student will build up strength and endurance without strain or injury to his embouchure. If this lips remain flexible and the tone is not forced, it will be possible to play easily any note, regardless of the register.
Arban Complete Conservatory Method
with accompaniment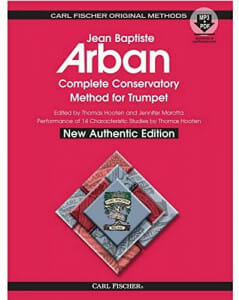 The New Authentic Edition of Arban's Complete Conservatory Method contains the same tried and true comprehensive system of study that Arban developed over a century ago, and this completely re-engraved edition has been painstakingly edited by prominent trumpet performers and teachers Thomas Hooten and Jennifer Marotta, adding some of their own insights with respect to how trumpet is taught today. The Arban Complete Conservatory Method is the definitive must-have for all trumpet players.