Born and raised in Guelph, Ontario, Ryan's earliest musical study came at the age of 6 from his grandfather, a former bandmaster and trombone soloist with the local Salvation Army band. In high school, Ryan joined the Kitchener-Waterloo Symphony Youth Orchestra, where he was awarded a scholarship to pursue private studies, which resulted in Ryan coming under the tutelage of Peter Collins (bass trombone, Hamilton Philharmonic Orchestra).
Ryan then went on to obtain a Bachelor of Music from the University of Toronto, studying bass trombone performance with Jeffrey Hall (bass trombone, Toronto Symphony Orchestra), and David Pell (bass trombone, National Ballet of Canada).
Upon graduation, Ryan pursued further studies at the Glenn Gould School of the Royal Conservatory of Music, studying with Jeffery Hall, and Gordon Wolfe (principal trombone, Toronto Symphony Orchestra).
Ryan has also participated in masterclasses run by Joseph Alessi (principal trombone, New York Philharmonic), Steve Lange (second trombone, Boston Symphony Orchestra), Craig Knox (principal tuba, Pittsburgh Symphony Orchestra), and John Rojak (bass trombone, American Brass Quintet). Ryan has also been fortunate to study with Douglas Purviance, Craig Knox, Bill Vermeulen, Matthew Guilford, and Barnaby Kerekes.
Upon leaving school, Ryan has maintained a busy and varied freelance career, performing throughout Ontario with groups such as the Hannaford Street Silver Band, Toronto Concert Orchestra, Composers Collective Big Band, and the rock band Evanescence, to name a few.
Get to know Ryan…Beyond the Bio!
Hobbies: Cooking, eating, rugby, hockey
Musical influences: Bob Hughes, Ray Premru, George Roberts, Bill Reichenbach, Dietrich Fischer-Dieskau
Favourite food: Pizza
Least favourite food: Whelks
Favourite music: All Music
Favourite song: Too many to list
Favourite movie: Star Wars
Favouirite movie music: Star Wars Ep. 3: Revenge of the Sith
Favourite musical theatre/opera: Book of Mormon (Parker/Stone)
Best quote from your teacher: Air is cheap, waste it.
Favourite book: Foundation series (Isaac Asimov)
Best thing about teaching at ABC: Sharing in music-making with the students
Latest Homework from Ryan
Is Ryan Your Teacher?
Sign up now to get your weekly assignments delivered, and never lose your homework sheet again!
Preferred Books for Ryan Students
Click to buy them here, and they'll come right to your house!  What could be easier?
Melodious Etudes for Trombone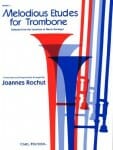 Widely considered among Trombonists as an almost sacred musical text, the Melodious Etudes of Marco Giulio Bordogni are required learning for musical style, range, and expression for the developing and serious Trombone student.
We are currently unable to find a good online source for this book.  Please call a local retailer to secure a copy.
Remington Warm-Up Studies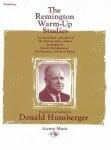 An annotated collection of the famous daily routine developed by The Chief, Emory B.Remington. 63 of the studies used to train some of the worlds finest trombonists. Dr. Hunsberger also includes the text of interviews he conducted with The Chief before his death. Remington talks about his singing style, the correct way to tongue, a concept of sound, flexibility, a legato approach, security in the high register, and relaxation. Also contains 12 diatonic pattern scales, a Sample Routine, and an index.
ABC Academy is unable to provide a cost effective and speedy online source for this book.  Please call a local music retailer to find a copy.
Arban Complete Method for Trombone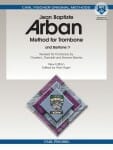 Arban's fundamental method book for trumpet was first published in 1864 and has held a top spot in trumpet studies ever since. In 1936, two of the finest trombonists of the day, Charles Randall and Simone Mantia, revised the method for trombone, creating the basis for trombone studies over the ensuing 75 years. Today, Alan Raph brings the Arban into the 21st century, enhancing and expanding the complete Arban text, and addressing new skills and techniques developed up to current times. Sections have been expanded (i.e., scales, arpeggios), and new sections have been added (i.e., slide drills, contemporary forms of double and triple tonguing). Alternate positions have been updated and expanded. Sometimes F-attachment positions are given to facilitate awkward slide movements.