Hello Everybody!
You may have noticed that we posted a new schedule and format that lays out the whole year.  This is about to undergo some changes, but the class times that are indicated 'confirmed' are still going to be kept.  We'll send you a separate update about the changes once they are confirmed.
We need your help, please!
Get Registered
Call 416-651-7529 to book your preferred time and day.  Only confirmed classes are being booked at this time.
Tell Friends about our FREE Demo classes
We are holding free demo classes to spread awareness and to grow our classes at Wychwood Barns, and Earlscourt Park in August and September.  Please tell your friends about these, and if they register, we'll give you both 20% off your first child's MT for the whole academic year!  They just need to call to book their spot!   Click here to send your friends a pre-made email with all the details!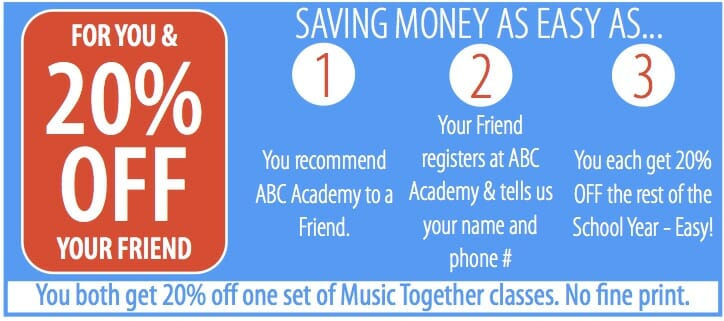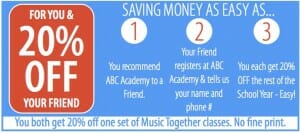 Demo Class Dates/Locations/Times:
WYCHWOOD (south-east clearing next to the playground) – Thursday, August 17th, 11:00 a.m.
EARLSCOURT (west side of the park, just north of the big concrete gazebo) – Saturday, September 19th, 11:00 a.m.
A second class (10:00) will be made available in both locations if all the spots are taken in the first class.
Come to 3 FREE CLASSES and help us train new teachers!
 ABC is hosting a training for Music Together teachers, and we need your help!
As part of the training, we need to have classes on 3 consecutive days (September 25th-27th at 11:00 a.m.), and we'd like to ask you to please consider taking part in as many of these classes as possible.  They are absolutely free of charge to you.  The classes will be observed the teachers in training, and may be taught by different teachers each day, but they will be experienced teachers, whom you will have no problem following.
Please call us now at 416-651-7529 to let us know which classes you can come to – thank you!
Classes begin October 4th
If you are already registered, classes begin on or after Sunday, October 4th, at your regular day and time.
More soon!