Hello Everybody!
I am sure we are not alone in feeling like the summer has barely begun, not to mention being almost over!  We are already over our heads in school-year preparation, with lots of new and exciting things on the go.  We've missed our regular hustle and bustle, including your friendly faces!
Register Now

for Lessons

If you haven't already gotten your spots for the coming school year, now is the time!  Call us.  We'll get back to you and sort it ASAP.
416-651-7529
What's the Schedule?
We are just wrapping up our summer lessons – the last day will be Thursday, August 27th.
School year lessons begin on September 8th, the first day of school.  Download the school year schedule, or log in to your account to see your upcoming lessons.  You can also get a hard copy of the teaching schedule from the front desk.
Get 20% Off
Do you have a friend that isn't registered at ABC?  If they come to register and give us your name and phone number, we'll give both you and them 20% off for the Academic year (one set of lessons for you, and all sets for them).  Give your friends a call today!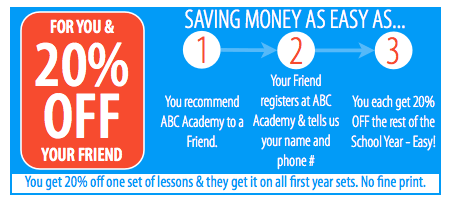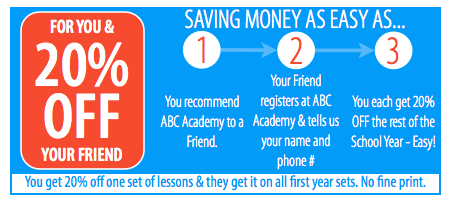 And the Winner is…Carla Daniele!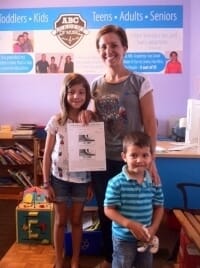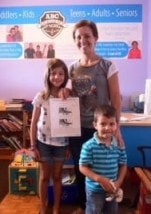 Carla Daniele along with some of you took the time to fill out our survey this past spring.  We really appreciated it, and it has made a difference in some of the things we are going to be doing this coming year, and going forward.  More on that soon!
When you give us your time and feedback, it makes a world of difference in the way we serve your needs, and your children's needs.  We take that very seriously, and want to make sure you get the most out of your experience and interactions with us.
So, as one of the participants in our survey, our impartial 3rd party used a most scientific methodology (of closing her eyes and pointing at a name on the list) and landed on Carla's name!  Carla wins a pass for 2 adults to go to the movies with drinks and popcorn, undoubtedly a well-deserved date night!  Thank you to all of you that took the time to help us out in this, we really appreciate it.
Renovations
We will be undergoing some minor renovations at 12 Conway Ave.  It is our goal to be done them before the holiday season is upon us.  There should be minimal, if any disruption to our regular operations.  If any do come up, we'll do our very best to let you know ahead of time.  Tuesday afternoon/evening Violin lessons will be in the kitchen during this time.
Office Hours
As many of you know, we operate on pretty slim hours in the summer.  We are going to be ramping those up as we approach the school year.
More soon!
There are a number of other things to tell you about and get you up to speed on, but we'll leave that for another email.