Hello Everybody!
As we roll over into our new collection – Maracas – we have some updates, changes, and questions for you.
What's Next?
We recently had a question from a parent about what was next now that they had completed the full 9 collections of Music Together.
This is a great question!
Music Together is non-sequential, so there is no fixed progression.  This is absolutely by design, so that parents can experience returning to their first collection with a number of different things:
Greater familiarity with the music, allowing for greater focus on your child
Whole new, different, more advanced ranges of musical behaviours to observe and encourage
Ability to be more free and improvisatory as a parent, because you know the music
Many parents start to feel uncomfortable at this stage because their children are way more mobile.  Usually the parent expects more conformity to activities.  Your children are not built for this, and it can be a struggle for them to sit still and focus.  This is something that will change over a course of years, as they become socialized and introduced to those kinds of concepts at school.  For the time being, follow their lead physically (don't worry about what the class is doing too much), as long as you are singing and engaging musically.  Too often parents go after their kids, trying to bring them back, and there is no music involved.  Use your singing voices, gestures, and behaviours when expressing your interest in them rejoining the group.  This will vary from week to week, but will be much better if you are singing at home.
Ultimately just remember the following:
If you aren't singing, they aren't singing.
Make singing your mission.
Help us fill Wychwood, and College Classes
Our Saturday Wychwood, and Monday College classes are still available, and we'd appreciate your help to get them filled!  Feel free to put an offer up on your social media for 20% off of these two classes through June, and all the people have to do is drop your name.  When they do, we'll extend the same 20% discount to you!
Oakwood
Everything continues normally at Oakwood.  Sunday and Monday classes are now at capacity, or very close to it.
Wychwood –  CLASSES ARE MOVING
As of April 1st our Saturday classes will be at 611 St. Clair Ave. W. at St. Matthew and All Angels Church.  This is right on the corner of Wychwood and St. Clair, just steps away from our previous location at Hop, Skip, Jump.  Just walk a few steps south from St. Clair, and through the wooden gate.  We should have some directional signage up for the start of classes.
The location is stroller-friendly.
While we get settled in this new venue, we'll ask that you kindly extend us some patience as we figure out the logistical details of the space.
We are also considering moving this class to 10:00 a.m. for the Spring.  We'll be reaching out to you to ask about your thoughts on this, but also welcome you to call us: 416-651-7529.  Thank you!
College Schedule for April
Please note that we have made a change in the teaching schedule for April at College.
PREVIOUS: 10th, 17th, 24th (no class 3rd of April)
NEW: 3rd, 10th, 24th (no class 17th of April)
This only affects College classes.
General Schedule
Remember to check what our off days are for the rest of the school year.
Fall & Summer Registration
Our Fall & Summer schedules are coming very soon, and we'll be asking you about your interest in those by mid-May.
For Fall registration you will be billed for the first month (October) in May, with regular billing resuming in November.
For Summer Registration we'll bill you in July and August.
As in previous years, we'll be offering a more flexible option for your summer classes.  You'll be able to choose from a partial 6-week option, as well as a full 8-week session.  At this time, we suspect we'll be having these classes at Oakwood only, and on Saturdays.  We'll update you on the rates for these classes shortly, but as they are more condensed than the school year, the monthly average will likely look higher for the 8-week option as there will be few to no holidays to include.
Guitar for Grownups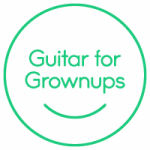 Did you receive our post announcing Music Together Guitar for Grownups?  If not, click the link and check it out!
We're excited to finally be able to offer this class for our Music Together Parents.  You don't need to have any skills or previous experience on Guitar.  This simplified approach to playing built around music you are doing as a family is an amazing way to enhance your family's musical life at home.
If you are interested, give us a call in the office and we'll put you on the list!  416-651-7529.