A.Dip. (Glenn Gould School) in-progress
B.Mus. (UofT)
Daniel Howells is in the last year of his Artist Diploma at the Glenn Gould School. He is currently studying with Andrew McCandless, the Principal Trumpet of the Toronto Symphony Orchestra. He completed his Bachelor of Performance at the University of Toronto, studying with Jeffrey Reynolds, Bart Woomert and Anita McAlister.
Daniel has a passion for performing many types of music. As a member of the Canadian Armed Forces, he performed in the Band of the Ceremonial Guard on Parliament Hill for the summers of 2015-2017. Throughout the year, he performers regularly with the 7th Toronto Regiment Artillery Band. This past summer, he had the opportunity to perform with the National Youth Orchestra of Canada in major cities of Canada, Germany and Scotland. Throughout his schooling, he has enjoyed performing in brass quintets, orchestras, new music ensembles and solo recitals.
Daniel thoroughly enjoys teaching and is thrilled when students develop a true passion for music making.
Get to know Daniel…Beyond the Bio!
Hobbies: Running, Playing Squash
Musical influences: Andrew McCandless, Phillip Smith, Tom Hooten
Favourite food: Stir Fry
Least favourite food: Asparagus
Favourite music: Tower of Power
Favourite movie: Monsters Inc.
Favouirite movie music: John Williams
Best quote from your teacher: Just play the little trumpet in your head!
Favourite quote: "Practice doesn't make perfect. Practice makes permanent."
Best thing about teaching at ABC: The students!
Latest Homework from Daniel
Is Daniel Your Teacher?
Sign up now to get your weekly assignments delivered, and never lose your homework sheet again!
Preferred Books for Daniel's Students
Click to buy them here, and they'll come right to your house!  What could be easier?
First Book of Practical Studies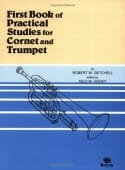 This First Book of Practical Studies is designed to develop chord consciousness and to provide additional experience in the fundamental rhythms, key signatures and articulations and to improve accuracy in reading through the use of interesting and melodic studies. It may be used either to supplement or to follow any beginning method book.
Technical Studies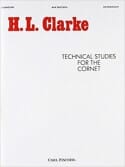 This work has been especially written to enable the cornet student to conquer any technical difficulties he or she might encounter in the literature for the instrument. By carefully following the instructions in this book, the student will build up strength and endurance without strain or injury to his embouchure. If this lips remain flexible and the tone is not forced, it will be possible to play easily any note, regardless of the register.