Daniel is a multi-instrumentalist, composer, and performer from Toronto with a passion for exploring music of all genres and origins.
Daniel received his Honours Bachelor Degree in Music at York University where he originally attended for jazz, but soon branched out into Film Composition and world music such as Klezmer, Balkan folk, Baglama, Eastern European Folk, Flamenco, and Celtic. Since graduating he has primarily focused on crafting and performing on soundtracks for various feature and short films, plays, and television pilots, including Netflix releases and one theatrical release under the mentorship of the prominent Canadian Composer, Lesley Barber.
On the performance front he has also performed and written several EP's alongside other Toronto artists in the genres of rock, funk, metal, alternative, folk, experimental, and flamenco, and continuously explores new and interesting avenues of guitar related genres.
Music for him is a life long pursuit, and he approaches it as a life long student. Through the one know many.
Get to know Daniel…Beyond the Bio!
Hobbies: Camping, hiking, travelling, board games, reading, cooking and exercise!
Musical Influences: Jóhann Jóhannsson, Bonobo, Radiohead, Thomas Newman, Joe Hisaishi, Plini, Periphery, Paco de Lucia, Pink Floyd, Bob Dylan, The Beatles, Neil Young, Devendra Banhart, Philip Glass, Steve Reich, Igor Stravinsky, etc…
Favourite Food: Shawarma, anyday.
Least Favourite Food: the over/poorly cooked variety.
Favourite music: Rock, Psychedelic, Metal, Folk, Ambient, Electronic, Original Soundtracks, Folk.
Favourite Song: At the moment it would be The Girl From North Country by Bob Dylan.
Favourite Movie: Jojo Rabbit
Favourite Book: a tie between – Joseph Campbell, The Power of Myth; Khalil Gibran, The Prophet.
Favourite Quote: "We have created a Star Wars civilization, with Stone Age emotions, medieval institutions, and godlike technology." – E. O. Wilson
Latest Homework from Daniel
Is Daniel Your Teacher?
Sign up now to get your weekly assignments delivered, and never lose your homework sheet again!
April 8th
Eliana
What to practice: The Thrill is Gone – BB King (lead/rhythm)
Recommended practice time: 15+ minutes daily
Keys to effective practice: For what we are doing currently, the key will be to be using your ears, and trusting them. While playing rhythm experiment with different ways of mixing up the progression in terms of vamping versus extending the chords, then take note of what works and sounds good to you. Remember that while playing rhythm your key is to have good time and, well, rhythm! – try locking in with the recording. While playing the solo start things off a bit slower (maybe 60-70% tempo) and get it down at this speed, paying attention to bending the notes the right amount up (1/4, 1/2, full), and playing with good time.
BB King explaining vibrato and bending. Jump ahead about 2 minutes and enjoy!
Aarnav
What to practice: Up to and including page 12 of Hal Leonard's Guitar Method!

Recommended practice time: 10 minutes  daily
Keys to effective practice: Because we have just jumped into adding a new string, be sure you review the beginning of the new chapter and the studies leading up to the music on page 12 (double check your G and A notes). Especially take a moment and play the three string review at the bottom of page 11, both up and down! Once you do this go ahead as usual counting along as you play!
Aarna
What to practice: Up to and including page 12 of Hal Leonard's Guitar Method.
Recommended practice time: 10 minutes daily
Keys to effective practice: Review the notes at the beginning of the previous two chapters, and then take your time going over the practice studies at the beginning of our latest chapter. Because we are entering into some new territory with the 3rd string (G) take some extra time with the studies in chapter 3, as well as the 3-string review at the bottom of page 11 (play this up and down!). Then go ahead and play as per usual counting along with the songs on page 12!
Simon
What to practice: BB King – The Thrill is Gone (Rhythm/Lead)
Recommended practice time: 15+ minutes daily
Keys to effective practice: Listen to the studio recording for time and groove, and check your dropbox folder for a playthrough video at different tempos of myself playing the solo isolated. Zero in on the hard parts and the transitions and cultivate your confidence with them. For the rhythm playing aim for good timing and rhythm, but also explore the different vamps and extensions to see what you like and try to come up with some of your own to boot!
BB King explaining vibrato and bending. Jump ahead about 2 minutes and enjoy!
Albert
What to practice: Hotel California
Recommended practice time: Aim to play through the progression at least twice a day.
Keys to effective practice: You've got all the fundamental keys down – moving your fingers in groups, pivot fingers/anchoring, remembering the chord shapes and names, arching your fingers, playing more or less on your finger tips as needed to let all the notes ring out, etc… – now you just have to tackle it consistently for a bit! Keep at it each day and you'll see great results!
Preferred Books for Daniel's Students
Click to buy them here, and they'll come right to your house! What could be easier?
Hal Leonard Guitar Method
Book 1, with CD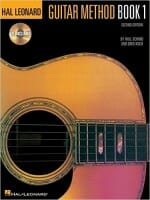 The second edition of this world-famous method by Will Schmid and Greg Koch is preferred by teachers because it makes them more effective while making their job easier. Students enjoy its easy-to-follow format that gives them a solid music education while letting them play songs right away. Book 1 provides beginning instruction including tuning, 1st position melody playing, C, G, G7, D7, and Em chords, rhythms through eighth notes, solos and ensembles and strumming.
Hal Leonard Guitar Method COMPLETE
Volumes 1, 2, and 3 in one book.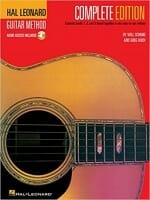 The Hal Leonard Guitar Method is designed for anyone just learning to play acoustic or electric guitar. It is based on years of teaching guitar students of all ages, and reflects some of the best teaching ideas from around the world. This super-convenient Complete Edition features the new and improved method books 1, 2 and 3 spiral-bound together.
Modern Method for Guitar
Volume 1, Book & DVD
Modern Reading Text in 4/4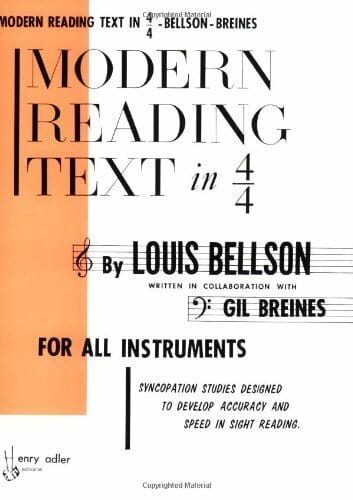 This book has become a classic in all musicians' libraries for rhythmic analysis and study. Designed to teach syncopation within 4/4 time, the exercises also develop speed and accuracy in sight-reading with uncommon rhythmic figures. A must for all musicians, especially percussionists interested in syncopation.
Hal Leonard Music Theory for Guitarists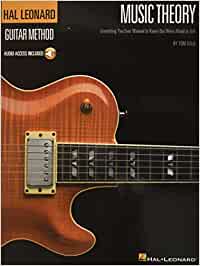 Guitarists of all levels will find a wealth of practical music knowledge in this special book with online audio access. Veteran guitarist and author Tom Kolb dispels the mysteries of music theory using plain and simple terms and diagrams. The accompanying recordings provide 94 tracks of music examples, scales, modes, chords, ear training, and much more! To access audio visit: www.halleonard.com/mylibrary