Michael Magliaro is a Toronto based guitarist, performer and composer.  Growing up in the Greater Toronto area, he performed in a variety of musical groups including Choirs, Concert Bands, Rock Bands, Theatre Pit Bands and Jazz Ensembles.  After enrolling and graduating from the St. Thomas Aquinas Pathway for the Performing arts he moved on to Carleton University where he graduated with a B.MUS Honours in Jazz Performance studying with the likes of Juno award winner Jesse Stewart, Wayne Eagles and Dr. James Wright.
He began performing live music in Toronto at the age of 16, playing in Rock cover bands with high school friends.  Since then he has played everywhere from dingy bars to public theatres and private art galleries.  Michael is currently involved in multiple groups that perform locally, around the GTA and from time to time, as a solo singer songwriter.
Michael's approach to teaching is based on treating music as learning a new language, "You have to learn to read, write, and speak properly in order to best express yourself."  With a strong background in Music theory, Michael is an advocate and firm believer that a well-rounded Musical Education can help anyone of any age hone the skills they need for everyday life.
Hobbies:  Sports (hockey, Soccer, Golf etc.), getting exercise and DIY projects around the house
Get to know Michael…Beyond the Bio!
Musical influences: Frank Zappa, John Pelosi, Wayne Eagles, Michel Delage and Miles Davis
Favourite Food: Anything Mom makes
Least Favourite: I'm usually too hungry to be picky!
Favourite Music: Queen, AC/DC, Frank Zappa etc.  It really depends on my mood.
Favourite Song: That's a tough one, right now I'd say "Good old Fashioned Lover Boy" by Queen
Favourite Movie Music: Loved the Soundtrack in Guardian's of the Galaxy 2
Favourite Musical Theatre/Opera: The Marriage of Figaro
Best Quote from your Teacher: "Try to hear everything before you play it"
Favourite Quote: "Information is not knowledge. Knowledge is not wisdom. Wisdom is not truth. Truth is not beauty. Beauty is not love. Love is not music. Music is THE BEST."
Favourite Book: The Old Man and the Sea by Ernest Hemingway
Best thing about teaching at ABC: Doing what I love and sharing it with others!
Latest Homework from Michael
Is Michael Your Teacher?
Sign up now to get your weekly assignments delivered, and never lose your homework sheet again!
Carson
Continue to work on C major scale and chord as well as the written exercises while utilizing alternate picking and say and play. Have your parent(s) call the academy if you will be away next week!
Mysha
Keep on working through the assigned exercises in your guitar book. Remember to focus on alternate picking and to practice with a metronome. Have your parent(s) call the academy if you will be away next week!
Trinity
Continue to practice assigned exercises in your guitar book while saying and playing the notes. Remember to practice the finger picking exercises at a very slow tempo to start. Have your parent(s) call the academy if you will be away next week!
Carson
Continue to work on C major scale as well as saying and playing the notes to the exercises we were working on. Remember to work on alternate picking and strumming as well.
Lili
Continue to work on strumming with up and down strokes as well as Ode to Joy saying and playing the notes. Remember to pick a song to learn for next week.
Mysha
Keep working on the exercises we went over in your guitar book with a focus on alternate picking as well as C, G and D major chords.
Trinity
Continue practicing notes on first and second strings. Say and play the notes as you work on the exercises. Focus on reading the notes and not memorizing the piece.

Preferred Books for Michael's Students
Click to buy them here, and they'll come right to your house!  What could be easier?
Hal Leonard Guitar Method
Book 1, with CD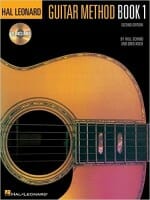 The second edition of this world-famous method by Will Schmid and Greg Koch is preferred by teachers because it makes them more effective while making their job easier. Students enjoy its easy-to-follow format that gives them a solid music education while letting them play songs right away. Book 1 provides beginning instruction including tuning, 1st position melody playing, C, G, G7, D7, and Em chords, rhythms through eighth notes, solos and ensembles and strumming.
Hal Leonard Guitar Method COMPLETE
Volumes 1, 2, and 3 in one book.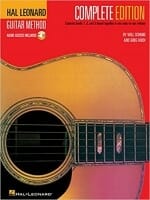 The Hal Leonard Guitar Method is designed for anyone just learning to play acoustic or electric guitar. It is based on years of teaching guitar students of all ages, and reflects some of the best teaching ideas from around the world. This super-convenient Complete Edition features the new and improved method books 1, 2 and 3 spiral-bound together.
Easy Pop Melodies
from Hal Leonard, matches Guitar Method Book 1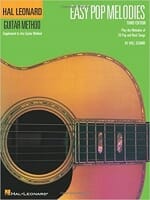 Play your favorite hits from the Beatles, Elton John, Elvis Presley, the Police, Nirvana and more! The 20 songs in this book are presented in order of difficulty: All My Loving * Can You Feel the Love Tonight * Dust in the Wind * Every Breath You Take * I Get Around * I Shot the Sheriff * I Walk the Line * Imagine * Let It Be * Love Me Tender * Maggie May * My Cherie Amour * My Girl * My Heart Will Go On * Nowhere Man * Smells like Teen Spirit * Stand by Me * Walk Don't Run * We Will Rock You * Your Cheatin' Heart.
Modern Method for Guitar
Volume 1, Book & DVD