Simon is a recent graduate of Humber College, being very passionate about both bass and guitar for over 15 years. He is also a prominent member of the Toronto rock scene, having booked venues, and played shows throughout the city. Simon has had the pleasure to study with the likes of Ted Quinlan, Mike Downes and Justin Gray. With 2 years of teaching experience at Long and McQuade, Simon creates a personalized learning experience for each student in a friendly and non-judgemental learning environment.
Simon is mostly focused on his original music in his free time, with a strong love for composition and theory.
Get to know TEACHER…Beyond the Bio!
Hobbies: Writing, Movies, Photography
Musical Influences: Unknown Mortal Orchestra, Courtney Barnett, Daniel Romano
Favourite Food: Tacos
Favourite Music: Rock, Hip Hop
Favourite Song: Bold as Love by Jimi Hendrix
Favourite Movie: Bladerunner 2049
Favourite movie music: Submarine
Favourite musical theatre: Singing in the Rain
Best Quote From a Teacher: "Don't get frustrated when you fail. Use that energy to try it again."
Favourite Book: Just Kids by Patti Smith
Best thing about teaching at ABC: To have a student feel proud of themselves for how far they have come.
Latest Homework from Simon
Is Simon Your Teacher?
Sign up now to get your weekly assignments delivered, and never lose your homework sheet again!
Mar 21 – Emet, Jayden, Ethan
Emet
Under Cover Of Darkness sounds great! Practice the riff like we did today. By separating the two parts, you can focus on the tougher phrases. Focus on the chords this week. With your right hand, the focus should be on the strumming pattern. With your left hand, the focus should be on the chord switching. Tackle these two parts independently, and slowly try to put them together. Great work!
Jayden
Great job on Love Gun! It is sounding great! Try to play along to the song! Keep working on the 'gallop' pattern from Barracuda. This is a really good right hand exercise. Nice work on Take Me Out today! Make sure you do not get this pattern confused with Barracuda as they are very different. Take Me Out is very straight and very even. Listen to the tunes if you need a reminder! Great work!
Ethan
Scar Tissue sounds great! Focus on the chords this week! The main ideas to focus on are the strumming pattern and the chord switching. Spend some time this week on the solo sections as well. Try to play them along to the song! Nice work on Can't Stop! This riff is pretty tricky so take it slow. Once you get the pattern down, it makes a lot more sense! Great work!
Preferred Books for Simon's Students
Click to buy them here, and they'll come right to your house! What could be easier?
Hal Leonard Guitar Method COMPLETE
Volumes 1, 2, and 3 in one book.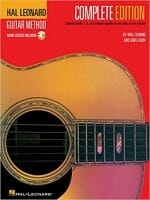 The Hal Leonard Guitar Method is designed for anyone just learning to play acoustic or electric guitar. It is based on years of teaching guitar students of all ages, and reflects some of the best teaching ideas from around the world. This super-convenient Complete Edition features the new and improved method books 1, 2 and 3 spiral-bound together.
Alfred's Basic Guitar Method
Book 1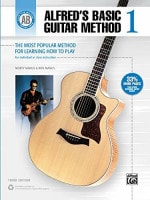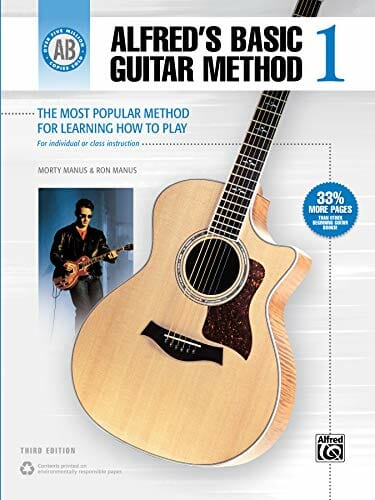 Recognized for over 50 years as the best-paced and most comprehensive guitar method available, Alfred's Basic Guitar Method has introduced over 3 million beginners to the joy of playing guitar. This updated and expanded edition features a new layout, making it easier to read and learn. Now included are blues, country, folk, jazz, and rock styles, plus more pop songs! New DVDs with iPod-compatible video are now available for the visual learner, and correlating theory, chord, and pop books ensure that you'll get everything you need from one complete method. Learning to play has never been easier or more fun than with Alfred's Basic Guitar Method—the first and best choice for today's beginning guitar students.
Guitar Grimoire
A Compendium of Guitar Chords and Voicings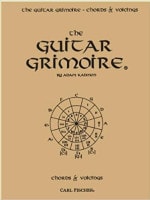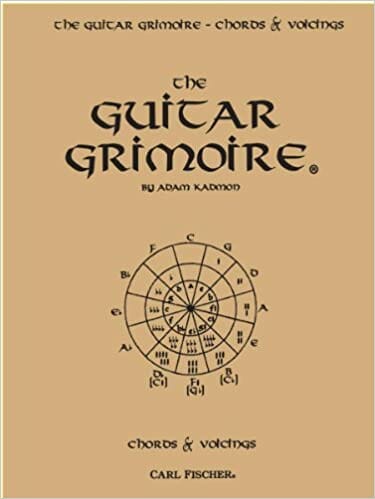 Every chord of every key and mode is presented with thousands of diagrams and charts. Includes polychords, chord substitutions, inversions and movable voicings.
This indespensable volume belongs in every guitarist's library.
This book is a "where to" book, showing you exactly where to find any chord in any key on your fretboard. It is a professional reference tool to enhance your music library and playing that you will use for many years to come.