M.Mus (UofT) in-progress
B.Mus (Eastman)
Gordon is a percussionist and educator interested in performing, creating, and engaging within a multitude of musical styles, invested in how music might be embodied in a variety of forms through joyful exploration.
From Tampa, Florida, Gordon became acquainted with music through piano lessons, eventually moving on to drum set and marching percussion in high school. In 2019, Gordon completed his undergraduate studies at the Eastman School of Music under the tutelage of Michael Burritt. At Eastman Gordon performed and premiered works with the Eastman Wind Ensemble, Eastman Percussion Ensemble, and Musica Nova in addition to serving for two years on the board of the student-led new music ensemble, Ossia.
He is also interested in the intersection between music and technology and has contributed to creative projects with the Eastman Audio Research Studio and the University of Toronto Percussion Ensemble.
Gordon is currently working towards completing his Master's degree at the University of Toronto under the instruction of Aiyun Huang.
Get to know Gordon…Beyond the Bio!
Hobbies: Spending time with family and friends, watching movies, reading, spending time outside, tossing a frisbee and playing Spikeball
Musical influences: Rush, Mutemath, Max Roach, My Brightest Diamond, Son Lux, Rachel Podger, Michael Burritt, Steve Schick, Paul Rennick, Sarah Kirkland Snider, Jess Ray, Mark Andre…
Favourite food: Kanafeh (Middle-Eastern dessert)
Least favourite food: Brussel sprouts
Favourite music: Rock, Jazz, Contemporary Classical, Indie-folk, Electronic
Favourite song: One favorite is Humble Heart by Jess Ray
Favourite movie: Another favorite is Tree of Life by Terrence Malick
Favourite movie music: Bernard Herman in Vertigo, Ennio Morricone in Once Upon a Time in the West
Favourite musical theatre/opera: Hamilton, Invisible Cities by Christopher Cerrone
Best quote from your teacher: "Listen…"
Favourite quote: Romans 8:37-39
Favourite book: The Giver by Lois Lowry
Best thing about teaching at ABC: Sharing music with the students.
Latest Homework from Gordon
Is Gordon Your Teacher?
Sign up now to get your weekly assignments delivered, and never lose your homework sheet again!
August 3rd Assignments
Sylvie:
Great job this week Sylvie, it was great to see you again! This week keep working on the paradiddle rudiments, being sure to play them all loud, soft, and with the written accents. When you're playing them with the accents be very strict about keeping two different height, we want the accents loud and the non-accents quiet. For Chameleon, try working on putting a little more swing into the beat. Whats really going to help is thinking about playing through to the second bass drum note on the + of 3. It started sounding really good at the end of the lesson so keep it up!
Sam:
Great work today dude! Keep working on these beats from Lesson 13 to get even better at 16th note bass drum patterns like this:https://drive.google.com/file/d/1GDjDb81HaLkwICOl6s-v0VX_ShO2q3j7/view?usp=sharing
For Put Me Thru keep working on the ending bit, here is the sticking: RLRR LRRL. Remember to accent the second left hand and to keep the rest quiet!
Preferred Books for Gordon's Students
Click to buy them here, and they'll come right to your house! What could be easier?
STICK CONTROL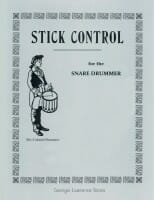 George Lawrence Stone's Stick Control is the bible of drumming. In 1993, Modern Drummer magazine named the book one of the top 25 books of all-time. In the words of the author, it is the ideal book for improving: control, speed, flexibility, touch, rhythm, lightness, delicacy, power, endurance, preciseness of execution and muscular coordination, with extra attention given to the development of the weak hand.
The Art of Bop Drumming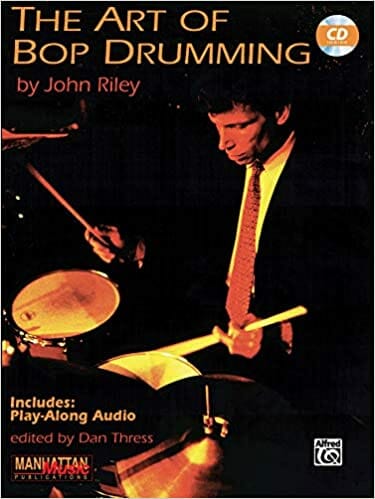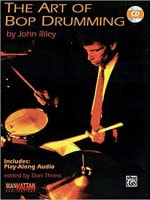 The definitive book on bop drumming—a style that is both the turning point and the cornerstone of contemporary music's development. This comprehensive book and audio presentation covers time playing, comping, soloing, brushes, more jazz essentials, and charts in an entertaining mix of text, music, and pertinent quotes.