B.Mus. (McMaster University)
Diploma in Flute Performance (McMaster University)
Andrea holds a Bachelor of Music and Diploma in Flute Performance from McMaster University. She has studied under the tutelage of many well known flutists during her university career such as Leslie Newman (Principal Flute, Hamilton Philharmonic), Dr. David Gerry, Paula Elliott, and Suzanne Shulman (McMaster). Andrea has many years of teaching and performance experience.
In the past she has taught at the TDSB Toronto Summer Music Camp and was a volunteer music teacher for McMaster MusicBox Children's Charity. She has been an active performer within and outside of McMaster. She has performed with the McMaster Chamber Orchestra as principal flute and as a soloist, McMaster Concert Band, Flute Ensemble, as well as performing in a chamber ensemble with her university colleagues. Outside of the university she was a member of the Hamilton Philharmonic Youth Orchestra, Symphony on the Bay, and she is an alumni member of the Etobicoke Youth Band.
Get to know Andrea…Beyond the Bio!
Hobbies: Bike riding, Baking, Hiking
Musical influences: Ian Clarke, Jasmine Choi, Yiruma
Favourite food: Sushi & any kind of dessert
Least favourite food: Olives
Favourite music: Classical Romantic, Orchestral, Modern Classical
Favourite song: I have many favourite songs both classical and modern. Here are a few… River Flows in You (Piano, Yiruma), For Dad (Flute, Gary Schocker), Heartbeat (Carrie Underwood), People Help the People (Birdy).
Favourite movie: August Rush
Favourite movie music: Soundtrack from August Rush, Any Disney movie
Favourite musical theatre/opera: Mamma Mia
Best quote from your teacher: "Play from the heart and the rest will come easy."
Favourite quote: "I pay no attention to anybody's praise or blame. I simply follow my own feelings."-Mozart
Favourite book: The Opposite of Loneliness by Marina Keegan
Best thing about teaching at ABC: Being able to share my love for music and the flute.
Preferred Books for Andrea's Students
Click to buy them here, and they'll come right to your house!  What could be easier?
76 Graded Studies for Flute
Book 2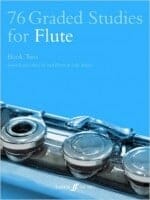 Selected and edited by Paul Harris and Sally Adams and covering a broad selection of 19th century study repertory, including Baermann, Berr, Demnitz and many others.
This book contains exercises 55 to 76, with the earlier pieces to be found in Book 1. The pieces are selected from the historical repertoire to present playing challenges and new techniques in a specific musical context, arranged in progressive order of difficulty.
Studies and Technical Exercises
by Marcel Moyse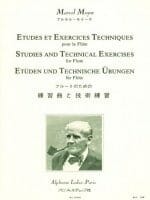 Having studied the Flute with virtuosos Paul Taffanel, Adolphe Hennebains and Philippe Gaubert at the Paris Conservatoire, Marcel Moyse (1889-1984) soon became a virtuoso of the instrument himself. Etudes et Exercices Techniques for Flute was the first of many popular study books from the renowned flautist.
During his career, Moyse frequently played solo Flute with many orchestras, including performing the main concertos of the repertory. It is during his time in the USA that Moyse composed his extensive number of instructive books on instrumental technique, including Etudes et Exercices Techniques, which today remain universally accepted and popular. Moyse's book is essential to all aspiring, advanced flautists.