ACOUSTIC GUITAR



Lessons in Toronto
YES!
I Want Acoustic Guitar Lessons or Have Questions – Call Me Now & Sign Me Up!
Fill in your Name and Phone Number below, and we'll call you as soon as possible!
Acoustic Guitar Lessons in Toronto
Acoustic guitar lessons are very popular at ABC Academy. Students of all ages are keen to learn guitar to play their favourite pop, rock, folk, blues, jazz and country tunes. We offer private in-person and online guitar lessons as well as pre-recorded guitar courses to help students at all levels develop their skills. From beginner guitar lessons to preparing for university or college guitar auditions, or simply learning how to play a few campfire classics, we've got you covered!
Getting Started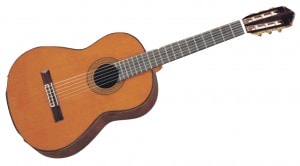 If you are taking beginner music lessons and have never played acoustic guitar before, we recommend starting with an acoustic guitar with nylon strings. These will allow you to build up strength, developing both finger and pick styles of playing, learning music at a comfortable pace. Once you've developed a feel for playing acoustic guitar, you may want to switch to metal strings, or learn to play Electric Guitar.
For young students learning to play the guitar, we recommend getting properly sized at a trusted music retailer so that playing is comfortable. Our guitar teachers can help you learn to read notes and guitar tab (tablature), as well as learn accompaniment and guitar solos. We want to help you learn the music that you are interested in playing!
While beginners need some time to build basic skills, we always try to get our students playing the music they like as soon as possible. Acoustic guitars are available in a variety of sizes, so even a young child can begin to learn.
Buying or Renting an Acoustic Guitar
We will be happy to recommend a reliable retailer to set you up with the correct instrument for you. For younger students, this is really important, because kids usually start on instruments that are sized for them. This makes the spacing of the notes and strings realistic for their hand size. Call us with any more questions you have, or visit our free parent and music lesson resources page for helpful articles and tips on getting the most out of your music lesson experience.