DMA, Choral Conducting (UofT)
M.Mus., Choral Conducting (UofT)
B.Mus. (U of Newcastle, Australia)
LTCL & ATCL (Trinity College of London, UK)
L.Mus.A. & A.Mus.A. (Australian Music Examination Board)
Tracy Wong hails from Malaysia and is a choral conductor, music educator, and composer. She is completing a Doctor in Musical Arts (Choral Conducting) degree at the University of Toronto under the tutelage of Dr. Hilary Apfelstadt after obtaining a Master in Music Performance (Choral Conducting) at the same institution. She is also a proud recipient of the 2016 and 2017 Elmer Iseler National Graduate Fellowship in Choral Conducting.
Tracy has led choirs in Malaysia and Canada, including the Kuala Lumpur Children's Choir, University of Toronto Women's Chorus, Young Voices Toronto, and Mississauga Festival Youth Choir. She has also conducted choral workshops in Malaysia, Brunei, Singapore, Sri Lanka, Canada, and France. Tracy's choral works have been published and performed by Malaysian, Canadian, and American choirs at international competitions and festivals. She has also recently completed the compilation of Nancy Telfer's choral compositions, a resource for music educators and choral directors.
Get to know Tracy…Beyond the Bio!
Hobbies: Singing, rock climbing, yoga
Musical influences:  The Idea of North, Bobby McFerrin, Sting, Tallis Scholars, Red Hot Chilli Peppers
Favourite food: Dumplings!
Least favourite food: Anything with wasabi
Favourite music: A cappella
Favourite song: But Not For Me (as performed by The Idea of North)
Favourite movie: All the Harry Potter ones
Favouirite movie music: Soundtracks from the Harry Potter series and The Lord Of The Rings
Favourite Musical Theatre/Opera: Songs for the New World and The Last 5 Years (Jason Robert Brown)
Best quote from your teacher: Happy are those who are flexible, for they shall bend and not be broken.
Favourite quote: Happiness shared is doubled, sorrow shared is halved. – Swedish saying (?)
Favourite book:  (currently) Blowing My Own Horn by James Morrison
Best thing about teaching at ABC: The wonderful people I get to meet!
Latest Homework from Tracy
Is Tracy Your Teacher?
Sign up now to get your weekly assignments delivered, and never lose your homework sheet again!
Preferred Books for Tracy's Students
Click to buy them here, and they'll come right to your house!  What could be easier?
Celebrate Theory 2
Royal Conservatory of Music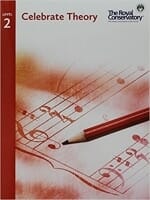 Faber & Faber Piano Adventures
Theory Book Level 1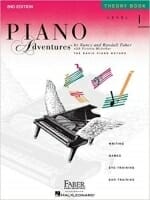 The 2nd Edition Theory Book provides instruction, reinforcement, and creative applications of basic theory concepts. Students will enjoy note-naming with StoryRhymes, explore improvisation, and engage with eye-training and ear-training activities all within a fun-filled context tied thematically to the Level 1 Lesson Book pieces.
Faber & Faber Piano Adventures
Theory Book Level 2A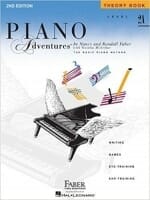 The 2nd Edition Level 2A Theory Book has thematic tie-in with the Level 2A Lesson Book, inviting students into the pages for deeper understanding. A wide variety of theory activities engage students with eighth notes, phrases, transposition, and 5-finger scales. Composer biographies provide valuable context for Lesson Book pieces while helping students review key concepts.
Faber & Faber Piano Adventures
Performance Book Level 2A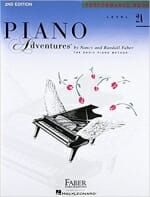 The 2nd Edition Level 2A Performance Book offers an array of colorful elementary pieces that reinforce the concepts presented in the Lesson Book. The selections range from arrangements of classical compositions to American folk songs and imaginative originals. Students and teachers will enjoy the wide variety of sounds and musical textures in this collection.