YES!
I Want Flute Lessons or Have Questions – Call Me Now & Sign Me Up!
Fill in your Name and Phone Number below, and we'll call you as soon as possible!
Flute, Piccolo & Alto Flute Lessons in Toronto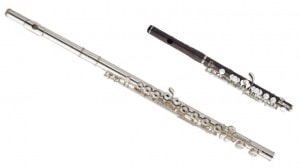 Flute Lessons are available for kids and adults at ABC Academy in Toronto for every level of learner. We're also  happy to offer piccolo and alto flute lessons to advanced students.
When learning flute, a school environment is a great asset. Flute, more than most instruments, finds large communities in cities around the world, and your entry into really neat world of a variety of musical styles you might not have considered from classical flute music to rock and roll flute (such as Jethro Tull artist Ian Anderson). Flute is very cool!
Getting Started with Flute
For young children, learning flute has never been easier! There are special flutes for smaller children that have curved headjoints and a reduced length for ease of playing. Young students can also use the Suzuki Method for Flute, and it is very popular to progress to Royal Conservatory Examinations for flute, as well. If you are considering starting your young child on flute, you will need to be aware that getting a good sound consistently is the biggest challenge to getting started, and will require some patience!
Adult Flute students also have to be patient with getting their first sounds, and making them consistently good.
Regardless of your age, private flute lessons can be an extremely rewarding experience, and it is certainly a beautiful and flexible instrument. We'll get you off to the right start, with our excellent flute teacher! For advancing students, we are happy to offer piccolo and alto flute lessons as well. We can also help you prepare for university or college flute auditions.
We will be happy to recommend a reliable retailer to set you up with the correct instrument for you.
Call us with any more questions you have, or visit our free parent and music lesson resources page for helpful articles and tips on getting the most out of your music lesson experience.
If you are a parent and want to learn more about woodwinds, read the helpful article Choosing a Musical Instrument for your Child: A parents' guide to Woodwinds.