TROMBONE, EUPHONIUM, and TUBA
Lessons in Toronto
YES!
I Want Trombone, Euphonium, or Tuba Lessons or Have Questions – Call Me Now & Sign Me Up!
Fill in your Name and Phone Number below, and we'll call you as soon as possible!
Trombone & Low Brass Lessons in Toronto
Trombone, Baritone/Euphonium, and Tuba Lessons are available for Kids and Adults at ABC Academy of Music in Toronto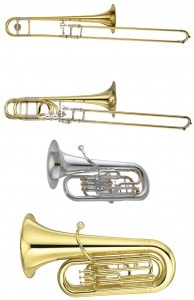 The low brass family of instruments, Trombone, Baritone, Euphonium, and Tuba, are among the strongest instruments in any band or orchestra.
Private Trombone lessons are a great way to improve your sound, clean up your slide technique, and to get ahead in the bands or orchestra you play in. You can learn Jazz music, Rock music, Pop music, classical and orchestral music, or pretty much anything you want! We have had students pursue Royal Conservatory of Music Examinations, some who have gone on to take College/University Trombone and Tuba auditions, and some who play music for fun!
Regardless of your age, we can help you to build the beginner, intermediate, and advanced skills to help you reach your musical goals.
We will be happy to recommend a reliable retailer to set you up with the correct instrument for you.
Call us with any more questions you have, or visit our free parent and music lesson resources page for helpful articles and tips on getting the most out of your music lesson experience.
If you are a parent and want to learn more about brass instruments, read the helpful article Choosing a Musical Instrument for your Child: A parents' guide to Brass.
Meet Our Low Brass Teachers