B.Mus (University of Western Ontario)
Lieder and Poetry in Performance (Schubert Institut)
Alejandra Ballon is a freelance operatic singer successfully engaged throughout the city of Toronto. She has performed in such venues as the Toronto Centre for the Arts, Flato Markham Theatre, Heliconian Hall, Scarborough Civic Centre, Nathan Philips Square, St. Michael's Cathedral, Christ Church Cathedral and many churches throughout the city and in televised full-length solo concerts. She is also currently engaged as soprano soloist in the Toronto Oratory Ensemble, which focuses almost exclusively on renaissance polyphonic music. Her crystal clear light lyric voice has been consistently lauded for its emotional depth, textual clarity, and fluid ease throughout the entirety of her impressive range.
Alejandra graduated from the University of Western Ontario in Voice Performance (Opera) with Honours with Distinction and as a Western Scholar, in highest academic standing. She studied piano and pure mathematics concurrently with her operatic degree. She also studied at the renowned Hochschule für Musik Freiburg where she continued her operatic studies and focused on her much loved German Lieder. Alejandra was twice accepted into the renowned Schubert-Institut summer program for the Performance of German Lieder and Poetry.
In her earlier RCM studies, Alejandra gained top marks in her exams, on two separate occasions earning the Ontario Medal for the top examination mark in the province. Alejandra also competed successfully in the Toronto, London and GTA Kiwanis festivals, winning numerous awards and scholarships as well as being chosen to represent the Toronto and GTA Kiwanis Music Festivals at provincial finals.
While studying in Southwest Germany she met her husband. Outside her performance career she enjoys an active life with her four children in North Toronto.
Alejandra teaches with the same joy and passion with which she approaches her performances and enjoys passing along her years of experience, exacting standards for musicianship, and fun-loving attitude to each of her students.
For upcoming performances, join Alejandra's notification list or visit her website at AlejandraBallon.com
Get to know Alejandra…Beyond the Bio!
Hobbies: hiking, dancing, praying, sports
Musical influences: My abuelita, the late romantics, especially Chopin and Rachmaninoff, church music, my favourite operatic singers (Leontyne Price, Placido Domingo)
Favourite food: Salads and smoothies and cake!
Least favourite food: pizza
Favourite music: classical music, especially from the romantic period
Favourite song: Rachmaninoff Piano Concerto No. 2
Favourite movie: too many!!
Favourite movie music: Lion King
Favourite musical theatre/opera: Rent
Best quote from your teacher: "durch die Nase!" Translation through the nose!!
Favourite quote: "The best and most beautiful things in the world cannot be seen or even touched. They must be felt in the heart."  -Helen Keller
Favourite book: The Tawny Scrawny Lion
Best thing about teaching at ABC: connection and community
Latest Homework from Alejandra
Is Alejandra Your Teacher?
Sign up now to get your weekly assignments delivered, and never lose your homework sheet again!
Beta Test Our New Direct-to-Teacher Chat System
Please note that:
No scheduling may be done with this system.  All scheduling matters must be handled by the front desk at 416-651-7529.
Response times are not guaranteed, although a 48h window will be our goal.
This test is just that, a test.  For any matters that are time sensitive, you must call the office.
[wpslacksync allowed_channels="general alejandra-ballon"]
Preferred Books for Alejandra's Students
Click to buy them here, and they'll come right to your house!  What could be easier?
RCM Voice Repertoire
Prepratory Level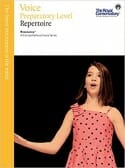 A Comprehensive Voice Series serves as the official resource for voice assessments of the Royal Conservatory Music Development Program. Featuring an outstanding selection of voice literature and supporting materials, this series offers a truly enriched learning experience to help ensure student success.  As in previous editions, Resonance encompasses a rich and varied selection of Repertoire, Vocalises and Recitatives that students of all ages and voice types will find appropriate to their musical interests and level of technical ability.
Alfred's Basic Piano for the Later Beginner
Book 1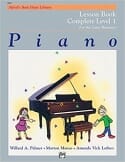 Complete Level 1 is a faster-paced version of Levels 1A and 1B that gets to staff reading more quickly. Perfect for a student who is 8 or older, or for a younger beginner with great musical aptitude. This course is most effective when used under the direction of a piano teacher or experienced musician.
Alfred's Basic Piano for the Later Beginner
POPULAR HITS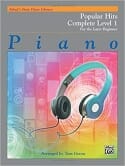 Alfred's Basic Piano Library: Popular Hits answers the often expressed need for popular music to be used as supplementary music for students. Soon after beginning piano study, students can play attractive versions of the best-known melodies of today.
Hanon
Virtuoso Pianist in 60 Exercises - Complete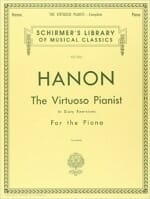 Since the first release of this classic Schirmer edition over 100 years ago, almost anyone who has taken piano lessons for more than two years has played from The Virtuoso Pianist . Millions of copies have been sold of these progressive exercises which guide a player's technique, building finger independence and strength. This was the first American edition released of this music, and remains a classic at a remarkably affordable price.